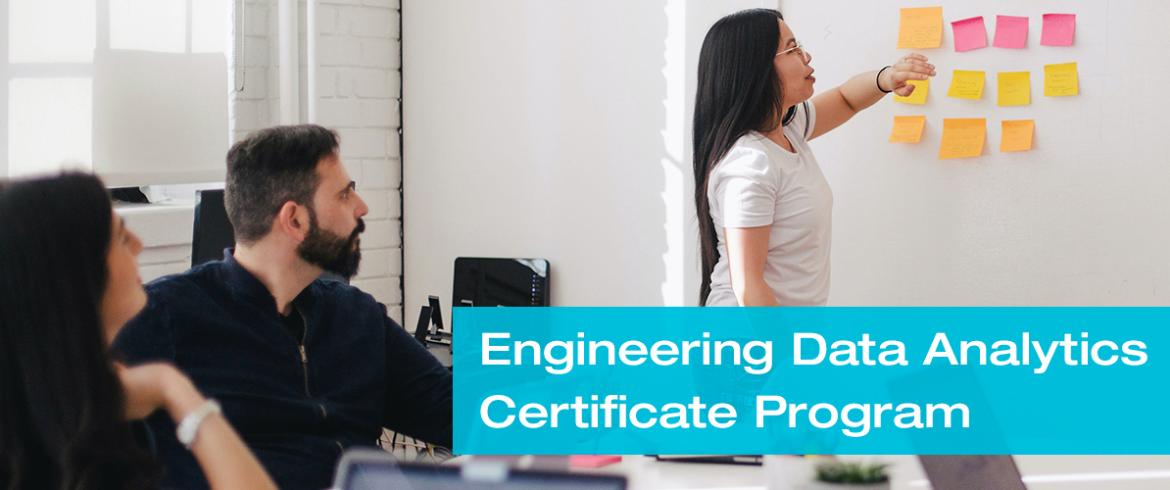 About Engineering Data Analytics Certificate Program
The Engineering Data Analytics Certificate Program is offered by the Department of Industrial and Manufacturing Engineering (IME) is part of the joint Florida A&M University (FAMU) - Florida State University (FSU) College of Engineering. Students will take four graduate-level courses, including two core and two elective courses, within a one-year time period to earn this certificate.
Why pursue a certificate in Engineering Data Analytics?
Big data and associated analytics skills have gained much attention in engineering careers, and a large number of new job opportunities emerge with data-driven decision-making. The objective of the Engineering Data Analytics (EDA) program is to provide students necessary knowledge and skills in data mining and machine learning to support quantitative decision-making and improve efficiency for industrial systems/operations with broad applications in manufacturing and service industries.
How is this program different from other data certificate programs?
This program focuses on the skills of developing artificial intelligence (AI) within industrial systems as supported by data analytics. While many data science Master's programs simply teach data analytics methods, the EDA program integrates the insights learned throughout the certificate program into engineering systems with data analytics and algorithms to develop solutions to industrial systems.
The EDA program teaches the graduate student how to integrate automated decision-making, system monitoring/diagnostics, real-time and automatic process control into broad applications of manufacturing, service, and Defense industries. Instead of only introducing computational/statistical theories and algorithms for generic applications, the EDA program will provide students with specific case studies based on industrial problems seen by our expert faculty. The course modules will show students how the algorithms should be created, modified, and sustained over the life cycle of the system.
Career options
After completing the program, the students should be equipped with fundamental tools for emerging careers in industrial data analytics and AI. The program will help students prepare for the growing career opportunities in the data science field of study and ubiquitous applications of AI across manufacturing, service including healthcare and transportation, and Defense applications.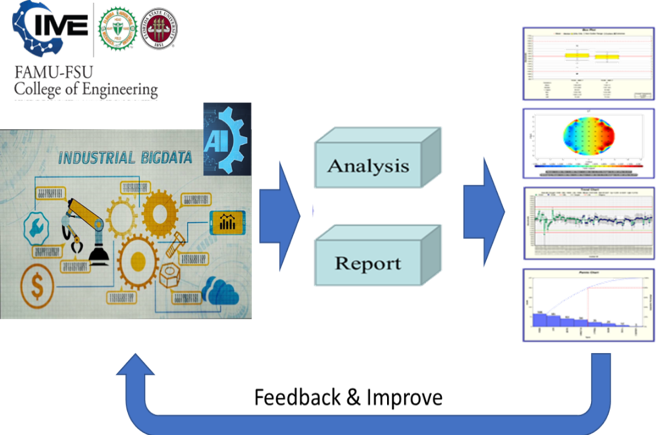 Engineering Data Analytics Program Faculty
Lichun Li
Chiwoo Park
Yanshuo Sun
Arda Vanli
Hui Wang Certificate Coordinator
---
For more information, please contact:
Dr. Hui Wang
Department of Industrial and Manufacturing Engineering
(850) 410-6387
hwang10@eng.famu.fsu.edu
Nicole Fowler
Department of Industrial & Manufacturing Engineering
(850) 410-6582
nrfowler@eng.famu.fsu.edu
To Request More Information
Loading...
---
Application Page
Admission requirements
Applicants must have a Bachelor's degree in an engineering discipline (e.g., Industrial Engineering, Systems Engineering, Civil Engineering, Engineering Management, Manufacturing Engineering, Mechanical Engineering, Electrical and Computer Engineering, Chemical/Biomedical Engineering, Aerospace Engineering, and Materials and Science Engineering), Computer Science, and other related STEM disciplines. In general, the following criteria will be used for admissions:
An applicant must be enrolled as a non-degree seeking graduate student, Master's student, or Ph.D. student with FAMU or FSU.
Good academic standing in the last institution attended, with a grade point average (GPA) 3.0/4.0 or higher.
One letter of recommendation obtained from academics or professionals who can comment on the academic and research potential of the applicant;
Statement of purpose describing reasons for pursuing the EDA program;
Curriculum Vitae or Resume; and
Unofficial transcripts can be submitted with the program application; International applicants must include an English translation.
Students must apply and be admitted to the certificate program in advance of completing the second course in the program.
Application Procedures
Prospective students must be admitted through either Florida A&M University or Florida State University as non-degree-seeking graduate students or graduate-degree-seeking students (Master or Ph.D.).  Students will apply here [INSERT APPLICATION BUTTON], after they have been admitted as either a degree or non-degree seeking student from the university. Applicants must be accepted by both the university and the department in order to enroll in the certificate program. Admission and completion of a graduate-level certificate program does not guarantee admission to a master's or specialist degree program. Students may, however, apply up to 12 semester hours of credit earned toward the master's or specialist degree with approval.
Non-degree seeking students need to check with financial aid to determine if they are eligible for financial aid.
---
---
Tuition & Fees
Academic Year tuition and fees for  graduate courses can be found at Florida A&M University or Florida State University (depending on your program and institution).
---
Engineering Data Analytics Certificate Courses
The curriculum includes a total of 12 credit hours of coursework in data analytics/machine learning for engineering systems. The courses are all taught by the IME faculty at the FAMU-FSU College of Engineering in Tallahassee and/or at FSU Panama City Campus. Successful completion of this approved graduate certificate will be posted to the student's academic transcript. The course requirement is outlined below.
Two core courses are required, including:
EGN 5444. Big Data Analytics in Engineering 
ESI 5685. Introduction to Machine Learning 
The students should elect TWO courses from the following courses:
ESI 5243: Engineering Data Analysis or
ESI 5681 Deep Learning in Practice or
Select ONE EIN 5930 section: 


EIN 5930. Data-Driven Informatics for Intelligent Systems (Fall, whenever offered) or
EIN 5930. Digital Transformation for Systems Engineering (Summer)