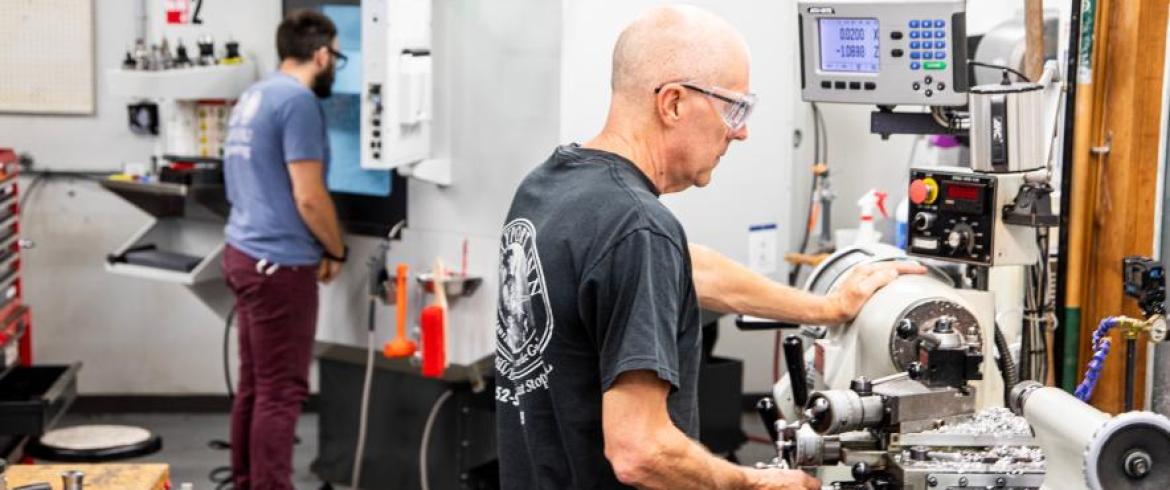 The Florida A&M University – Florida State University College of Engineering maintains a Machine Shop to support research programs, undergraduate and graduate education. The Machine Shop provides machining, fabrication and technical services in support of research projects and instructional laboratories for College of Engineering students, staff and faculty.
Read more about the Machine Shop here.
Location
Location: Building A, Room 118
Main Shop Phone: (850) 410-6113
Hours of Operation
Monday–Friday
8:00 a.m. – 12:00 p.m.
& 1:00 p.m. – 4:00 p.m.
How to Request Services
To request services from the Machine Shop, please come into the shop to discuss your specific request.
A shop staff member will go over your project with you to make sure there is clear understanding of what services are required. If you are from a unit outside of the COE, please reach out to the Shop Manager, Jeremy Phillips before submitting a service request form.
Services
Technical and Design Assistance
CNC and Manual Machining
Welding
Brazing
Soldering
Fabrication
General Safety Rules
University employees or students shall not turn on, use, repair, or operate any machine, tool, vehicle, crane, electricity, gas, steam, air, acid, caustic or other dangerous material or equipment unless authorized by a supervisor.

Safety guards and devices furnished by the University or department must be used. Removal or non-use will not be authorized.

Approved personal protective equipment must be worn when the exposure indicates the need for it, i.e., head and ear protection, face and eye protection, respiratory equipment, safety belts, protective footwear, etc.

Only tools, equipment, and machinery that is properly maintained and adjusted may be used.

University-provided tools may not be modified unless authorized by a supervisor.

Floors must be kept free of debris or substances that might constitute a tripping or slipping hazard. Employees or students responsible for any such spill must clean it up immediately.

Horseplay, running, and practical jokes are prohibited in the shop.
Clothing & Safe Dress
Employees and students will wear clothing appropriate to their tasks.

For those working with machinery or in other hazardous operations, clothing should be well fitted, with no loose or flowing appendages. Sleeves, if full length, should be buttoned at the wrist. The practice of working without a shirt is not approved.

Shoes should be well fitted with good soles and heels and of a style that completely covers the foot. Open-toe shoes, or lightweight shoes of the canvas "sneaker" type may not be safe. Safety shoes or safety toecaps are recommended in foot-hazardous work.

Employees and students with long hair who work around moving machinery must wear adequate hair covering to prevent the possibility of entanglement.

Jewelry such as rings, pendants, necklaces, earrings, watches shall not be worn when they constitute a hazard, i.e. working around moving machinery, electrical or electronics equipment, etc.