Engineering Ambassadors Network (EAN) is a new program on the FAMU-FSU College of Engineering campus. Led by the Office of Marketing & Communications, this new group of EAN student "ambassadors" will help us change the conversation about engineering to audiences on a local, state and national level. 
FAMU-FSU College of Engineering is a chapter of the Engineering Ambassadors Network national professional development organization for university students. Engineering Ambassadors complete training in leadership and communication and apply this skill set in outreach primarily to K-12 students. The goal is to create connections with these students, to inspire them to see the amazing opportunities in the engineering field. We visit area schools and do other outreach related activities on campus and in the community.
Influence the Future!
Engineering students have a unique perspective and influence on many audiences, from college alumni to company executives and K-12 students. Are you interested in sharing the magic of engineering with these audiences and the public? Perhaps Engineering Ambassadors Network is for you! 
Be one of the few selected to represent the Dean's Office! EANs will represent the college in many venues, including:
K-12 classroom activities at area schools
Press events and engineering videos
Social media events and "takeovers"
Engineering Outpost activities at Tallahassee community centers
Alumni, industry and other VIP events at the college and on main campuses
College/lab tours for VIP and community group guests
Represent the college at the national EAN Workshops in the fall and spring
Designing new and exciting opportunities to share engineering with the community!
EAs receive these benefits after completing training: 
Custom branded clothing
Name badge
Free nationwide workshop travel
Opportunity to earn LinkedIn badge
VIP networking opportunities
Leadership skill-building
Professional media & presentation training
Swag, perks & office space
---
Want to Learn More?
Thursday, September 7 @ 5:00 pm (Rescheduled)
Room A-115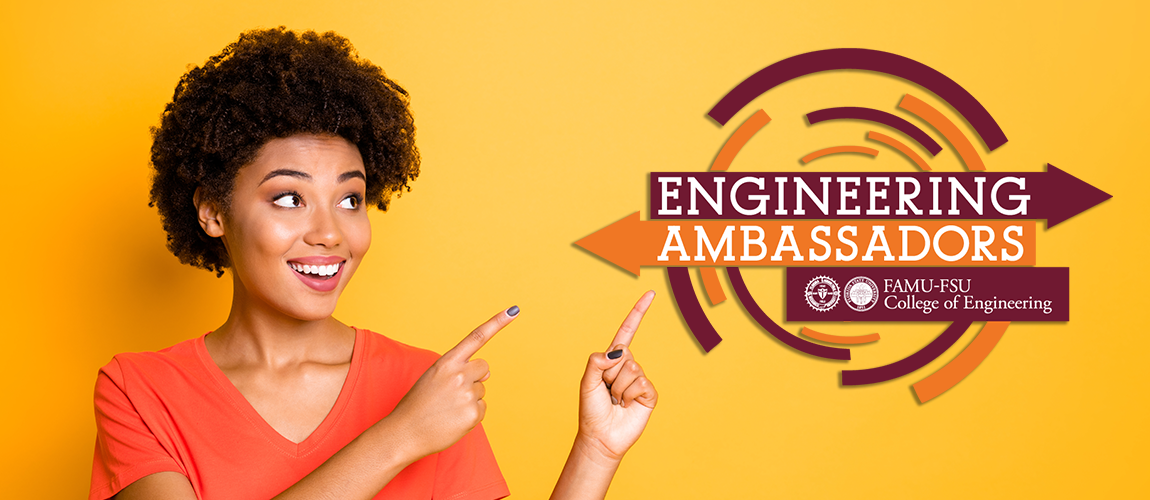 ---
Apply to Become an Engineering Ambassador
Ambassador Qualifications
Sophomore or junior at FAMU-FSU Engineering or first/second year grad student
3.0 minimum GPA
Able to commit to 8-9 events each semester (1-2 hours each)
Able to commit to weekly meetings and weekend travel to one workshop/semester
Outgoing, people-person who loves talking about engineering