Program of Study
The department offers both thesis and non-thesis options for the Master of Science (MS) degree. A minimum of 30 semester hours of course work and thesis are required for the thesis option, and 33 semester hours of course work and master's comprehensive exam are required for the non-thesis option. More information about the core courses, major depth concentrations, and other requirements can be found on the MS: Thesis Program and MS: Non-Thesis Program pages.
Students participating in the combined bachelor's/master's dual degree program in electrical engineering may double-count up to 12 graduate credits hours for both degrees. The credits to be double-counted will be designated as applicable to the graduate program after the student receives the bachelor's degree and matriculates in the Graduate School. A list of approved graduate courses that a student can take at the undergraduate level and may be double-counted is given below.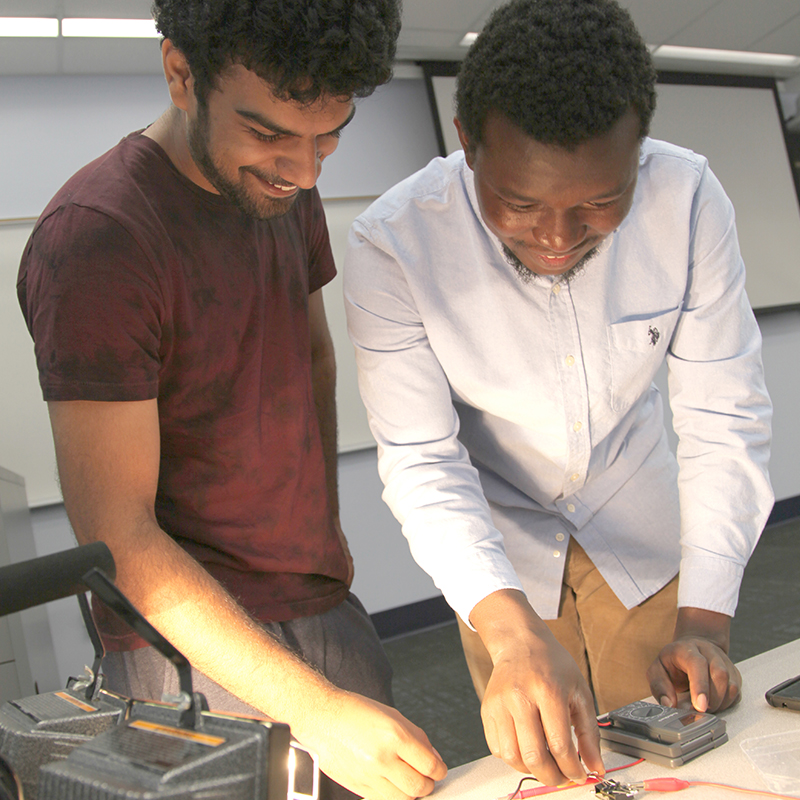 EEL 5173: Signal and System Analysis
EEL 5247: Power Conversion and Control
EEL 5250: Power Systems Analysis
EEL 5270: Power System Transients
EEL 5315: Digital Integrated Circuit Design
EEL 5317: Power Electronics
EEL 5333: Solid State Sensors
EEL 5378: Mixed Signal ICs
EEL 5416: Sonar
EEL 5443: Electromagnetics and Optics
EEL 5454: Optical Sensors
EEL 5465: Antenna Theory
EEL 5486: Advanced Electromagnetic Theory
EEL 5500: Digital Communication Theory
EEL 5542: Random Processes
EEL 5547: Radar
EEL 5563: Optical Fiber Communications
EEL 5590: Advanced Topics in Communication
EEL 5591: Wireless Communications
EEL 5617: Multivariable Control
EEL 5630: Digital Control Systems
EEL 5667: Robot Kinematics and Dynamics
EEL 5707: ASIC Systems Design I
EEL 5722-Digital signal processing with FPGA
EEL 5764: Computer System Architecture
EEL 5784: Computer Network Design and Analysis
EEL 5812: Advanced Neural Networks
EEL 5930r: Special Topics in Electrical Engineering
Up to 12 hours of graduate level course work may be taken during the undergraduate program. In order for this graduate level course work to be double counted towards the student's graduate program, a grade of B or better must be earned in the course. The work for the master's degree must be completed within seven years from the time the student first registers for graduate credit. Any graduate work transferred from another institution must have commenced not more than seven years prior to completion of the degree for the credits to be applicable to the master's degree.
Time Limit for Completion of the Combined Degree
Both degrees must be completed within a total of 10 years. The work for the master's degree must be completed within 7 years from the time the student first registers for graduate credit.