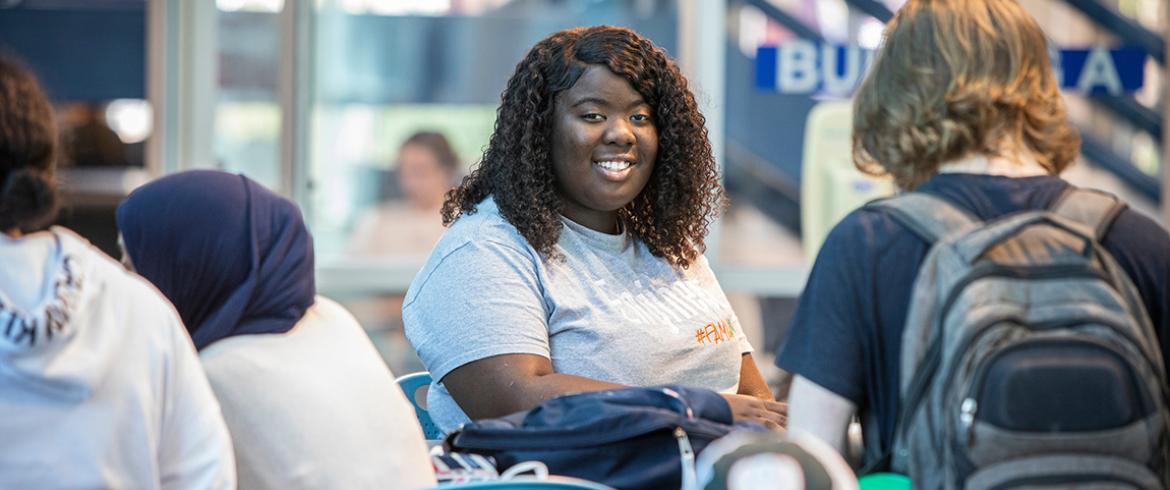 Catherine-Jolie Tabe is an undergraduate student at the FAMU-FSU College of Engineering in mechanical engineering and robotics. She hails from a small town in the Dallas-Ft. Worth area. In high school, Tabe received two White House Presidential Volunteer Service Awards for her community work. 
The enterprising young adult accrued over 200 hours of community service in 2021 and 2022, making a lasting impact on the community. After earning several private scholarships, Tabe funded her dream of going to FAMU completely debt-free and continues to share what she learned with her engineering peers.
What inspired your interest in engineering?
I fell in love with STEM as a child, whether it was setting up an experiment, applying math and science in everyday life, or playing with new gadgets. Robotics and automation intrigued me the most and led me to explore technology and learn critical thinking through extracurricular activities or organizations like Black Girls Code, Inc. and the Zero Debt College Project. These life-changing non-profits are founded by inspirational Black women who saw problems in their respective communities and cultivated solutions.  
Tell us about your community service projects.
I'm passionate about helping and advocating for others because I knew firsthand growing up what it was like to depend on my community and non-profit entities for support. I helped with community service efforts for my high school's student council, homecoming committee, DECA, Technology Student Association, and the African American Student Association. 
However, my service to my community started at home during the COVID-19 pandemic lockdowns. Isolation made me realize how dangerous it would be for my parents to even go grocery shopping for themselves. They were the nearest people to my newborn baby sister, and I noticed how they struggled with delivery services that would forget items essential items. 
It was a priority to get my driver's license. Once I was fully vaccinated and could legally drive, I made it my mission to help the immunocompromised people in my family. I knew I wanted to expand my efforts to my community as soon as it was safe. When online school commenced and the COVID-19 case numbers dropped, I volunteered with numerous organizations. 
At Texas Community Connections, I was a volunteer buddy for special needs children and their families. Another organization I worked with was the Zero Debt College Project, founded by one of my mentors, Dr. Monique Thompson. The Zero Debt College Project focuses on helping students attend college debt-free by focusing on three critical sectors: scholarships, community service and academics. I began by helping find scholarships that most students in the Facebook Group could apply for and win. Now I'm a student leader in the Zero Debt College Project.
What impact have these scholarships had on your life?
In the eighth grade, my mother took me to college fairs to understand how much college would cost. That's when I learned that earning a high GPA could lead to college merit scholarships and lessen my student loan debt. 
Applying for scholarships became a priority. I studied and retook my SAT and ACT three times just for merit and university scholarship consideration. I focused hard in my last year of high school and contributed to ten extracurricular activities in my senior year. I applied for community service experience wherever I could and earned the Presidential Service Award in 2021 and 2022 for completing over 100 hours of community service each year.
In addition to applying to university scholarships, I applied for more than 100 outside scholarships during my senior year. At my senior prom and Decision Day, I learned I had won enough money to attend FAMU. I was ecstatic about my dream coming to fruition.
Now that I'm in college, I fully understand the impact scholarships have on my life. Without them, I would not have been able to fund my dreams of going to FAMU, debt-free and financially free.
Why did you choose the FAMU-FSU College of Engineering?
Going to an HBCU was of the utmost importance when deciding on a school because I knew I could thrive where I felt wanted, represented and safe. I always felt more comfortable having a ring of Black excellence emitted by my surrounding community, now my FAMUly. 
FAMU became my dream HBCU when I realized it had all those qualities. It also allowed me to be a part of the 2022 cohort of the FAMU Engineering Living Learning Community, which helped me be highly prepared for my first year of college.
Since my acceptance to FAMU, I have gotten overwhelming support from a network of friends, family, alumni, current students, and faculty. FAMU-FSU College of Engineering alums have given me materials, resources and a supportive community devoted to my success.
What is your best advice for students?
Do everything you can with the purest intentions and initiative. You will thrive in anything you wish to do! Remember always to serve and give back to your community.
Apply for scholarships because millions of dollars go wasted when you don't apply. Please do not think you have to be at the top of your class to qualify; that is a common myth! The Zero Debt College Project teaches you how to develop a winning scholarship strategy before high school. We learned that scholarship representatives are not looking for a "perfect candidate" with "perfect" grades and achievements. Nor are they looking for a sob story to feel pity for you. They want to see that you have potential and grit. 
When writing your essays, establish that you have a foundation for a dream. Scholarships can help you build on it. Organizations want to see that you are well-rounded and involved in your community, and you can show that by going out and serving. I took my passion for STEM and my love for service and created a Zero Debt College project involving automation code to help fight police brutality.
Check out your local alumni chapters of collegiate organizations, professional development associations, and undergraduate and graduate-level organizations for scholarship opportunities. 
You are loved and exactly where you are supposed to be! No matter what life has in store for you, remember: the great days or the challenging ones, know that you belong here! Also, it is always okay to prioritize taking of yourself!
What do you hope to do when you graduate?
I plan to use my engineering degree to design innovative, automated solutions that bring a unique perspective to the world, disrupt industries, and provide more accessible ways to live that will benefit humanity forever. My goal is to open an engineering firm and create jobs and safe spaces for minority engineers to shine in the robotics industry. 
 
RELATED ARTICLES
FAMU-FSU Engineering graduate Kianna Porter shares her journey of success
View from Here: Leadership and Mentoring Drives Black Engineering Success
Engineering Undergrad Lauren Bishop Is Finding New Pathway to Science