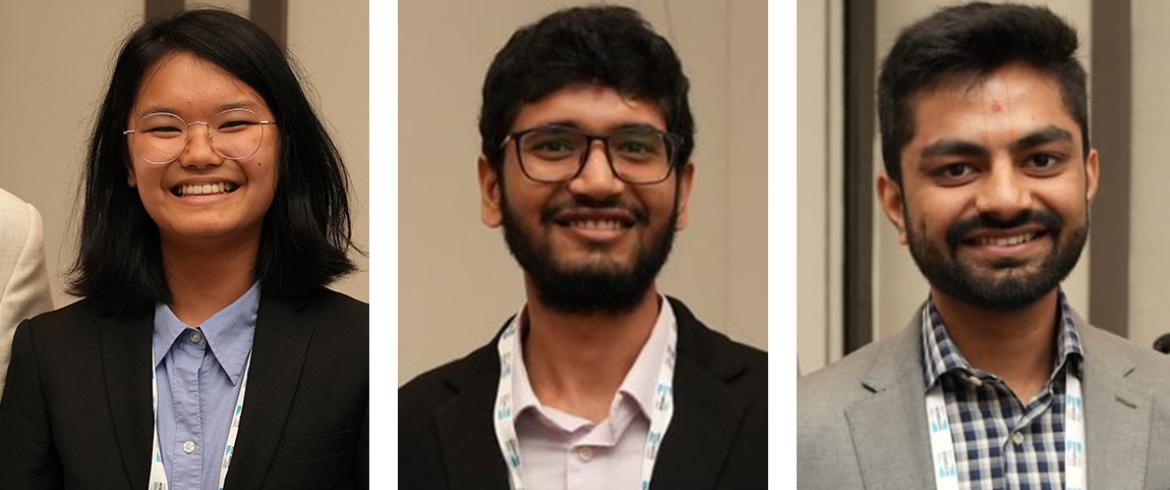 FAMU-FSU College of Engineering students from the High-Performance Materials Institute (HPMI) took top honors for their research at the SAMPE university research symposium held at CAMX* this fall. 
"This is a momentous tenth year in a row in which our students from HPMI have won awards in this national competition," Rebekah Sweat, an assistant professor in industrial and manufacturing engineering (IME) and the SAMPE Chapter faculty advisor at the college, said. "This year, our students placed in all categories, making a large impact in the materials community."
Bailee Ku, who took first place in the bachelor's category said, "This was a new experience for me, it really seemed like the folks at SAMPE wanted to mentor a new generation of researchers. I was delighted that I placed well in the competition but the other students in the bachelor's category all did a wonderful job too, so it was a close one for me." 
Ku's research involves improving properties related to carbon nanotube yarn treatments.
Mehul Tank, a doctoral student who won fourth place for his work on nanotube-polymer composites for high-temperature applications, talked about the experience of meeting the world's leading composite companies all under one roof. 
"Talking to all the different companies with all their innovative products gave me a better understanding of the composite market and business as an engineering student," Tank said. "The novel research ideas I brought back with me are an inspiration and will be the catalyst to convert the innovative ideas I've been thinking about into reality."  
Another student, Mitesh Patadia, took second place in the master's category. Patadia's work involved high-aspect wavy nanotubes for manufacturing.
"I'm overjoyed that I was chosen to present my research to a select group of people," Patadia said. "I had a wonderful experience at the event. It was an excellent opportunity and stage not only for me to share my research but to see the research others were working on." 
The SAMPE symposium provides a platform for students working toward the advancement of materials to present their research work in front of academics and industry leaders across the nation. The event offers awards for senior undergraduates, masters and doctoral candidates. The best papers presented in each student category received cash prizes, while winners in the Ph.D. category may go on to present their papers at SAMPE conferences in Europe and Japan.
"It's a platform to present, learn and grow from other's research," Tank said. "SAMPE provides a networking opportunity for students to build contacts with industry and academics."
2022 HPMI winners at SAMPE
B.S. Category
Bailee Ku, a third-year undergraduate in mechanical engineering, took first place for her work with Carbon Nanotube Yarn Treatments for Improving Resin Infiltration and Mechanical Properties. 
M.S. Category
Mitesh Patadia is a master's student in industrial engineering and received second place for his work with Multiscale Modeling of High-Aspect Ratio Wavy Nanotubes for Model-Informed Manufacturing. 
Ph.D. Category
Mehul Tank is a doctoral candidate in industrial engineering, focusing on material science and composites, and took fourth place for his work featuring Stereolithographic 3D Printed Boron Nitride Nanotube-Reinforced Polymer Composites for High-Temperature Applications. 
In addition to the award winners, engineering post-doc Joshua Degraff and Ph.D. student Marquese Pollard also delivered presentations at the conference.
*CAMX is the composite and advanced materials expo formed by ACMA and SAMPE to connect and advance the world's composites and advanced materials communities. ACMA is the American Composites Manufacturers Association, and SAMPE is the Society for the Advancement of Material and Process Engineering.
RELATED ARTICLES
IME students at HPMI take SAMPE 2019 top honors
Dr. Ayou Hao selected as winner of 2018 SAMPE Young Professionals Emerging Leadership Award