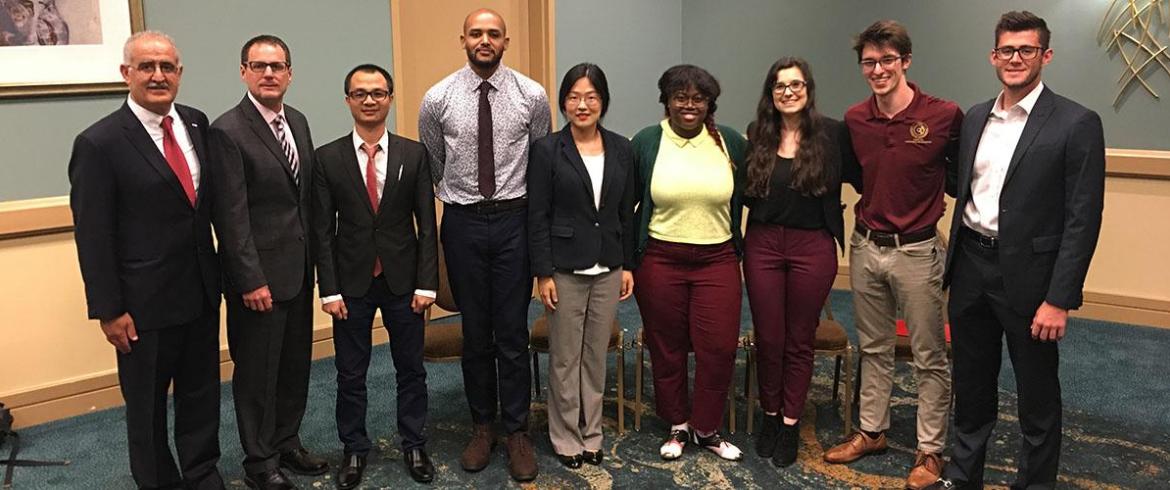 Several FAMU-FSU College of Engineering, Department of Industrial and Manufacturing Engineering (IME) and High-Performance Materials Institute (HPMI) researchers received awards at the SAMPE 2018 Technical Conference and Exhibition in Long Beach, California.
Dr. Ayou Hao was one of the seven winners of the 2018 SAMPE Young Professionals Emerging Leadership Award. 
Joshua Degraff's presentation of his work "Low-Profile and Printable Carbon Nanotube Buckypaper Strain Gauges in Structural Health Monitoring" won first place for the best in the University Research Symposium Ph.D. category. Degraff's prize includes an expense paid trip to attend the SAMPE Europe Conference in September held in Southampton, UK. 
Nam Nguyen was awarded third place for his presentation on "In-Situ Curing and Out-Of-Autoclave of Interply Carbon Fiber/Carbon Nanotube Buckypaper Hybrid Composites Using Electrical Current." In the same category Chelsea Armbrister's presentation on "Characterization of Triboluminescent Enhanced Glass Fiber Composites Manufactured via Displaced Foam Dispersion Technique" received an Honorable Mention.
In the MS category of the University Research Symposium, Claire Jolowsky's presentation "Scale-Up Study and Demonstration of Highly Aligned and High Concentration CNT Reinforced Composites for Aerospace Applications" was awarded first place.
Yourri-Samuel Dessureault was selected for the International University Leadership Experience Award, which sends student leaders to the SAMPE Conferences and Exhibitions to network with peers and industry professionals and increase their understanding of the Materials and Processes community.
Mechanical engineering major and HPMI researcher Ben Leathers brought home second place honors for best poster. 
The Society for the Advancement of Material and Process Engineering is an international professional member society. SAMPE provides a global forum for information, education and professional fellowship on materials and processes development. The SAMPE Technical Conference and Exhibition brings together leading companies, engineers, scientists, and professionals from throughout the advanced materials and processes industry.
Photos: Ayou Hao, one of the seven winners of the 2018 SAMPE Young Professionals Emerging Leadership Award with Ben Dietsch, President of SAMPE North America. Group photo, (L to R): Dr. Tony Saliba, chair of SAMPE University Research Symposium; Dr. Don Klosterman, co-chair of SAMPE University Research Symposium; Nam Nguyen, 3rd place, $500 award, PhD category; Joshua Degraff, 1st place, invited trip to SAMPE UK, PhD category; Dr. Ayou Hao, Young Professionals Emerging Leadership Award; Chelsea Armbrister, memorial mention, $100 award, PhD category; Claire Jolowsky, 1st place, $800 award. M.S. category; Yourri Dessureault, University Leader Experience Award and student