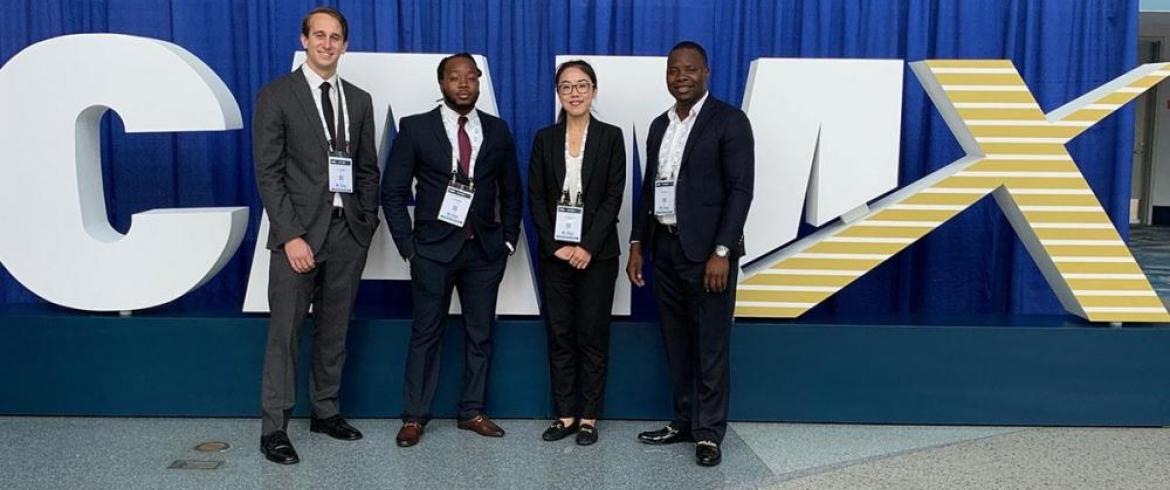 FAMU-FSU College of Engineering, Department of Industrial & Manufacturing Engineering students from the High-Performance Materials Institute (HPMI) took top honors for their research at the SAMPE university research symposium held at CAMX*, this fall. 
The SAMPE symposium is a program where student members have the opportunity to present the results of their technical research at a conference. The event offers awards for senior undergraduates, masters and doctoral candidates. The best papers presented in each student category received cash prizes, while winners in the Ph.D. category are further sponsored to present their papers at SAMPE conferences in Europe and Japan.
Marquese Pollard won first place for his research at the master's level. Pollard is the first FAMU-RISE student to win such an award according to Tarik Dickens, an industrial and manufacturing engineering professor at the FAMU-FSU College of Engineering. 
Abiodun Oluwalowo won second place for his work at the Ph.D. level. Oluwalowo is a pursuing his doctorate at FAMU-FSU Engineering through FAMU.
Ayou Hao, Ph.D. is a research faculty at HPMI and spoke about the significance of the awards. Hao was one of seven winners of the SAMPE Young Professional Emerging Leadership Award in 2018. 
"This is the seventh year that FAMU-FSU Engineering students from HPMI won awards at the SAMPE University Research Symposium at different levels," Hao said. "Rebekah Sweat, now one of our professors, won first place as a master's student in 2013."
FAMU-FSU Engineering winners in 2019
Ph.D. Category
Abiodun Oluwalowo - Second place, $1000.00 award, "Electrical and thermal conductivity improvement of carbon nanotube and silver metal matrix composites."
Zhe Liu - Third place, $800.00 award, "Lightweight Carbon Nanotube Surface Thermal Shielding for Carbon Fiber/Bismaleimide (BMI) Composites."
M.S. Category
Marquese Pollard - First place, $600.00 award, "Porosity Evaluation of Additive Manufactured Tooling for Intelligent Composite Fabrication."
B.S. Category
Stefan Spiric - First place, $500.00 award, "Carbon Nanotube Composite Cutting." 
*CAMX is the composite and advanced materials expo that was formed by ACMA and SAMPE to connect and advance the world's composites and advanced materials communities. ACMA is the American Composites Manufacturers Association and SAMPE is the Society for the Advancement of Material and Process Engineering.