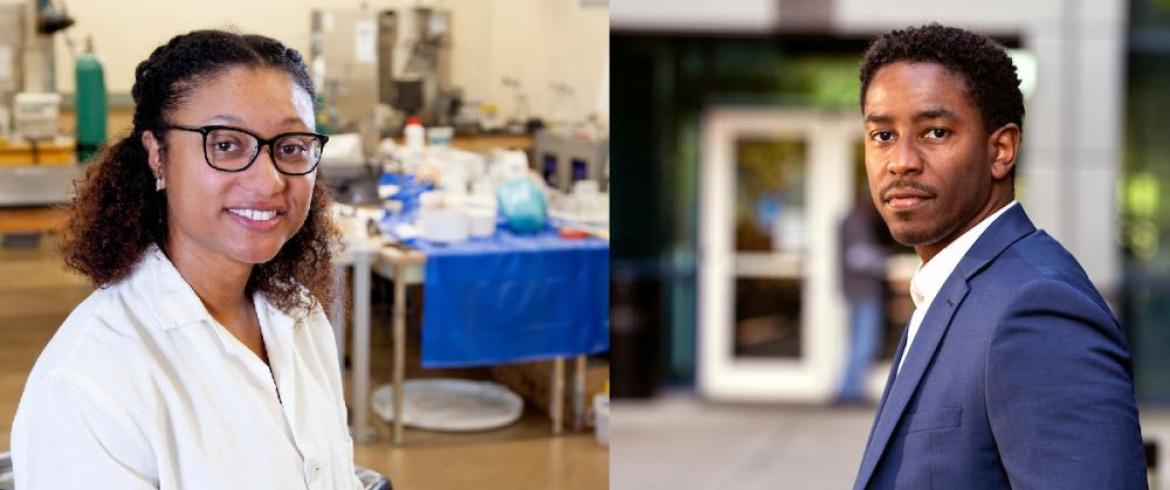 FAMU-FSU College of Engineering is the proud alma mater of two chemical-biomedical engineering graduates making history. 
Engineering scholars Bobby and Roneisha Haney graduated from Florida A&M University and are the first doctorates of the Center of Research Excellence in Science and Technology (CREST) program at the college. The two are married and landed prestigious positions after graduating in 2020 and 2021, respectively.
Bobby is currently at Harvard in a postdoctoral position in chemical engineering. Roneisha started a new position at Wright-Patterson Air Force base as a researcher. They met while taking undergraduate classes at Clemson University. 
"After, Clemson, I started my graduate studies at the FAMU-FSU College of Engineering," Bobby said. "A year later, when Roneisha was ready to choose a graduate school, I convinced her that the college had the most to offer. Thankfully she agreed and after much hard work we are at a great place starting our new careers." 
Historic gains in historically underrepresented areas
The significance of their accomplishments is even more impressive considering the challenges facing African American graduate students in engineering. National Science Foundation data shows, in 2019, Blacks earned less than 4.2% of doctorates in engineering.
Students often have to weigh out the uncertainty of taking a chance and getting a higher degree or having a job with a guaranteed income right away. This was the kind of decision Bobby Haney faced when pursuing graduate education.
"It was hard to explain to my family that an engineering degree was not enough, after all there was no guarantees that a graduate degree would pay off," Bobby said, "Once my parents understood the bigger picture, they supported my decision to get my Ph.D., and now they couldn't be prouder."
Roneisha overcame some of the challenges of paying for graduate education through an internship with the CREST program. Through the program, she had the opportunity to spend eight months at the Air Force base with a paid internship. That internship led to getting a permanent position at the AFRL.
"Coming to AFRL after with experience in printing, and my rheology background in the lab helped me stand out as an intern," Roneisha said. "I genuinely believe that preparation and experience played a critical role in helping me obtain the full-time position that I have now."
Mentoring is part of the process
Subramanian Ramakrishnan, the director of the CREST center and a 3M distinguished professor in the Department of Chemical and Biomedical Engineering at the FAMU-FSU College of Engineering, advised and mentored the scholars.
"We are very happy for the success of Bobby and Roneisha. This is a great achievement and their success forges a path not only for others in the CREST program but will motivate minority students all over the country." 
"The FAMU CREST program is the first and best choice for minority students at the college," Bobby said. "It focuses specifically on students of these backgrounds and works to give them amazing opportunities via cutting edge research, industrial internships and top tier collaborations. For a financially mature person, this can be more than enough to live, eat and conduct research for the duration of their graduate program."
CREST is a National Science Foundation (NSF) Program with a goal of training underrepresented minority students in areas of national interest and need by helping them pursue science, technology, engineering and math (STEM) degrees. CREST provides stipends for undergraduates, graduates and students in summer research experiences and helps them apply for national fellowships.
There are many opportunities at the college for minority engineering students who want advanced degrees. Graduate degrees in STEM support research and teaching assistantships that pay the student's tuition while giving a stipend.
Tarik Dickens, the associate director of CREST and associate professor in the college's department of industrial and manufacturing engineering said, "This program demonstrates how much of an impact it has to tap into the creative potential of a young research scientist."
He explained, "Students can explore new processing schemes with state-of-the-art equipment and maybe create new processing schemes for the next generation of advanced high-performance materials. Anything is possible."
RELATED ARTICLES
Researchers' partnership with nScrypt advances 3-D printing at college
Additive manufacturing takes center stage at FAMU-FSU Engineering research event aimed at cultivating diverse engineers