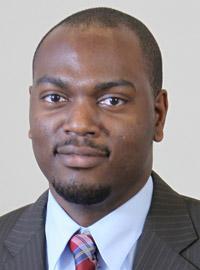 Associate Professor of Industrial & Manufacturing Engineering
Associate Director of CREST CoMand
Department Graduate Director (IME)
Office
Building B, Room B318
Educational History
Ph.D., Industrial and Manufacturing Engineering, Florida State University, 2013
M.S.I.E., Industrial and Manufacturing Engineering, Florida State University, 2007
B.S.I.E., Industrial and Manufacturing Engineering, Florida State University, 2005
Research Interests
Composites
Multifunctional Composite Materials
Intelligent Composite Processing
Digital Manufacturing & Automation (Robotic additive manufacturing)
Integrative Additive Manufacturing (Micromanufacturing)
Failure & Life-Cycle Analysis
Mechanical Testing & NDE Towards Prognosis
Engineering Analytics (Industry 4.0/IIoT)
Hybrid-Energy Devices
Tarik J. Dickens, is an associate professor at the Florida A&M University-Florida State University College of Engineering, Tallahassee, Florida. He is a native of sunny Florida where he received his training in Industrial & Manufacturing Engineering from Florida State University. During his PhD, he developed novel techniques, which are under patent protection, towards prediction and in-situ monitoring of damage in high-performance multifunctional composite systems. He has demonstrated entrepreneurial drive and creativity from his research work in Systems Health Monitoring to transform novel work in composite technology into a viable commercialized product through the business he helped to establish in the Nanotechnology Patronas Group, Inc., which led to an award of $55k in the InNOLEvation Challenge business and entrepreneurial competition and has participated in other business-like competitions as well. His research has carved out a new niche focused on integrative-composite manufacturing for online prognosis of composite structures which has the potential to revolutionize non‐destructive testing procedures that occur in high‐investment industries (military, aerospace and commercial). He has authored and co-authored more than 35 journal papers, book chapters and refereed conference proceedings. He has also garnered industry experience in his time at General Dynamics as a Manufacturing Engineer where he was able to help cut expenditures in equipment acquisition.
Through his experimentation at the High-Performance Materials Institute/Industrial Engineering department has received awards from the NSF and NASA totaling three-million dollars, as well as securing projects for the AFRL and NSF internship programs.
His current research interests are in the areas of composite structure design, intelligent processing, additive and automated processing, and mechanical testing with a focus on failure prognosis (with interconnected sensors). He is also conducting research on hybrid electrochemical solar cell production and with advances in additive manufacturing. The emphasis on these developments are centered on the fabrication and assembly via co-additive processing and 2.5-3D printing systems integration with links to industry 4.0 (IIoT). He also runs an educational and experimental research lab in additive manufacturing known as the smart computer integrated/interconnected manufacturing lab (SMART-CIIM 1.0 & 2.0 Labs). He has graduated 1 PhD's and 4 MSIE students. He currently advises 4 PhD's and 2 MS's students. Dr. Dickens is always looking for highly motivated, independent and multidisciplinary student leaders.