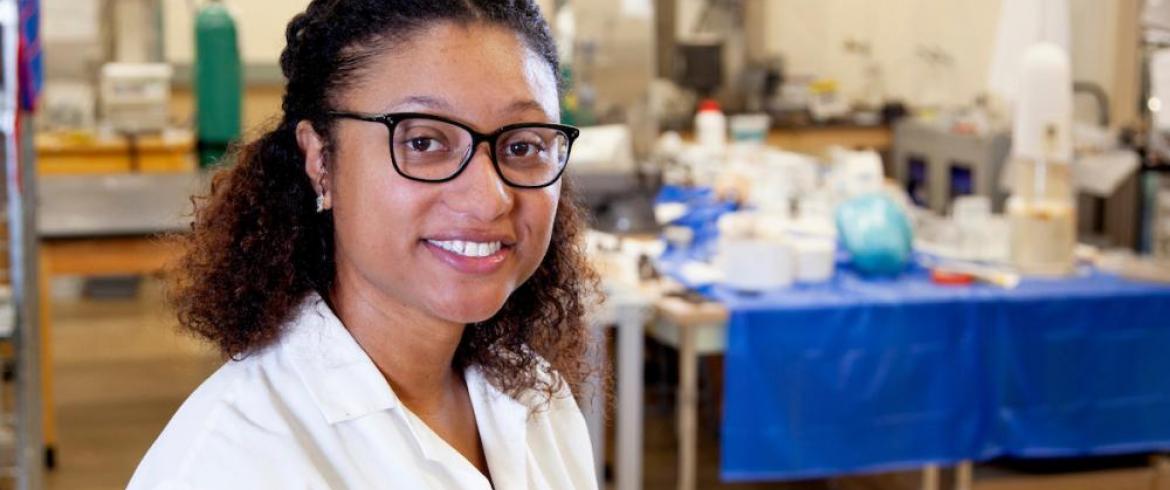 "One of our FAMU doctorate students just got offered a research position at the premier materials and manufacturing directorate at the Air Force Research Lab," Subramanian Ramakrishnan, a 3M distinguished professor at the FAMU-FSU College of Engineering, said. "I don't think this has happened before."
Ramakrishnan was referring to Roneisha Haney, who received her doctorate in chemical and biomedical engineering from the college via Florida A&M University this summer. Haney began her new job with the Wright-Patterson Air Force base in August. During her doctoral studies, she was a scholar in the college's Center of Research Excellence in Science and Technology (CREST) program and spent eight months at the Air Force base doing research. The National Science Foundation (NSF) funds the CREST program. 
"The CREST program helped create a sense of family and purpose during my graduate career," Haney said. "During the second year of my program, I spent the bulk of my time in High Performance Materials Institute working with CREST post-docs. They were learning all the ins and outs of the Nscrypt printer. All this helped to prepare me for my internship at the Wright Patterson Air Force Research Laboratory (AFRL)."
During Haney's internship at the military research lab, she worked alongside scientists producing lightweight, functional composites for aircraft-related applications. In the Polymer Matrix Composites group, she worked to used cellulose nanocrystals as fillers in composite materials. The work she began at the base is ongoing and contributed significantly to her dissertation work.
"With the support of funding from the NSF CREST program, we have been able to produce excellent Ph.D. candidates at FAMU who have carried out state of the art research in collaboration with the Air Force Research Labs," Ramakrishnan said. "This has led to a permanent position for Roneisha—which is well deserved."
Haney explained, "Coming to AFRL with experience in printing, and my rheology background in my lab, helped me stand out as an intern. I genuinely believe that preparation and experience played a critical role in helping me obtain the full-time position that I have now."
The CREST program supports the research capabilities of minority-serving institutions by creating centers that integrate education and research. The program established the Center for Complex Materials Design for Multidimensional Additive Processing at FAMU-FSU Engineering. 
The center advances the manufacturing of novel combined materials on the micrometer scale. These materials have applications in magnetic shielding, energy and biomedical technology. 
"This is huge for FAMU and its students and a first at the university. This also attests to the success of the NSF CREST program in producing high caliber STEM graduates in areas of national significance," Ramakrishnan said. "I expect Roneisha to not only excel in research but also serve role model for other Black students."
"I am grateful for Professor Ramakrishnan, the other CREST faculty and the post-docs," Haney said. "I hope that my story and experiences can show current and incoming students all the amazing opportunities possible through the CREST program."
RELATED ARTICLES
FAMU-FSU Engineering doctoral candidate invited to Dows BEST symposium
Engineering researchers improve tools for conductive performance of 3D printed composites in NSF study
Researchers' partnership with nScrypt advances 3-D printing at college