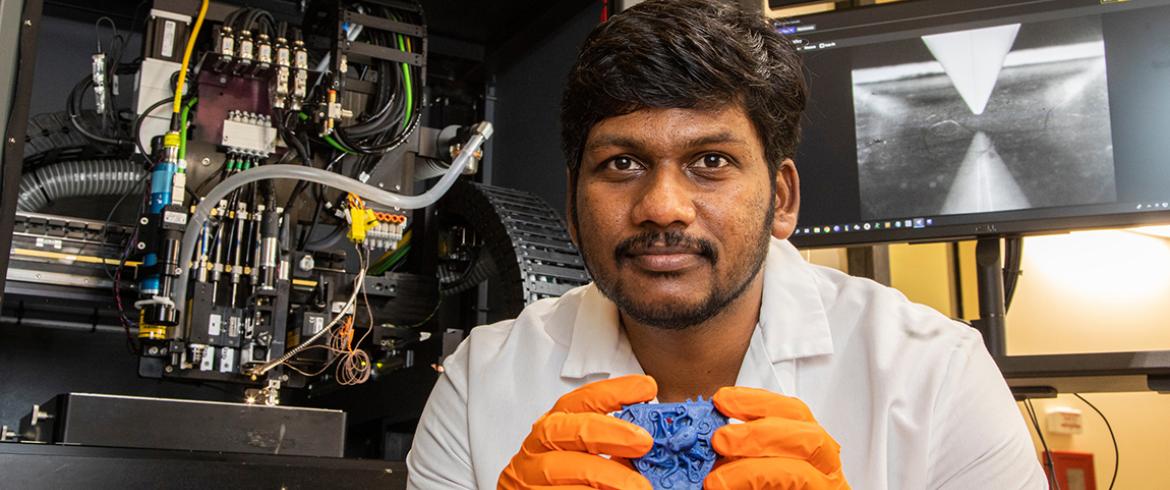 After just one year on the job, Balaji Krishna Kumar has made an immediate impact on the FAMU-FSU College of Engineering's research culture. Kumar is a postdoctoral researcher at the National Science Foundation-CREST program at the college and works with Florida A&M University doctoral students and undergraduate program interns on novel materials research.
Tarik Dickens, an associate professor at FAMU-FSU College of Engineering and the director of the CREST program says, "postdoctoral associates are a vital part of the university and livelihood of the research group. Dr. Krishna Kumar is a very diligent individual and is committed to expanding his expertise to include novel polymer processing techniques."
Dickens and Kumar recently published a review paper on the "Dynamic bond exchangeable thermoset vitrimers in 3d-printing," in the Journal of Applied Polymer Science. Vitrimers are a new class of hybrid polymer structures considered thermoset and thermoplastic. Kumar's work includes modification of the vitrimer systems for photonic processing, which would extend the application of these materials to 3-D printing. 
The research involves setting up a polymer synthesis line to explore designer polymers for high-pressure extrusion processes. He and his team have been scaling up the synthesis of PI/Vitrimer materials to advance self-healing, nanocomposites for high-temperature settings and hybrid processing applications.
Kumar earned his doctorate in chemical engineering from the University of Petroleum and Energy Studies in Dehradun, India, and received his bachelor's in electrical engineering from Anna University in Nadu, India. According to Dickens, Kumar's extensive research background is an obvious fit for the novel research conducted in the FAMU CREST Additive Manufacturing center. 
Kumar said, "My experience at FAMU and the College of Engineering has been quite enjoyable and provides wonderful surroundings with diverse field experts who instigate new thoughts and approaches resulting in astounding research outcomes." 
He plans to continue his research in the polymer/ vitrimer nanocomposite field and wants to work in the research industry in the future.
CREST is the first 3-D printing research center on the joint college campus. Its research ranges from synthesizing novel materials and functional processing to finding digital manufacturing strategies. The program promotes development of a new range of energy devices and hybrid electronics. The research tools Kumar and his team are developing will be critical for conducting new experiments for data-driven research in CREST-affiliated and university research projects.
The CREST CoManD Center grant was initiated by Subramanian Ramakrishnan, a professor in chemical engineering at the college, to advance FAMU research. Kumar is pioneering the development of functional materials under Dickens, the co-director of the Additive manufacturing center located at the High-Performance Materials Institute (HPMI). 
The FAMU-FSU College of Engineering, through Florida A&M University, is realizing millions of funding from the National Science Foundation and the U.S. Department of Defense for research programs associated with historically black colleges and universities (HBCUs). 
RELATED ARTICLES
CREST program engineering graduate lands prestigious position at the Air Force Research Lab
Chemical and Biomedical Engineering graduates of CREST program are making history in a series of FAMU "firsts"
$4.9M CREST grant awarded to FAMU-FSU researchers promoting novel materials, devices and Additive Manufacturing