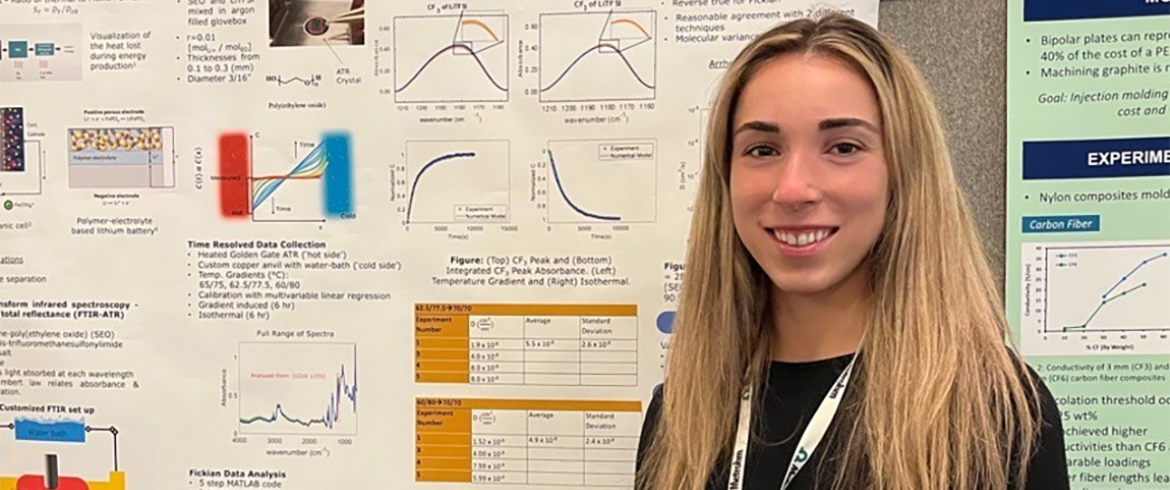 FAMU-FSU College of Engineering senior Ashley David won second place in the Electrochemical Society Poster session for her work on Analyzing the Soret Coefficient Using Time-Resolved Fourier Transform Infrared Spectroscopy (FTIR). David competed with 112 student submissions from colleges throughout the nation, for work in electrochemical and solid-state science and technology. 
David, a biomedical engineering major, is working on her senior thesis through the Honors in the Major program at Florida State University. The program allows students to work on a selected topic and graduate with honors after completing a project in a discipline. 
"I hope to pursue a doctorate in chemical engineering, and I am looking toward graduate programs in California," David said. "I would like to pursue a career in research and work toward a more sustainable future."
David researches at the Polymers for Advanced Energy and Sustainability Lab under Daniel Hallinan, an associate professor in chemical and biomedical engineering at the college. For the past two years, Hallinan has been her professor and adviser. 
"My research contributes to the development of a universal model for the Soret effect, which can be used toward re-harvesting wasted heat energy from industrial processes," David said. "The process increases battery efficiency." 
It is the first time the FTIR-ATR has been used to measure the Soret Effect, making the work an extremely novel topic. Additionally, the data collected showed the effectiveness and repeatability of the FTIR-ATR to measure diffusion coefficients. 
David's research was supported by the National High Magnetic Field Laboratory Research Experience for Undergrads Program, which she participated in over the summer and the FSU Steve Madden IDEA grant award.
"I want to thank the honors program for making travel to the conference possible," David said. "Also, the support from the FAMU-FSU College of Engineering, the PAES Lab, and The National Science Foundation (NSF)."
RELATED ARTICLES
From Aerial Acts to Shattering Composites, Engineering Graduate Student is Here for It
Grad Student Gets a Royal Rattler Welcome, Voted Graduate Attendant for FAMU's Royal Court
Barbot wins "People's Choice Award" in 2022 ACC InVenture Prize Competition