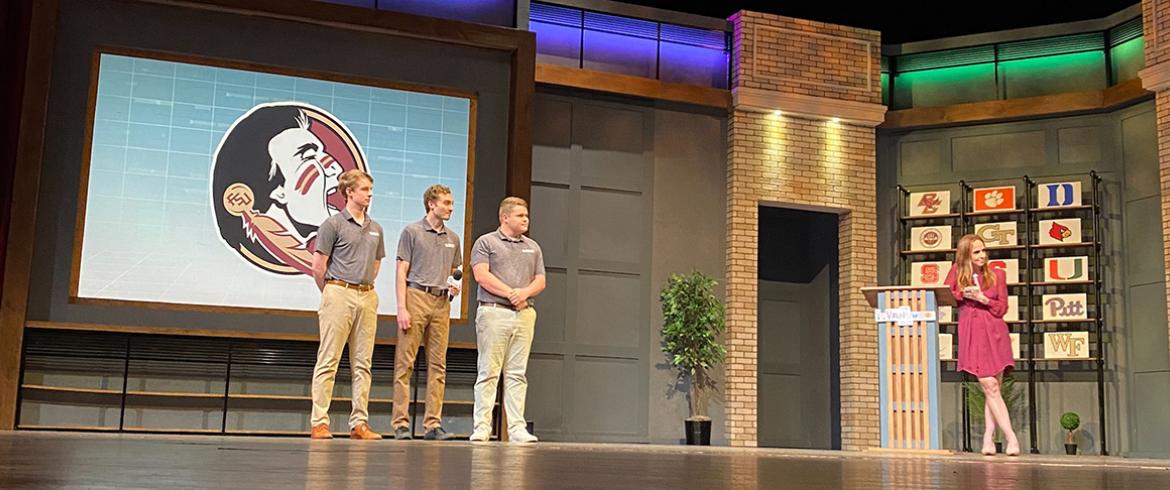 FAMU-FSU College of Engineering mechanical engineering students Brett Scharmett, Patrick Manser and Charlie Edbrooke's robotic bartender "BARBOT" won the "People's Choice Award" in the 2022 Atlantic Coast Conference InVenture prize competition.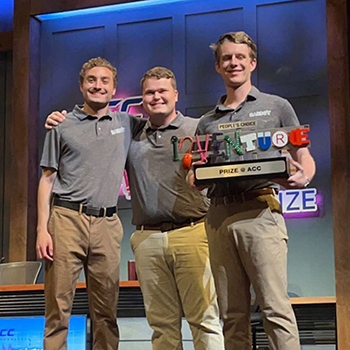 "It was really exciting to get the People's Choice Award tonight," Scharmett said." It felt great that the FSU community and audience gave us their support."
Florida State University (FSU) was the host of the sixth annual competition of the event on Saturday, April 2. The "Shark Tank"-style competition allows students opportunities to showcase their talents and creativity.
Fifteen ACC universities sent their best undergraduate entrepreneurs to compete in the nations' largest undergraduate student innovation competition. Teams pitched their inventions or businesses before a live audience and panel of judges to compete for $30,000 in prizes and the chance to be the next ACC InVenture prize winner.
William Oates, chair and professor of the college's department of mechanical engineering, said, "It was great to see BARBOT's team recognized for all their hard work this past weekend. They invested a lot of time and financial resources into their design. I wish them the best and hope this award keeps them along a path of future success." 
BARBOT, representing FSU, scored big with the hometown audience. The automated robotic bartender creates fast, easy and convenient drinks at home. The team is one of the residents in the Greenhouse Incubator at the Jim Moran College of Entrepreneurship, a place to develop and support FSU students interested in starting a business.
"We plan to release Barbot through a crowdfunding campaign and segue to our retail and e-commerce debut in 2023," Scharmett said. "In 2024, we plan to create a BARBOT for the hospitality industry."
Manser and Edbrooke previously received a National Science Foundation grant and also won the 2022 InNOLEvation Challenge for Firebird, a tabletop computer numeric control milling machine. 
Other ACC college teams had inventions that sanitized water bottles, made better tea or apps that helped with job hunting, or monitored elder health. Each idea represents a new generation of leaders and problem solvers. 
Congratulations to all the 2022 ACC InVenture Winners:
First place: Georgia Tech's team carSeal won the first-place prize of $15,000 to help them improve their carotid artery closure device. Sponsored by the Mayo Clinic, the device may reduce the impact of stroke. 
Second place: Two teams tied for second place. Clemson University's team CatheSure and Duke University's team Holoriff were awarded $5,000 each for their inventions. CatheSure is a wireless device that detects a shunt malfunction in hydrocephalus patients in less than five minutes. Holoriff is a device that uses gesture recognition to convert hand motions into mouse input for any computer. The device may help surgeons directly interact with technology while in the operating room.
People's Choice Award: BARBOT, representing the college and Florida State University, is an at-home automated robotic bartender. The team received $5,000 to refine their device. The People's Choice Award is determined by online voting during the final round and given to the fan's favorite invention.