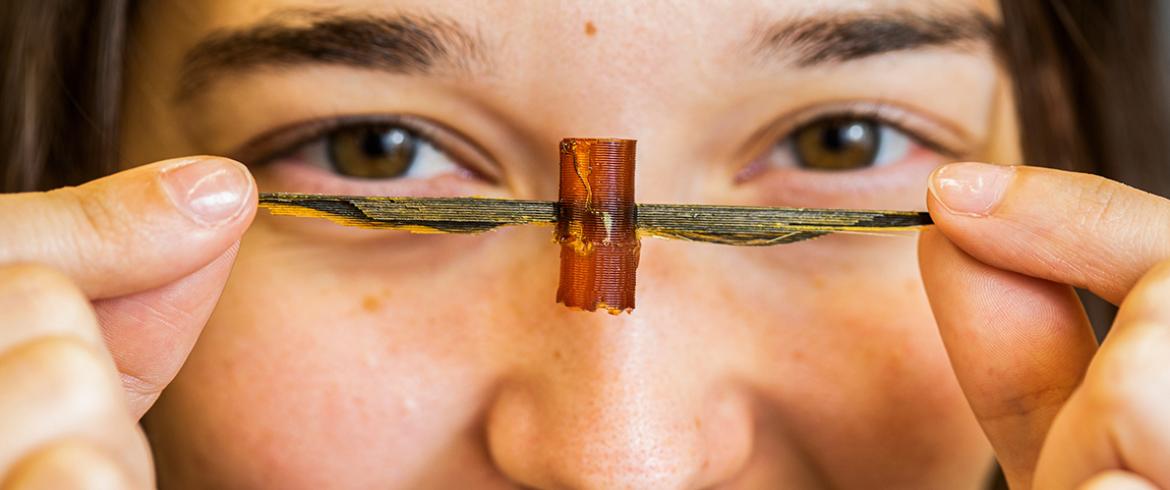 The saying, "bend but do not break" defines young engineering researcher Ana De Leon. For her, the joint college and collegiate circus provide the intersection of athleticism, entertainment and scientific research that she loves.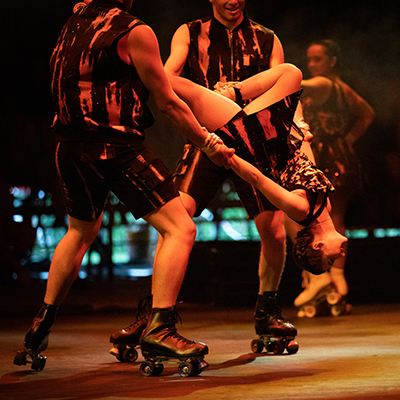 A third-year PhD student in industrial and manufacturing engineering at the FAMU-FSU College of Engineering, De Leon has attended Florida State University (FSU) and been a member of the university's storied Flying High Circus since her undergraduate days. 
"It is funny how people react when they find out I am a Ph.D. student and a circus performer," De Leon said. "It is a combination that not a lot of people would expect."
In the research lab at the High-Performance Materials Institute (HPMI), De Leon works on composite materials research with Rebekah Sweat, an assistant professor of industrial and manufacturing engineering and the head of a computational and experimental research group.
The properties of the material can make all the difference in the world. Composite materials, for example, are made from two or more different substances that are mixed together. They can be used in everything from airplanes and rockets to golf clubs that go through varied environmental conditions. The study of these interfaces of novel materials in challenging environments is crucial to understanding how these materials bend and break—and it's one of De Leon's scientific interests.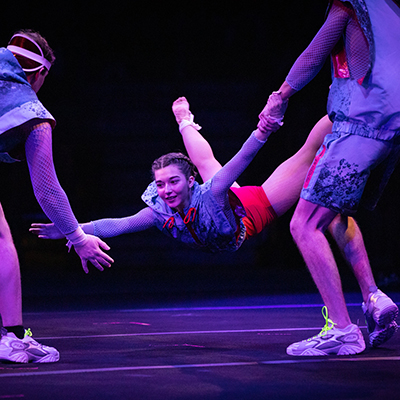 With Sweat, De Leon recently published an article in the journal Composites Science and Technology and has a patent pending. The graduate student has also led research for commercialization and fundamental projects while mentoring undergraduate students and co-authored two journal papers and two conference papers in 2022. 
"Ana has brought a fresh data-driven perspective to interfacial engineering material science problems, and her approach can more confidently design and predict the materials of the future," said Sweat.
In addition to her research and circus activities, De Leon recently received an industry-funded scholarship and serves on the student board of the local chapter of the Society for the Advancement of Materials and Processing Engineering (SAMPE). 
"I am grateful for having the support from both the FSU circus staff and my faculty advisor, Dr. Sweat," De Leon said.  "Without them, none of this would be possible."
In the Flying High Circus' fall 2022 Halloween Series shows, De Leon starred in two acts, flying through the air as Medusa and skating as a vampire. She is currently training to perform in skating and quartet adagios in the FSU Flying High Circus the 76th Annual Home Show Series which will take place in Spring 2023. 
FSU's Flying High Circus is a show that brings together academics and entertainment. Started in 1947, it is a unique tradition and one of only two collegiate circuses in the country. HPMI is a unique research center that offers a materials and manufacturing program to generate new materials processes and characterize them for applications needed in the industry.
RELATED ARTICLES
Engineering Student Wins $200K Grand Prize in Pharell Williams Black Ambition Initiative
For Mikayla Schuller, It's All a Matter of Balance