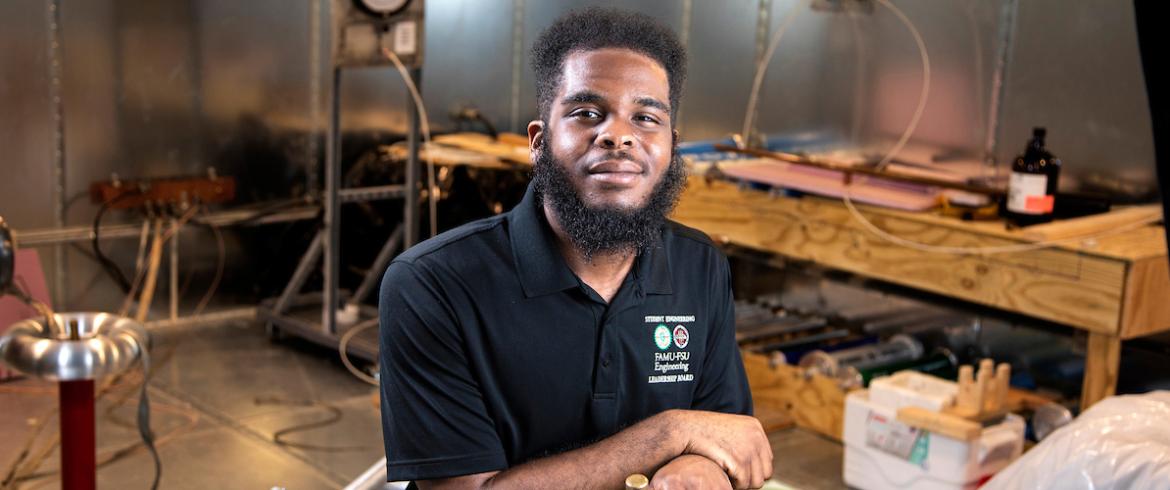 Norman Downey was presenting his research to visiting dignitaries at the Center for Advanced Power Systems (CAPS) when he noticed one of the visitor's ties. It was a beautiful red and gold, and Downey was mesmerized.
"It was a really cool tie so I told our visitor how much I liked it," Downey said. "He took his tie off and literally gave it to me, signed it and told me to wear it to the upcoming career fair, which I did. The visitor was Richard McCullough, president of Florida State University. Now it's my lucky tie."
This is just one example of the networking opportunities Downey enjoys as an undergraduate researcher at CAPS. He is a fourth-year electrical and computer engineering undergraduate at the college through Florida A&M University. Due to the unique, joint nature of the college, Downey is able to be involved in research through the Advanced Sensors Technologies for Applications in Electrical Engineering Research and Innovation Excellence Consortium (ASTERIX) program. He recently co-authored a paper for the 2022 Electrical Insulation Conference.
What is your experience with ASTERIX?
ASTERIX has been great. Since I've been involved in the program, I have learned more about research and realized that it is an option that an engineer could do. The consortium explores novel manufacturing techniques to fabricate the next generation of sensors and electronics. I do my research at the CAPS facility.
Tell us about your research.
My research at CAPS focuses on characterizing additively manufactured (3-D printed) samples for electrical insulation properties. I co-authored a conference paper on the results of experiments performed on 3-D printed electrical insulation components for cryogenic applications. The measurements conducted were partial discharge inception voltage. 
What is it like to work as an undergraduate researcher?
It's fun and interesting. As an undergraduate researcher, I have access to advanced laboratories, like the high voltage lab, and had the opportunity to use the equipment there. I meet and talk with research professionals and discover the different research areas of electrical engineering. 
What sorts of work do you do in the lab?
I set up and perform experiments to test various electrical insulation properties, such as partial discharge and breakdown voltage. I design multiple 3-D objects using CAD software (such as SolidWorks) and print them using two different types of 3D printers.
What are your long-term goals?
I want to work in the field of robotics. It would be interesting to research new robotics systems or work in an industry where I could design robots to do various tasks.
Who inspires you?
My grandfather inspires me the most. He worked as an electrical engineer. Watching how he lived and how he was able to do what he liked for a job and live a comfortable life is something that gives me the motivation to keep going.
What clubs or student organizations do you belong to?
National Society of Black Engineers (NSBE), Robotics Development Organization (RDO), Institute of Electrical and Electronics Engineers (IEEE), FAMU Video Game Club (VGC), and Student Engineering Leadership Board (SELB).
What advice would you give undergraduate students interested in research experience?
The best advice I can give is if there is a class subject that you find interesting, talk to the professor. Ask them if they have a research position open or head to the department chair and see if they can get you in contact with someone doing research in a field that you find interesting.