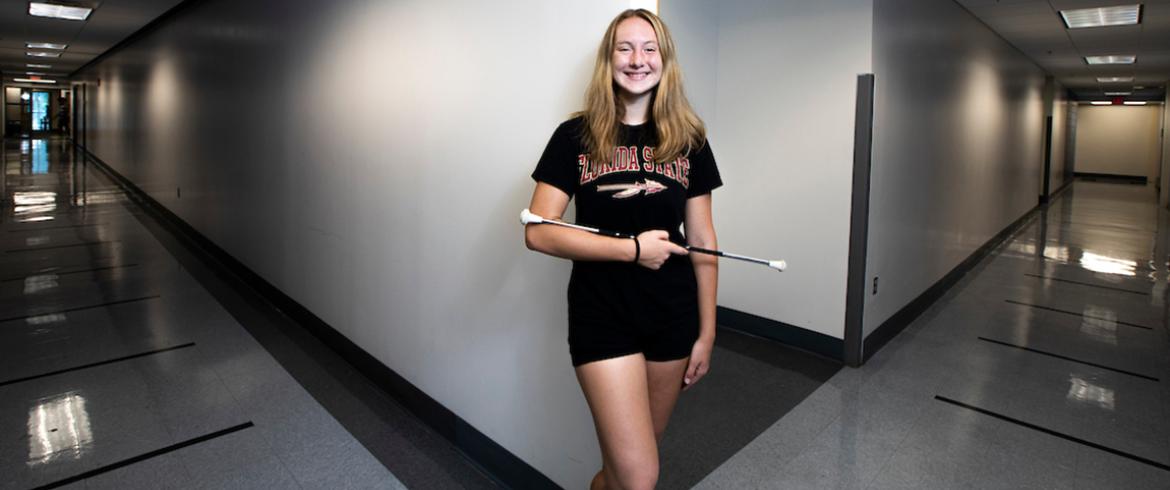 Mikayla Schuller returned to Tallahassee this fall after a better-than-usual summer between semesters.
Schuller, one of only a few Feature Twirlers at Florida State University, took fourth place in the junior women's short program and freestyle category in the World Baton Twirling Federation World Championship (WBTF). The sophomore mechanical engineering student at Florida State University and the FAMU-FSU College of Engineering takes the success—and the work—in stride.
"My success in getting into FSU, being a feature twirler for the Marching Chiefs, and competing at the world level makes all that I do worth it," Schuller said. "I am so thankful for the opportunities I have been given. I'm enjoying each of them with so many wonderful friends and family."
The international competition in Turin, Italy, was her first world championship appearance. Previously, she won first at the 2019 WBTF International competition in Limoges, France. As a feature twirler for the FSU Marching Chiefs, she is used to being at the center of the field—and in the spotlight. But as an engineering student, other skills have come to the forefront as well. Recently, she shared some insight on balancing two challenging preoccupations: engineering and an international competitive twirling career.
Finding the balance 
Being a feature twirler in the Marching Chiefs and studying engineering is challenging.  I had to learn to balance my studies, my after-school activities, friends, and training to compete at the elite level in baton throughout high school.  
I spent many hours training in baton and traveling for practice and competitions. I created a schedule for everything I wanted to accomplish and planned my week accordingly. Time management is essential to get everything done and still have time to relax with my friends and family.  
Balance, staying mentally and physically healthy, and working hard is important to me. These are essential to being able to do everything that I enjoy. I have learned to surround myself with people who support and love me. 
What brought you to this college?
When I first chose to go to FSU, I was trying to decide between environmental science and mechanical engineering. The environment and its preservation of it are significant to me. I also love the design and operation of aircraft, especially military aircraft.  
I wanted to pursue my undergraduate degree at a large university with highly-rated education programs and a band with a history of talented twirlers. FSU offered me everything I wanted. I loved the campus.
I was an environmental science major, and although I enjoyed it, I realized my true passion was airplanes. This summer, I switched from environmental science to mechanical engineering. It is my sophomore year, and I am taking the first-year prerequisites for engineering. I enjoy being a part of the renowned Marching Chiefs and having the ability to receive an excellent education. I love the atmosphere of FSU and the opportunities it has to offer.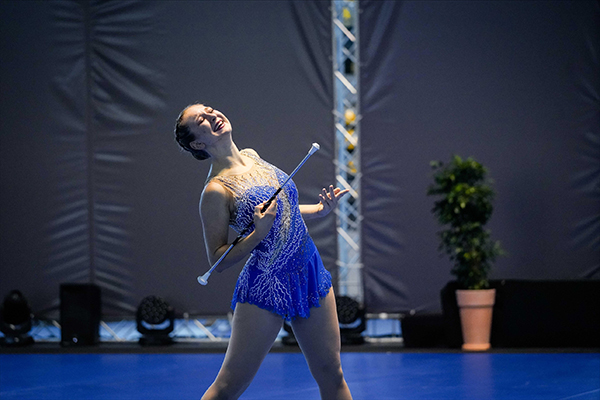 Why did you choose mechanical engineering?
My mom is a mechanical engineer who worked in the aerospace industry, so growing up, I was exposed to her work and was always fascinated by what she did. I hope to work with military jets as a career.
What was it like to get 4th place in the World Twirling Championship?
Although I was extremely nervous, it was an exciting opportunity to compete on the world stage. I have dreamed of representing the USA at the world level since I was ten. Being able to live that dream was surreal. It was an honor to compete against the best international twirlers. 
I also enjoyed cheering on other members of Team USA as well as meeting and watching the other fantastic twirlers from other countries. It was great to go to Italy and represent the US in the sport I am passionate about and love. Competing at the highest level in my sport and representing my school and country was an honor. 
I am very thankful to receive this opportunity and will never forget the feeling of competing on the world stage. Being able to step out on the floor, do my best and receive 4th was an honor. I will never forget this experience and am so thankful for it.
Any plans for future competitions?
Next August, I plan to go to Liverpool, England, and compete at the World Championships Nations Cup. This past summer I qualified in two-baton, three-baton, pairs, and team for the world championships and solo for the nations cup. I am very honored and excited to represent the US, once again, at the world level.
After graduation?
After I graduate, I want to get my master's degree and work in the aerospace field.
What is your best advice for students?
Never give up. Remember that working hard and loving what you do will have positive results and make your dreams come true. Continue to pursue what you love, make time for yourself, and surround yourself with people who love and support you.