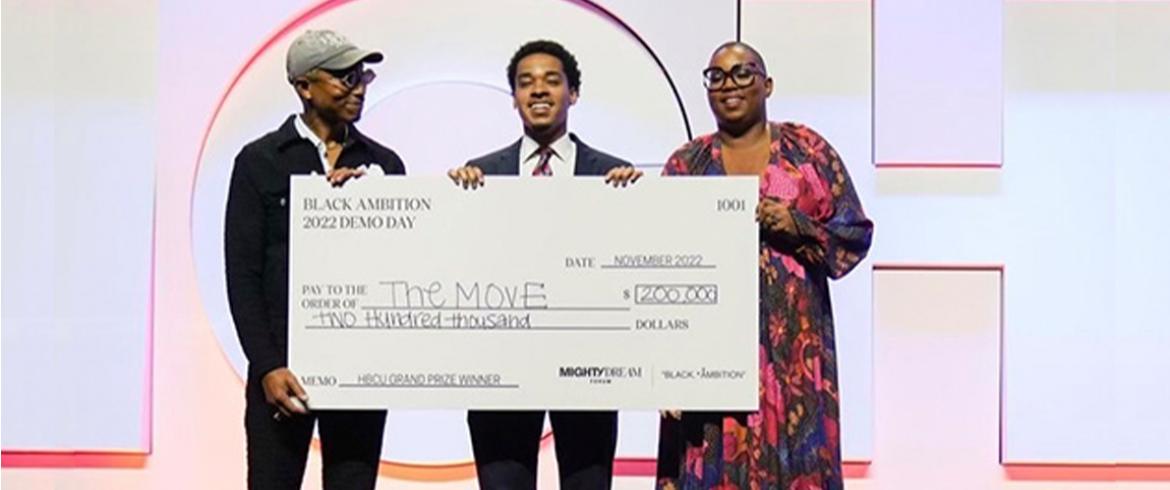 Florida A&M University (FAMU) senior engineering student Zachary Gilchrist won this year's Black Ambition Initiative, sponsored by Pharell Williams. Gilchrist won $200,000 to go toward launching the business for his product, The Move,  a social media app for parties, events, and cool local areas built for college students.  
"This win is a game changer for me. I built The Move app by myself so it was difficult to keep putting out updates while also managing the business side of things," Gilchrist said. "I now have the funds to hire developers to help me and a marketing budget to promote The Move across the U.S."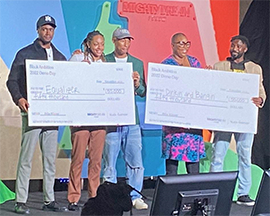 The third place winner was recent FAMU MBA student Nicki Ekhomu with Pharell Williams.
The Move primarily focuses on two things:  community and safety. The app allows students to vote on which events they want to attend each day. It also has group chats for each event with danger alert buttons, so students can notify each other of any potential danger signs at parties or other public events.
Gilchrist, an electrical engineering student in the FAMU-FSU College of Engineering, said he created The Move as a website about a year and a half ago. 
"When I first came to college, I didn't know anyone, I didn't know who to follow to find out what events were going on, and I just felt disconnected with the campus community," said the Miramar, Florida, native. "So The Move was really my way of trying to make it so that no college student ever had to experience that again."
Jason Black, director, Interdisciplinary Center for Creativity and Innovation (ICCI), and associate professor of Information Systems and Operations Management in the FAMU School of Business and Industry (SBI), said that during the years he has worked with Gilchrist, he has seen him get stronger and stronger with each opportunity.
"We are so incredibly proud of Zachary and the hard work that he put into this project," said Black. "He has been very active in multiple ideation and product pitch competitions, and this experience has only better prepared him to excel when the time came for him to pitch his product idea." 
The third place winner was spring 2022 FAMU MBA student Nicki Ekhomu of Bolingbrook, Illinois, who won $50,000 for her HBCU Award Product Idea for The Equalizer (EQ1). She describes the EQ1 as "powerful pain relief in the palm of your hand."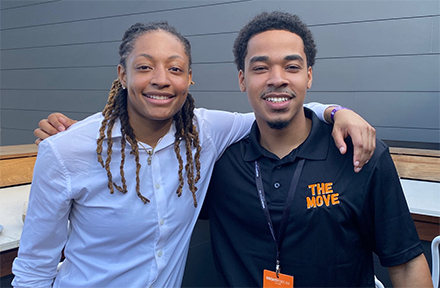 The Winners Circle: Nicki Ekhomu and Zachary Gilchrist
EQ1 is an all-inclusive physical rehabilitation device that provides athletes with every treatment needed for a speedy and effective recovery without the need for an icepack or bulky equipment. EQ1 gives users six treatments in one wireless portable handheld device. Offering temperature therapy, cold and hot massage, electrical stimulation (TENS and EMS), and infused padding. The devices are Bluetooth-enabled with the ability to be controlled from EQ1's mobile application while also having access  to personalized rehab routines, pain management tools, and the option to connect with physicians. 
"We are also very proud of Nicki, who won a third place prize of $50,000 towards her product idea as well. As a recent SBI MBA candidate, she has definitely demonstrated the ability and skills instilled in SBI students, and help further the legacy of Dr. Sybil Mobley and the current faculty and staff of this esteemed department," Black said.
"Our job here at FAMU is to provide these students with access to opportunities like this, because we have no doubt that when they are on the stage with other students from other institutions, the excellence that is taught and instilled in our students at FAMU will shine."