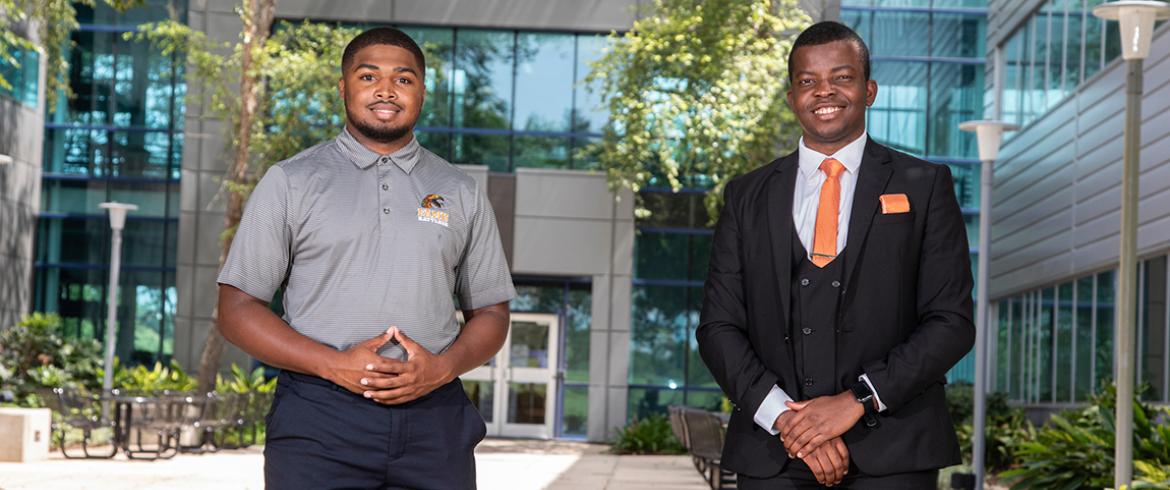 Two students at the FAMU-FSU College of Engineering were recently selected to receive the Ted Rogers-Intuitive Scholars and Fellowship Program Award. Solomon Andrews, a fourth-year mechanical engineering undergraduate and JohnPaul Adimonyemma, a doctoral student in industrial and manufacturing engineering, are the newest recipients. 
Several years ago, the college partnered with the Intuitive Foundation to establish the Ted Rogers Scholarship and Fellowship Program. The financial support creates summer internships for historically underrepresented and first-generation junior, senior and graduate-level engineering students. 
Andrews and Adimonyemma are pursuing their engineering degrees through Florida A&M University and will receive $5,000 each in scholarships for the 2023-2024 academic year.  
Solomon Andrews
Solomon Andrews has been involved in research since he was a first-year engineering student. He is part of the undergraduate research program in additive and materials science with Associate Professor Tarik Dickens at the High-Performance Materials Institute (HPMI). At the same time, he works in robotics at the Aero-Propulsion, Mechatronics and Energy Center (AME) as a research assistant for Professor Chiang Shih. 
Andrews hopes his dual research experience will help him be more successful as an engineer. 
"The first project I worked on at HPMI involved copper and silver conductive ink rheology with Dr. Dickens," he explained. He also worked on a monitoring system for carbon fiber damage and was credited as co-author on the final report.
At AME, Andrews works alongside graduate students on the design and control of power-dense soft hydraulic robots for demanding and uncertain environments. He first started working in this area with an opportunity through the Minority University Research and Education Project (MUREP).  
"Dr. Shih gave me the chance to work as a NASA intern through MUREP, where I designed a FlatSat propulsion system for a lunar flashlight satellite," Andrews said. "It was a partnership with Georgia Tech. The flashlight orbits the moon and uses reflectometers to locate and research ice deposits on the dark sides of the moon. After that, Dr. Shih let me continue researching at AME."
The flashlight launched successfully with the Falcon 9 rocket and is currently in lunar orbit. Most recently, Andrews was an intern at the Honeywell National Security Campus in Kansas City, Missouri, where he worked in additive manufacturing to develop new rapid manufacturing production methods. 
With the award, Andrews can dedicate more time and energy to his studies and research projects. The undergrad is looking forward to a master's degree and possibly a doctorate in engineering.
"My academic research journey has molded me into a better researcher, student and learner," Andrews said. "It comes with many challenging aspects and many lessons learned. I'm forever grateful for opportunities and mentorship from various professors at the college."
For the scholarship, he is, "very grateful and honored to be considered and selected. The financial burden of being an out-of-state student is daunting." 
JohnPaul Adimonyemma
"I am deeply thankful for being selected to receive the Ted Rogers Award," said JohnPaul Adimonyemma, a graduate student in industrial and manufacturing engineering. "Having the financial security provides fuels my dream of revolutionizing sustainable transport."            
At an early age, Adimonyemma learned invaluable lessons about how business operations work by helping run his father's business. Building on that foundation, he developed a passion for improving transportation systems. 
His research involves airline operations, supply chain management, and public and freight transportation systems. He is interested in operations research, machine learning and artificial intelligence, specifically for the transportation sector and supply chain.
Adimonyemma works on several research projects in the Transportation Systems Optimization Lab under Yanshou Sun, an industrial and manufacturing engineering assistant professor. He is currently looking at how external factors influence transportation system performance measurement in Florida. He is also developing a forecasting model for aircraft spare parts demand for a large U.S.-based airline.
"We hope to improve transportation planning and efficiency to attain zero-carbon emissions," he explained.
Beyond his area of research, Adimonyemma is the founder of GUHTAC, an organization that provides personal development and a mentorship platform for people to secure scholarships in graduate studies worldwide. The group advocates for underrepresented groups and a more inclusive workforce in technology fields. He is also a member of the FAMU-FSU College of Engineering Diversity, Equity and Inclusion Advisory Council (DEI AC). 
RELATED ARTICLES
FSU Engineering Student Earns National Science Foundation Graduate Research Fellowship
First-Year FSU Engineering Doctoral Student Receives 2023 NDSEG Fellowship to Study Advanced Materials
FAMU-FSU College of Engineering Student Awarded Marshall Plan Foundation Fellowship for High-Temperature Superconductor Research