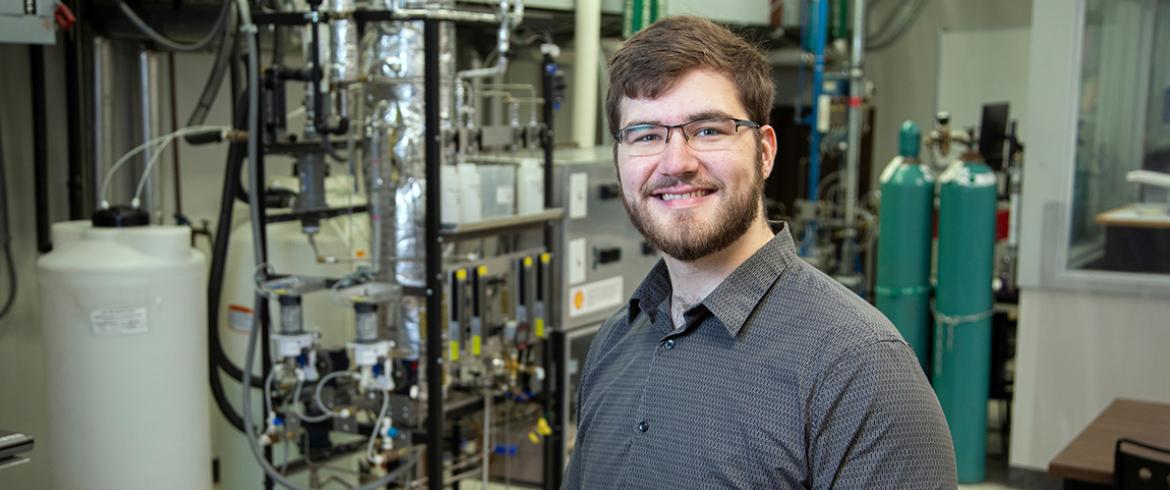 Greg Moller, an undergraduate in chemical and biomedical engineering at the FAMU-FSU College of Engineering, was awarded the 2023 National Science Foundation Graduate Research Fellowship (NSF-GRF). The Florida native earned the award for his research at the Nienhaus Laboratory at Florida State University. 
"My research in the Nienhaus Group focuses on a class of materials that have the potential to improve solar cell and lighting technologies," Moller said. "Perovskite materials can improve infrared imaging and optogenetics technologies."
Perovskites are crystals that can sensitize photon upconversion, the process that combines two or more photons into a particle of higher energy. An example is the conversion of infrared light to visible light. 
The NSF-GRF program recognizes and supports outstanding students in NSF-supported disciplines, those pursuing research-based master's and doctoral degrees. The highly competitive program only accepts 16 percent of its over 12,000 applicants. The fellowship gives $12,000 to the student's home institution and a three-year annual stipend of $37,000.
Moller expressed thanks to the many people who mentored him along the way.
"I worked as a teaching assistant for Dr. Kassie Ernst, and she has been an incredible mentor and supporter. Dr. Ralm Ricarte, my chemical engineering thermodynamics professor, invests in and supports student success and was very encouraging to me. Dr. Nienhaus has given me incredible opportunities to do cool research. I want to thank all the graduate students in the Nienhaus Group, who have mentored me. There are many people who helped make this possible."
What's next?
"Although it's still five years away, after I get my Ph.D. I want to enter a leadership role where the decisions I make enable those around me to do great science and discover new things." 
Moller remembered talking to Murray Gibson, a professor at the college and former dean of the college, about his experience as the Director of Materials Science at Argonne National Lab.
"Professor Gibson said his experience at the national lab was fulfilling because he was enabling world-class research, some of which led to Nobel prizes, directly through his decisions," Moller said. "His words were inspirational to me. I think after getting my doctorate, I want to start as a postdoc, then work at a national lab or become a professor."
Moller was recently inducted into the 2023 FSU Torchbearer 100 and plans to go to Northwestern University to pursue a Ph.D. in materials science and engineering in the fall.
RELATED ARTICLES
First-Year FSU Engineering Doctoral Student Receives 2023 NDSEG Fellowship to Study Advanced Materials
Civil engineering postdoc selected for 4TU Resilience Engineering Fellowship
Trailblazer lands postdoctoral fellowship to address environmental justice and health disparities