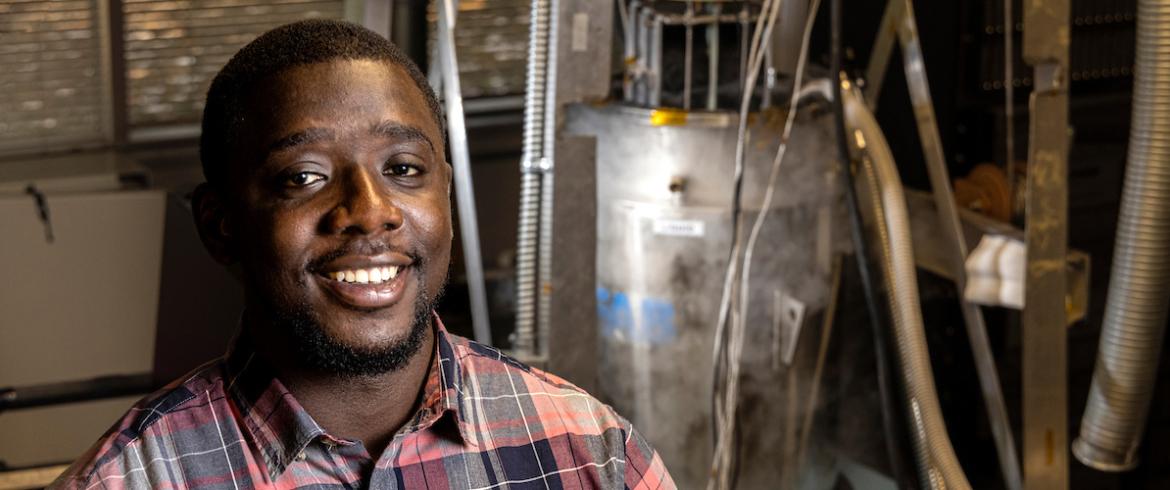 Paul Mensah is an electrical and computer engineering graduate student at the FAMU-FSU College of Engineering. He recently earned the prestigious Marshall Plan Fellowship. Mensah is a researcher at the Center for Advanced Power Systems (CAPS). The doctoral candidate will have the opportunity to conduct research at the University of Applied Sciences, Upper Austria beginning in the fall semester.
"I am thrilled to get this opportunity to work with professor Peter Zeller and his team," Mensah said. "They are renowned in the field of electric arc physics."
The Marshall Plan Foundation supports the transfer of knowledge and expertise between Austrian and American universities. Nominated students from partner universities will have the chance to collaborate on jointly funded research projects and fellowships between the different institutions. 
Sastry Pamidi, professor and chair of the department of electrical and computer engineering at the college and the associate director of CAPS said, "We are extremely proud of Paul, he is well-deserving of this honor and will have the opportunity to be mentored and get an international perspective of the challenges of this field. He will help the host institution to establish new research capabilities in measurements at cryogenic temperatures."
Mensah hails from Dixcove, Ghana, located in West Africa. He enrolled at the FAMU-FSU College of Engineering through Florida State University in 2020 to pursue his doctorate. He will have the chance to investigate the impact of electrical faults on high-temperature superconducting power cables for medium voltage DC power systems. 
We recently caught up with him.
What does this fellowship mean for you?
I will have the opportunity to collaborate with a renowned group of researchers and gain broad technical skills. I am looking forward to benefitting from the research and cultural exchange of the experience. The diversity and multicultural environment at the FAMU-FSU College of Engineering have given me insight and knowledge that will be useful in engineering design and problem-solving with a diverse group of people. The Marshall Plan Fellowship experience will enhance my professional and personal development beyond what I have gained at the college and CAPS.
What is your engineering research area? 
My research is in superconducting power devices. I investigate the electrical and thermal interfaces of high-temperature superconducting power cables for electric transport applications. I work with dielectric or insulation materials for power cables that are effective at extreme temperatures of approximately -200 degrees Celsius and below. 
What is the most exciting thing about your research?
Interestingly, 90% of our experimental setups are designed and built at CAPS. All my projects are hands-on, and it is exciting because they bring my ideas and designs to life. It all begins with a proof of concept, a simulation process where we set up and perform the actual experiment, then at the end, we write about it.
What is it like to work in research as a graduate researcher at CAPS?
I get to work with incredible faculty mentors, research faculty, staff, fellow graduate and undergraduate researchers. There are always opportunities to collaborate and work on projects with other research institutes, like the High-Performance Materials Institute (HPMI) and the National High Magnetic Field Laboratory (NHMFL).
Did you have the chance to work in research when you were an undergraduate?
No, I honestly did not think about research when I was an undergrad until my senior design class in my final year. I did not realize there were research opportunities available to me and I had this misconception that research was too difficult or only for graduate students, which is false.
What's a typical day in the lab?
A typical day in the lab involves managing my time as a graduate mentor. I work with five undergraduate students and help them with their research projects. This semester's projects involve the characterization of additively manufactured samples and investigating their dielectric properties. 
My dissertation research involves everything from reading research papers to learning to use different simulation tools. In the lab, I perform high voltage measurements at cryogenic temperatures. The measurements include partial discharge and intrinsic breakdown of HTS power cables.  
Most of the machining takes place in-house for our projects. Setting up an experiment can take many weeks. I am working on cryogenic thermal conductivity measurements, and I am currently in the design phase of the testbed. 
What are your long-term goals?
I aspire to be a leader, not only in my field of engineering but also as a mentor to the younger generation who have an interest in engineering, as I had at their age. I plan to gain as much knowledge and hands-on experience as I can. I hope to provide a practical engineering approach that will equip young and enthusiastic engineering students with technical know-how and prepare them for the job market or further studies.
Who inspires you?
My former boss, Mr. Nathaniel De-Lima, was not only a leader but a mentor. He showed genuine honesty, and even when his feedback was critical, his opinion fostered a healthy environment of trust in our team. He was very knowledgeable in his field of expertise and had uncompromising standards for quality of work. It made me want to be better each day. The lessons I learned from him have played no small part in my attitude toward my work and the thoroughness I seek to achieve in the results I produce. 
What advice would you give students interested in research experience?
Research is fun for students who are curious, resilient and work hard to achieve results. These three attributes will help once excel in whatever area of research you are involved in. Technical skills gained will expand your knowledge on a topic and discover new things, even from experiments that don't work. It is rewarding as one gets to publish papers, give presentations at conferences, and expand your professional network.