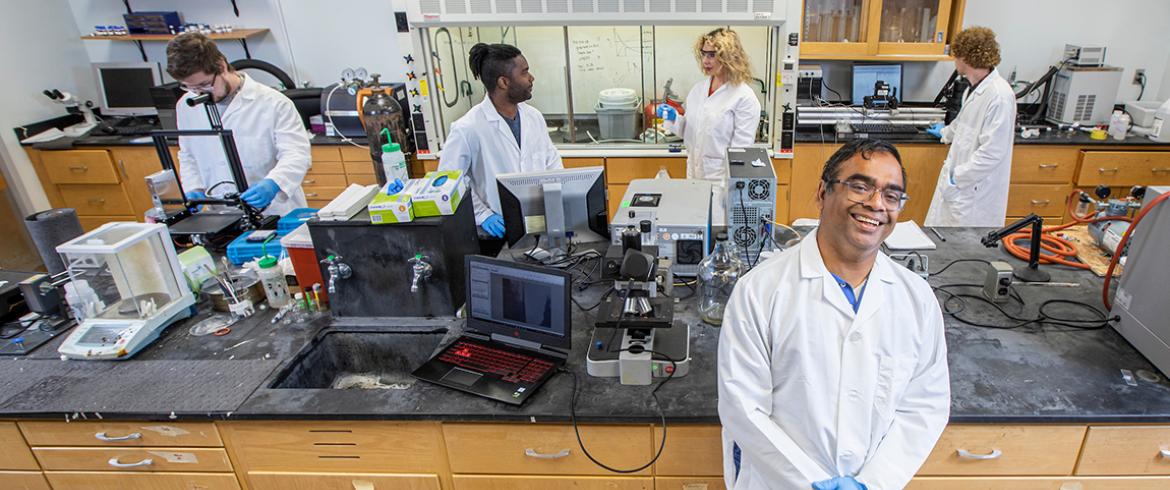 Florida A&M University and the FAMU-FSU College of Engineering received a $1 million, three-year grant from the National Science Foundation (NSF) to support the training of underrepresented minority scientists in multifunctional materials. The grant is part of the national HBCU Research Infrastructure for Science and Engineering (RISE) program.
Subramanian Ramakrishnan, a professor in chemical and biomedical engineering at the college and the NSF Center of Research Excellence in Science and Technology (CREST) director, championed the project, called HBCU-RISE. Ramakrishnan studies soft polymers for an enhanced understanding of nanocomposite materials.
"We are prepping the next generation workforce of minority students to serve the national needs for NASA, the U.S. Air Force and companies like DOW," Ramakrishnan said. "We are working with community colleges and other HBCUs to train them—that's our goal."
The project is expected to play a prominent role in a new Materials Science and Engineering (MATSci) Ph.D. program at FAMU, which will bring faculty from several departments to work collaboratively on materials-related issues. The program is expected to begin in fall 2023. 
"Chemical engineering students at FAMU's main campus will be able to be affiliated with the Materials Engineering Program to get their Ph.D.," Ramakrishnan said. "The goal is for us to have joint projects, co-advise doctoral students and to work together with different departments on campus."
For the grant, Ramakrishnan leads a team of researchers plan to explore novel materials used in flexible electronics and fuel cells, and for printing sensors on aircraft and airplanes. One such material is graphene, a 2D, highly conductive material used as a thermal interface to dissipate heat and print flexible electronics. 
"Another material we are developing, MXenes, is integral in a new class of composites," Ramakrishnan said. "NASA is interested in this material because it can be used on spacecraft or wings to shield from electromagnetic radiation."
Research at the college's NSF CREST Center supports this enterprise and also addresses NASA's desire for new print technology and material used for manufacturing in space. 
"NASA wants to miniaturize 3-D printers so they have a smaller footprint when going to space," Ramakrishnan said. "We are not only developing novel materials but also the novel technology that supports that mission. The USAF also wants tough, lightweight composites and we are working with them to achieve those goals."
Students like Roneisha Haney, who works as a civilian in the Materials and Manufacturing Lab at the Wright-Patterson Air Force Base, is one of the early doctoral success stories from the CREST Center. She graduated from the college in 2021 and is one of the first FAMU Ph.D.s in chemical engineering who graduated from the program. 
"We are the only HBCU in the nation to offer a Ph.D. in chemical engineering," Ramakrishnan said. "One of our main goals is to increase the number of doctoral degrees and make FAMU an R1 university. This is a big goal, and we hope it will feed into the new material science program starting at FAMU next fall."
The RISE program will partner with other STEM colleges at FAMU, HBCUs and local institutions such as Hillsborough Community to recruit more minorities on a pathway in STEM. 
Renee Gordon, another college alumna, is the STEM Director at Tallahassee Community College. She will work with the researchers to recruit students from community colleges, helping students transition to FAMU for engineering and other departments. Gordon graduated with a doctorate in mechanical engineering in 2017.
"Students from community colleges, graduate students and others will benefit from the state-of-the-art research opportunities we have at the college," Ramakrishnan said. "This will benefit a number of federal agencies and in the process, we will develop the workforce development in an area of national need."
The HBCU-RISE: Enhancement of Research and Education Infrastructure in the Chemistry and Engineering of Multifunctional Materials project includes co-investigators:
Subramanian Ramakrishnan, Natalie Arnett, Jamel Ali, Tarik Dickens (FAMU-FSU College of Engineering) and Shyam Kattel, Keerthi Senevirathne and Komalavalli (Komu) Thirunavukkuarasu (Florida A&M University) in collaboration with the departments of chemical and biomedical engineering, industrial and manufacturing engineering and the FAMU-FSU College of Engineering and chemistry and physics at Florida A&M University.
The Centers of Research Excellence in Science and Technology Historically Black Colleges and Universities Research Infrastructure for Science and Engineering (HBCU-RISE) program support the development of research capability at Historically Black Colleges and Universities that offer doctoral degrees in science and engineering disciplines.
RELATED ARTICLES
New Grants for Advanced Research Equipment Will Enhance Training for Future Minority STEM Faculty
Chemical and Biomedical Engineering graduates of CREST program are making history in a series of FAMU "firsts"
CREST program engineering graduate lands prestigious position at the Air Force Research Lab