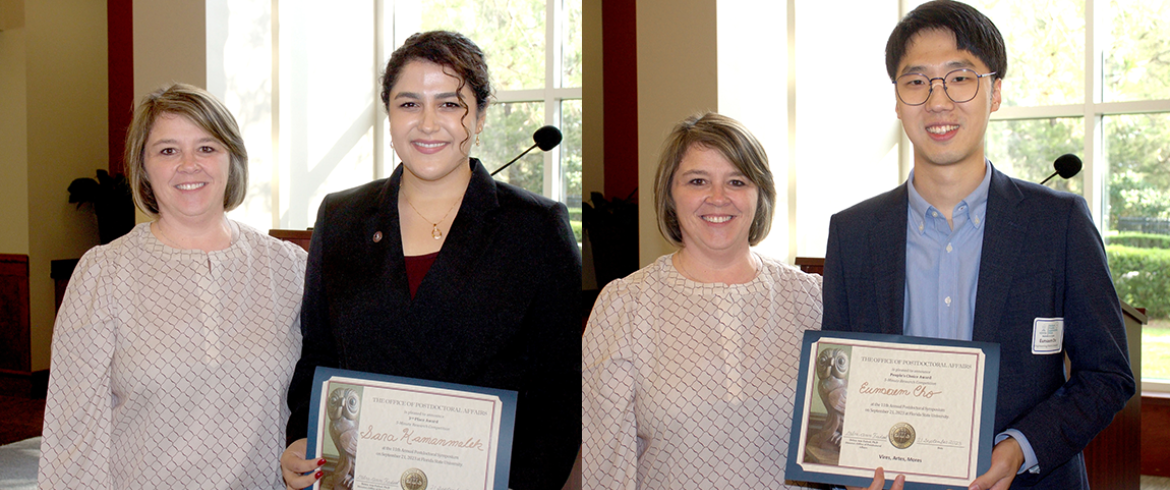 Florida State University's Office of Postdoctoral Affairs (OPDA) sponsored the annual five-minute research competition in honor of National Postdoctoral Appreciation Week in the Fall. The event was open to postdoctoral researchers from colleges and departments at FSU. FSU has more than 250 postdocs.
Two researchers representing the department of civil and environmental engineering received awards. A panel of judges and peers chose the winners. 
Eunsaem Cho, Ph.D.
He received the People's Choice award for his talk, "Into the Hurricanes: Unraveling Hurricane Ian's terrifying effects on Florida." Adviser, Ebrahim Ahmadisharaf
Sara Kamanmalek, Ph.D.
The postdoctoral researcher received third place for her talk, "Bridging the gap in green stormwater infrastructure planning: An equity index for socioeconomic and environmental metrics across the U.S." Adviser, Nasrin Alamdari
"We are proud of our postdocs. They are an essential part of our research team." Ebrahim Ahmadisharaf, a faculty researcher at the FAMU-FSU College of Engineering said. "Drs. Cho and Kamanmalek are very deserving of this honor."
They received $800 travel awards from FSU's OPDA earlier in the year and will present their research at the American Geophysical Union Fall Meeting in Dec.  2023. They are senior research associates in the Department of Civil And Environmental Engineering and the Resilient Infrastructure and Disaster Response Center (RIDER).
Along with Cho and Kamanmalek, two other FAMU-FSU College of Engineering postdoctoral researchers received travel awards from OPDA earlier in the year.
FALL TRAVEL AWARD
Janani Hamed, a postdoctoral researcher from the Department of Chemical and Biomedical Engineering, adviser Rufina Alamo received the Fall award. 
SPRING TRAVEL AWARD
Lee-Sak An, a postdoctoral researcher from the department of civil and environmental engineering, adviser Sungmoon Jung received the spring award. 
---
RELATED ARTICLES
Biomedical engineering postdoc ties for first in FSU's 5 Minute Research Postdoc competition
Postdoc Spotlight: Xuegang Yuan, Ph.D.
CREST Post-Doc Makes Immediate Impact Through Novel Materials for Extrusion Processing