Vishnu Priya Murali, Ph.D., Post-Doctoral Fellow in biomedical engineering, tied for first place in Florida State University's 5 Minute Research (5MR) Competition for Postdocs on September 18, 2020. Her research presentation entitled, "Saving the Smiles," focused on a new part of the process for bone grafting in dental procedures. Her work introduces a new type of guided bone regeneration membranes, which protect fresh bone grafted spaces in the oral cavity and prevent the surrounding gum tissue from entering the site.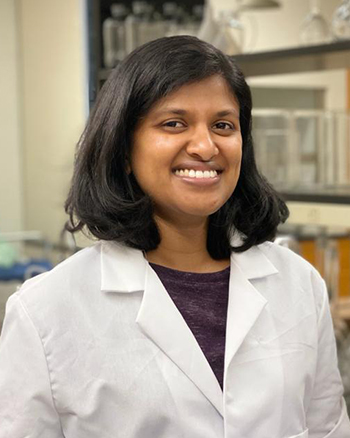 Dr. Vishnu P. Murali
She was one of ten finalists asked to participate in the prestigious event.
Using a new method dubbed "Electrospun Chitosan Nanofibrous Membranes," Murali introduces the drug simvastatin (SMV) into the cavity via the protective membrane, allowing enhanced bone growth. The "chitosan" element means the membrane is biocompatible, biodegradable with non-toxic byproducts, osteoconductive and has antimicrobial properties.
The event was judged by several esteemed members of the research and local community:
Mark Riley - Professor of Physics and Dean of the Graduate School
Stephen McDowell - Professor of Communication and Assistant Provost
Sally McRorie -  Provost and Executive VP for Academic Affairs
Karema Tymes Harris - President & CEO of Foreign Affairs, Inc.
Will Hill - Veterinarian and Director of the Lab Animal Resources
Gary Ostrander - Professor of Medicine and Vice-president for Research
Shonda Knight - Executive Director Leon County Sherriff's Office
Murali works under the direction of Christina Holmes, Ph.D., assistant professor of biomedical engineering.