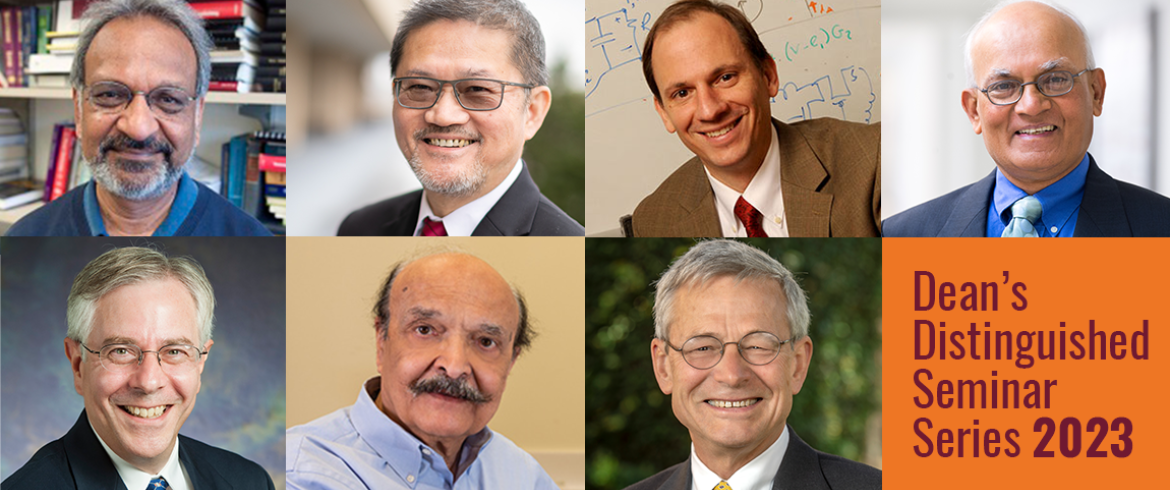 Eight of the world's most distinguished engineers visited the nation's only joint college of engineering during the most recent academic year. These National Academy of Engineering Fellows toured our campus and research centers, met with faculty and mentored engineering graduate students during their visits. Each event was anchored by a keynote address for the academic audiences at the college and our parent universities, Florida A&M and Florida State.
As part of the ongoing Dean's Distinguished Seminar Series, these internationally-renowned experts spent time sharing insights and getting to know the students and faculty at the FAMU-FSU College of Engineering:
November 29, 2023: "Building a Robust Workforce in Electric Power Engineering – Democratizing Technical Education Nationally," a lecture by Ned Mohan, Regents Professor, National Academy of Engineering, Fellow: IEEE and Faculty in Electrical & Computer Engineering at the University of Minnesota.
January 26, 2023: "Rethinking massive electric car charging infrastructure from the user side: The 90% energy challenge," a lecture by Philip T. Krein, Grainger Endowed Chair Professor Emeritus in Electric Machinery and Electromechanics at the University of Illinois at Urbana-Champaign and the founding Executive Dean of the Zhejiang University/ University of Illinois at Urbana-Champaign Institute in China.
February 13, 2023: "Microgrids as a Resiliency Source," a lecture by Chen-Ching Liu, an American electric power professor and Director, Power and Energy Center, at Virginia Tech. During 1983-2017, he was on the faculty of University of Washington, Iowa State University, University College Dublin (Ireland), and Washington State University. He was elected a Fellow of the IEEE, Member of Virginia Academy of Science, Engineering, and Medicine, and Member of the U.S. National Academy of Engineering.
March 21, 2023: "Nanotechnology in Construction: A Way Toward Sustainability," a lecture by Surendra P. Shah, Director of the Center of Advanced Construction Materials, Professor of Civil engineering, The University of Texas at Arlington.
March 26, 2023 – "Architectures, Topologies and Components for High-Frequency, High-Density Power Conversion," a lecture by David Perreault, Ford Foundation Professor of Engineering, Massachusetts Institute of Technology.
April 28, 2023: "Creation of a New Industry: Lithium Extraction in the Imperial Valley," a lecture by Charles Zukoski, University of Southern California. In January of 2023, after 12 years, Zukoski stepped down from being Provost at two institutions: the University at Buffalo and the University of Southern California. For his work, Zukoski has been received a number of teaching and research awards among which was being named one of the Hundred Chemical Engineers of the Modern Era by the American Institute of Chemical Engineers. He was elected to the National Academy of Engineering in 2007. 
May 22, 2023: "A Career Path from 30,000 Feet Above," a lecture by Manoj Shah, Rensselaer Polytechnic Institute and General Electric. Manoj R. Shah is a Life Fellow of IEEE (2016) and a member of the National Academy of Engineering (2022).
---
The series continues in the fall 2023 semester with new events planned beginning in September. All Dean's Distinguished Seminar Series events are free and open to the public. For more information, contact Tisha Keller. 
RELATED ARTICLES
Yan Li Selected for Prestigious Leadership Program at Drexel
Dean Chairs FSU's National Search for New MagLab Director
FAMU-FSU Engineering Researchers Receive Esteemed NSF Awards