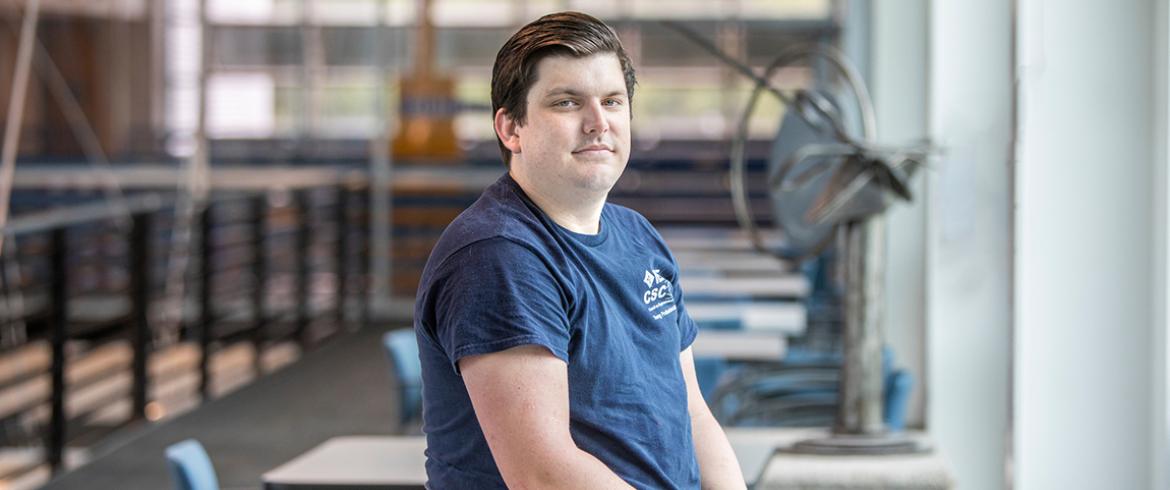 Griffin Bradford, a doctoral student in materials science at Florida State University, received the overall Tony DiBenedetto Student Employee of the Year (SEOTY) for 2023 from the FSU Career Center. Bradford was nominated by David Larbalestier, chief materials scientist of the National High Magnetic Field Laboratory (NHMFL), and by Lance Cooley and Ulf Trociewitz from the Applied Superconductivity Center (ASC). 
"Griffin is now in his fourth year as a Ph.D. student and has taken real leadership in integrating younger students and postdocs in our group," Larbalestier said. "The enthusiasm and excitement he brings to everything that he does is exceptional and benefits everyone in the lab and with magnetic field research groups in multiple laboratories around the world."
Larbalestier praised Bradford on many levels, including his efficiency and management skills in technology and the ability to take up new challenges and solve problems. 
"It came as a great surprise and an honor to get this award and I would like to thank the scientists at ASC who recognized me and gave me the opportunity to do the work," Bradford said. "I am happy to know people have found something I enjoyed learning useful."
After graduation, Bradford plans to go into an industry where he can utilize his knowledge of REBCO CC (rare earth elements base-coated superconductors) to research nuclear fusion and other applications. 
"I am studying materials sciences and engineering, specifically high-temperature superconductors and their ability to generate magnetic field," Bradford explained. "My research involves characterizing the superconductor, subjecting it to extreme conditions to understand its failure modes, and devising new strategies to generate ultra-high magnetic field utilizing it."
Representatives from different divisions of Florida State University reviewed 87 nominations from its Tallahassee and Panama City campuses before selecting Bradford as the winner for the overall Tony DiBenedetto Student Employee of the Year. Kristina Feliciano, Michaley deLeon, Gabi Mastando, Alexandre Barr, Jayremay Garcia and Emem Kierian represented other colleges and schools at FSU and were also honored at an event for the program.  
The ceremony recognizes the valuable contributions student employees provide to faculty, staff and peers. It honors employees who are a vital force on campus. The overall Tony DiBenedetto Award is given to the one outstanding student employee who demonstrates strength, skill, character and innovation, diversity and inclusion while going above and beyond. 
The award is named after FSU alumnus DiBenedetto, an executive, entrepreneur, thought leader and former Tribridge chairman and CEO. DiBenedetto credits much of his growth and development to the skills he learned from supervisors during his time as an FSU student employee. 
Read the original story on the FSU News website.
RELATED ARTICLES
Grad Students Bring STEM Opportunities to Local High School
College Awards Night Celebrates Engineering's People and Accomplishments
First-Year FSU Engineering Doctoral Student Receives 2023 NDSEG Fellowship to Study Advanced Materials