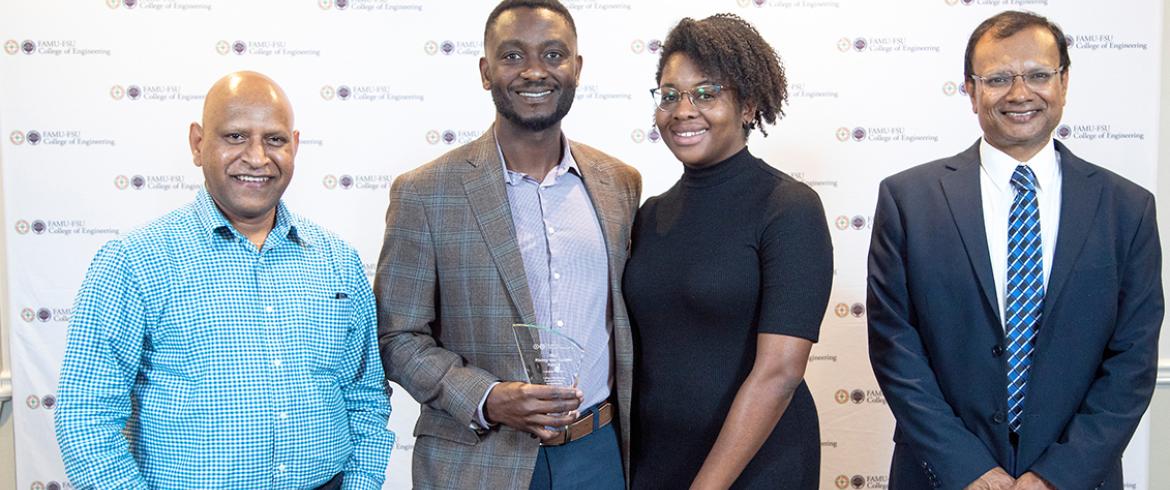 On April 7, the FAMU-FSU College of Engineering honored outstanding faculty and staff at the annual College Awards Night Banquet at the Capital City Country Club in Tallahassee, Florida. Ditching their sneakers, the engineering campus community celebrated the success of their students and peers on a warm night of fellowship.
 
The awards recognize employees who go above and beyond their day-to-day duties to serve the engineering campus community. Students from several top senior design teams were also honored at the event.        
"The real significance of the celebration lies in uniting as a community and honoring our shared achievements," remarked Suvranu De, Dean of the FAMU-FSU College of Engineering. "We're commemorating the accomplishments of our entire engineering community through this event."
Here are the awardees:
Faculty Awards
Excellence in Education Award - Yassir AbdelRazig, Professor, Department of Civil and Environmental Engineering
Rising Star Faculty Award - Olugbenga Moses Anubi, Assistant Professor, Department of Electrical and Computer Engineering
Outstanding Research Accomplishment Award - Wei Guo, Associate Professor, Department of Mechanical Engineering
 
Staff Awards
Administrative Staff Member of the Year-Frederika Manciagli, Assistant Dean, Department of Student Services and Undergraduate Affairs
Student-Centered Employee of the Year - Vashti Tolliver, Office Assistant, Department of Student Services, and Undergraduate Affairs
Technical Staff Member of the Year- Reed Lambdin, Theatre and Operations Manager, Challenger Learning Center
 
Several faculty staff were nominated for these awards: Breda Arnell, Marvetta Castle, Kaley Gross, Donald Hollett, Tisha Keller, Reed Lambdin, Frederika Manciagli, Laney McLean, Quinny Ou, Brandon Rosenthal, Stephanie Salters, Vashti Tolliver, Mark Wallheiser, Yassir AbdelRazig, Jamel Ali, O. Moses Anubi, Bayaner Arigong, Juyeong Choi, Maxim Dulebenets, Wei Guo, Yan Li, Shayne McConomy, Unnikrishnan Nair. S. Ramakrishnan and Yanshuo Sun.
Senior Design Day Student Awards
Engineering Senior Design Day is an event where hundreds of graduating seniors present and demonstrate a capstone project they worked on throughout the year. It's a big event that encompasses the work of a two-semester course. More than 76 teams displayed their work at the event. The top three teams received top honors at this college event.
Team 110: BME Extra Mayo
Best Presentation Award won by multidisciplinary team with members Haddie Frost, Aznar Guillermo, Zachary Baty, Colton McGarraugh, Hailey Murphy, and Joseph Malatino. Advisors Stephen Arce, Ph.D., and Sebastian Fernandez-Bussy, Ph.D., provided mentorship for the group. The team designed a medical device for Gastroesophageal Reflux Disease (GERD). The biosensor device can shorten diagnosis time, prevent damage to the airway, and help physicians with diagnosis.
Team 502: ACCelerate Festival
Best Poster Award won by multidisciplinary team with members Sara Bradley, Mariam Medina, Garrett Southerland, Kenneth Shou, Connor Bishop, and Spencer Martin. Shayne McConomy, Ph.D., is the advisor and mentor for the group. The team designed an interactive museum display that teaches middle school students about the Psyche asteroid mission. The exhibit is part of an Atlantic Coast Conference exhibition promoting student-led projects exploring scientific concepts.
Team 514: Low-cost F-35 Simulator
Best Overall Project Award won by multidisciplinary team with members Laiken Kinsey, Francisco Lopez, Branden Pacer, William Rickles, Emelia Rodriguez, and Jonah Gibbons.  Brandon Krick, Ph.D., is the advisor and mentor for the group. Lockheed Martin asked the team to create flight controls for the F-35 simulator. Their goal was to make a low-cost, portable set of flight controls for a desktop computer or 3D-printed cockpit. 
Students from the top three teams shared their thoughts on their experience at Senior Design.
Branden Pacer said, "Senior design was fun and challenging, but the biggest part of the class is learning the non-technical aspects of being an engineer. You learn about teamwork, time management, and project managing. Being able to work with other people is so important for an engineering career."
"Senior design has been a great experience," Hailey Murphy said. "We had a lot of our friends come out to support us and it was really neat to showcase what we have been working on all year."
Mariam Medina shared Murphy's enthusiasm adding, "Our advisor, Dr. McConomy, was the key to our team succeeding. Going through all the steps, the thinking, the processing and finally when it all came together it was super rewarding."
In addition to the awards at the banquet, several student teams won awards on Senior Design Day. These teams represent the top teams in their session.
Engineering Senior Design BEST IN SESSION
Session A: 515: extraBREATH: Improving Oscillatory Ventilation
Session B: 111: MASACath
Session C: 112: The Cold Shoulderz
Session D: 517: Hermes: Heavy Equipment Rover for Lunar Mobility, Expansion, and Sustainability
Session E: 117: Chem-E-Car
Session F: 114: The Neural Nuts
Session G: 506: Plugger Pallet Short Part Stabilization
Session H: 409: Uniform Improvement for Triple Canopy Operations
Session I: 210: Clayton's Cold Brews: Coffee Shop Site Design
Session J: 219: The intersection of US 90 and SR 12
Congratulations to all our 2023 faculty, staff, and student winners.