Madison Kirkpatrick is a senior in civil and environmental engineering at the FAMU-FSU College of Engineering and has had quite a journey as the semester is coming to an end. She was nominated for The President's Undergraduate Humanitarian of the Year Award 2023 at Florida State University and is one of 12 students representing their college. She was inducted into FSU's 2023 Torchbearer 100 and was one of eight engineering students honored at the event.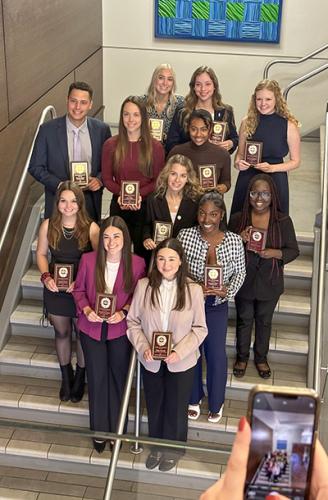 Kirkpatrick's contribution in promoting space for women in STEM is well recognized. She is involved with STEMS4Girls Inc., a group that provides opportunities for girls in underserved communities to learn more about science, technology, engineering, and math. She shared some thoughts as a graduating senior with writer Trisha Radulovich.  
Can you tell us more about STEM4Girls?
Through STEM4Girls Inc., I had the opportunity to watch young girls grow and learn about STEM subjects they otherwise might not have been exposed to. 
What about your work with the Society of Women (SWE)?
The mission of SWE is to empower women to achieve their full potential in careers like engineering. As a woman in engineering, it is critical to me. I want to be part of the change to show women they can be part of it too.  
SWE hosts outreach events in the Tallahassee community to teach children about STEM. This year we had an event called SCIturdays with the Challenger Learning Center. SWE had its annual conference in Texas in this past fall. I am the treasurer for the organization, and we funded 15 women for the event—the money allowed student members to go who had financial need.
What is it like to be inducted into the FSU Torchbearer 100 and nominated for FSU's Humanitarian of the Year?
The leadership and service experiences at Florida State University have helped shape me into the person I am today, and I am so thankful to have had those opportunities. Being part of the Torchbearer 100 2023 inductee class and a nominee for FSU's Humanitarian of the Year is an honor.
Kirkpatrick will be graduating this weekend and plans to continue leadership and service work through her job as a Project Engineer with The Whiting-Turner Contracting Company. She plans to stay involved with the Society of Women Engineers. 
"Serving in my community has allowed me to find purpose and happiness, "Kirkpatrick said.
RELATED ARTICLES
Engineering Students Shine as New Inductees into FSU Torchbearer 100
Weston Dudley nominated for university Undergraduate Humanitarian of the Year award
Mechanical Engineering Alumna Recognized with FSU Inspire Award Honoring Women of Distinction