Weston Dudley was nominated by the FAMU-FSU College of Engineering for Florida State University's 2020 President's Undergraduate Humanitarian of the Year Award. A senior mechanical engineering student with a minor in mathematics, he in a field of 11 FSU students from across the university nominated for the award.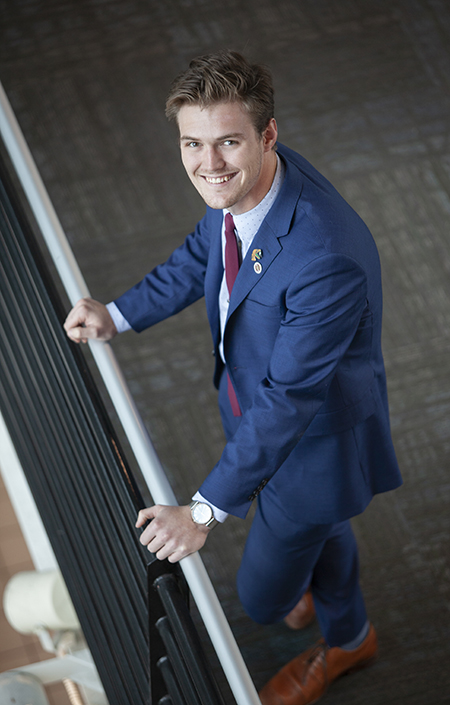 Dudley has served with the Engineering Student Engineering Leadership Board through their Student Needs Team, which assists in bridging the horizontal gaps between FAMU and FSU engineering students and the vertical gap between faculty and the students at FAMU-FSU Engineering. Weston has also worked with the college supporting the mental health and professional development of the students in order to prepare them to become the engineers of tomorrow. Weston connects his service to FSU through his involvement in Theta Tau by personally mentoring and training 120 students through different events covering topics such as career fair preparation, virtual networking, effective communication, mental health, and financial literacy. After graduation in Spring 2020, Weston hopes to continue to make an impact and lead as a manufacturing engineer for the E-2 Hawkeye reconnaissance plane for Northrop Grumman in St. Augustine, Florida and pursue a career in entrepreneurship in student development.
The FSU President's Undergraduate Humanitarian of the Year Award is a prestigious award that recognizes students who exhibit a tremendous commitment to service. Each school or college selects one student to be the Humanitarian of the Year, and generally, students are then recognized at an awards luncheon hosted by FSU President John Thrasher. The student who best exemplifies commitment to service is named the President's Undergraduate Humanitarian of the Year. Under current social distancing guidelines, this year's students are being recognized virtually by President Thrasher and their respective deans. 
Read the original story "The President's Undergraduate Humanitarian of the Year Award" at FSU News.