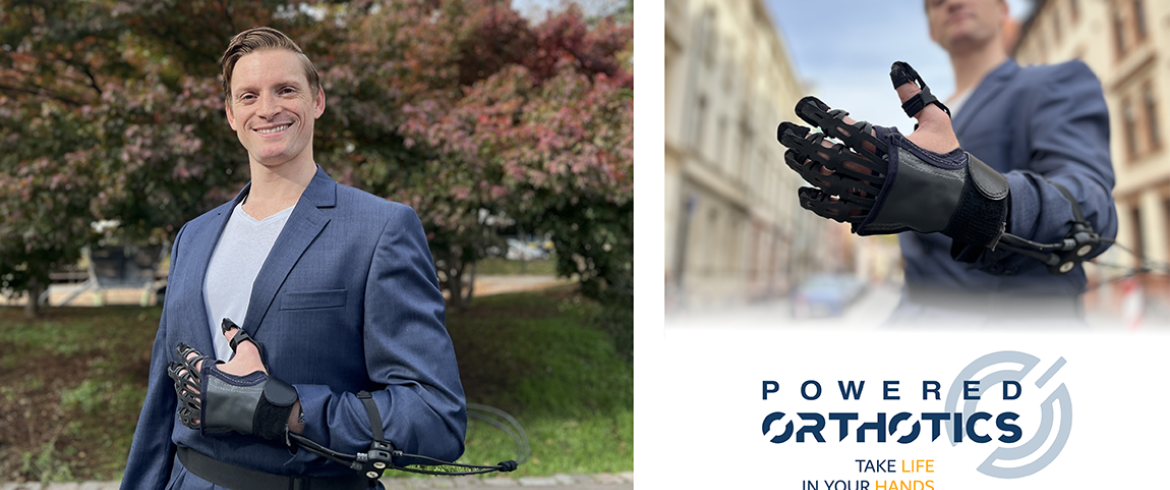 Ryan Alicea, a mechanical engineering alumnus from the FAMU-FSU College of Engineering, recently received a € 1.1 million grant for his startup company Powered Orthotics.
The firm developed a revolutionary robotic glove that brings life back to paralyzed hands. The grant is from the Federal Ministry for Economic Affairs and Climate Action and the European Social Funds. 
Alicea is a doctoral student in medical technology at the University of Heidelberg in Germany and graduated from the joint engineering college in 2019. Powered Orthotics emerged from his postgraduate studies in Heidelberg, where he developed wearable robotics for patients with spinal cord injuries, strokes and other life-altering diseases.
The prototype was tested at Heidelberg University Hospital, and it was a resounding success. The group is taking their prototype to the next stage as a reliable medical product, establishing partnerships and upgrading the hardware to develop the product further. 
Alicea's team includes Shaymaa Abdelhamid, a doctoral student in a DFG Research Training Group at the Mannheim Institute of Public Health, now the Department of General Medicine. Rob Zerban, an entrepreneur and Maximilian Morgalla, a graduate student at the University of Heidelberg, Germany, are also part of the team.  
Alicea is originally from West Palm Beach, Florida and talked with us about moving to Germany, his new venture and memories from the FAMU-FSU College of Engineering.
How does the glove work?
The glove helps individuals recovering from conditions like stroke, spinal cord injury, traumatic brain injury, and other disorders that may lead to reduced mental function. For this target group, we're prioritizing simplicity and ease of use.
We use a smartphone app running in the background, which allows users to control the exosuit with straightforward voice commands such as, "glove open" or "glove close." We are continually exploring and testing additional hands-free methods to interact with the product to accommodate patients with a wide range of symptoms. 
The glove applies forces to the hand to move the limb, using our patent-pending exoskeleton mechanics to open and close the fingers. It was inspired by nature, mimicking how our tendons work to move our hands.
Tell us about your research experience at the college.
I started volunteering in CISCOR (Center for Intelligent Systems, Control and Robotics) at the end of my junior year. I primarily worked with Dr. Camilo Ordoñez and Dr. Emmanuel Collins. I must have made a good enough impression because they offered me a position as a master's student in their group after I graduated. When Dr. Collins left the college, Dr. Jonathan Clark, with whom I had already worked and taken many courses, became my mentor.
Reflecting on my time at CISCOR and STRIDe (Scansorial and Terrestrial Robotics and Integrated Design) lab, it was a period where I didn't fully appreciate how great things were while they were happening. The culture of camaraderie and collaboration baked into these research groups is top-tier and stands as a testament to their academic excellence. They built a sense of unity, emphasizing collective support rather than individual ego and instilled a dedication to upholding high standards of academic rigor and research quality. It truly sets them apart and reflects the positive aspects of their research culture. It is one of the periods of my life that I look back on most fondly.
How did your experience at the college prepare you for your work in robotics?
I built a solid technical foundation during my undergraduate degree at the joint college, and was well-prepared to go in almost any direction. Working with Dr. Collins and Dr. Ordoñez introduced me to the practical aspects of industrial robotics, programming and algorithm development. It laid the groundwork for understanding the practical side of robotics.
With Dr. Clark, I explored more of the mechanical design and rapid prototyping aspects of experimental robotics with a focus on biomimetic and bio-inspired approaches. These insights significantly influenced the fundamental design principles of our device.
In my final months at the university, I worked on a project with Dr. Christian Hubicki. This was my first exposure to practical biomechanics and muscle modeling. It gave me a foundational understanding of human body mechanics and how to replicate them in a robotic context.
Altogether, my experiences at the college gave me the perfect foundation for success in developing medical robotics.
What's next?
We're on a mission to build a company focused on tackling enormous challenges that significantly affect people's lives. Developing a medical product that can reach all of those who need it is no small feat; it's monumental.
We're expanding our network and engaging affected individuals to beta test our product, helping us to refine the system. We're also eager to collaborate with physiotherapists and medical professionals who integrate our solutions into existing care protocols, making health care more accessible and efficient.
But we're not doing this alone; we need the collective support of a growing community. I encourage anyone interested in getting involved or curious about how our solutions work to get in touch. We are here to solve problems greater than ourselves, and together, we can make a meaningful and lasting impact in the lives of those who need it most. 
What made you decide to continue your education in Germany?
It was a mix of two factors. I wanted to solve big problems and experience new cultures and learn how people live in different parts of the world. It was a little scary but ultimately a great opportunity.
What is your fondest memory at the FAMU-FSU College of Engineering?
The late nights spent with friends and classmates designing and building many hands-on projects we were assigned. I remember making a mechanical clock for the final project in our Mechanical Systems II course. Back then, I had just bought my first 3-D printer. For approximately two weeks, we spent late nights in a friend's garage, armed with the printer, power tools and a simple sketchbook. We created a crazy contraption that dropped a marble every five seconds, like clockwork. 
I may not have called it "fun" at the time. Still, it was highly technical, gratifying and an excellent preparation for the team-oriented work I am involved with today. 
---
RELATED ARTICLES
State-of-the-art robotics lab announces two advancements in biologically-inspired movement research
L3Harris Technologies Honors Engineering Professors for Their Work with Bomb-Defusing Robotics
Engineering Researchers Take Robotic Touch to a New Level with Novel Haptics