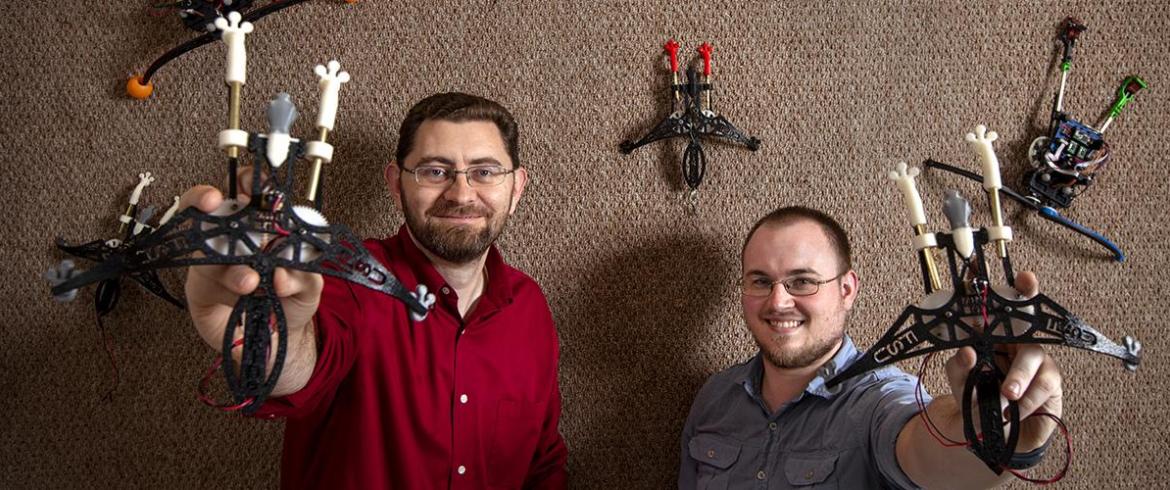 With new discoveries and investment in a new bipedal robot, researchers at the FAMU-FSU College of Engineering are making headway into understanding and replicating biologically-inspired movement that may be the key to major advances in robotics to help improve humankind.
Professor Jonathan Clark and Christian Hubicki, Ph.D. are mechanical engineering faculty at the college and robotics researchers at the Center for Intelligent Systems Control and Robotics (CISCOR). Known for its state-of-the-art research—especially in animal-like movements—CISCOR is a leader in cutting-edge studies of movement and replication of it by artificial means.
Clark, the lab's director and Hubicki, a new faculty member in the college, closely study the movements of animals to inform the design and programming of their robotic counterparts, but in two vastly different realms.
Clark deals in the world of small robots and has built some of the fastest and most efficient machines—ones that can climb fast enough to scale a 100-foot building in a minute. With his doctoral student Jason Brown, Clark examined rapid vertical movements and identified three distinct gaits for the motion and the differences between them. Understanding these nuances leads to better design and more agile robots.
"We want our robots to be able to traverse many different spaces," Brown said. "With this knowledge about gaits, we can design and program robots in a way that allows them to automatically adjust when they encounter different surfaces."
In much the same way—but on a larger scale—Hubicki's new "Cassie" research robot stands about 4 ½ feet tall, weighs nearly 70 pounds and looks strikingly similar to a pair of mechanical ostrich legs. Agility is the key to success in its algorithmic design and performance as well.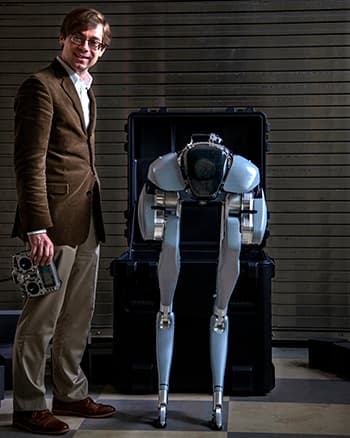 Like Clark, Hubicki studies the science and engineering of walking and running. He uses complex algorithms to program Cassie to perform as close to its biological inspiration as possible.
"This tells us how to program robots to get around in human environments," Hubicki explained. "But also teaches a lot about how people balance and walk and run."
Hubicki will use all of this information to create devices that assist people who have lost the ability to walk to help them walk again. This ultimately takes the form of exoskeletons and prosthetics that are smarter and more useful for those who need them.
As an initial project with Cassie—dubbed "Tallahassee Cassie" by the researchers, Hubicki and his team are trying to implement stabilization algorithms that make the robot stable on rough terrain that it can't even see—something they call self-stable locomotion.
The launch of Hubicki's new Optimal Robotics Laboratory (ORL) within CISCOR is marked by arrival of Cassie. In the lab, Hubicki will lead a team of undergraduate assistants and doctoral researchers to design the next-generation of bipedal robots.
Cassie is a unique design produced by Agility Robotics, the company formed by Hubicki's colleagues at Oregon State University. He worked on the very first iterations of Cassie during his graduate research days at OSU. In fact, there are only seven Cassie robots in the world today, owned by Harvard, Caltech, Berkley, Ga Tech, Carnegie Mellon and the University of Michigan. This puts FAMU-FSU Engineering in very prestigious company, robotically speaking.
View a video of Tallahassee Cassie in action