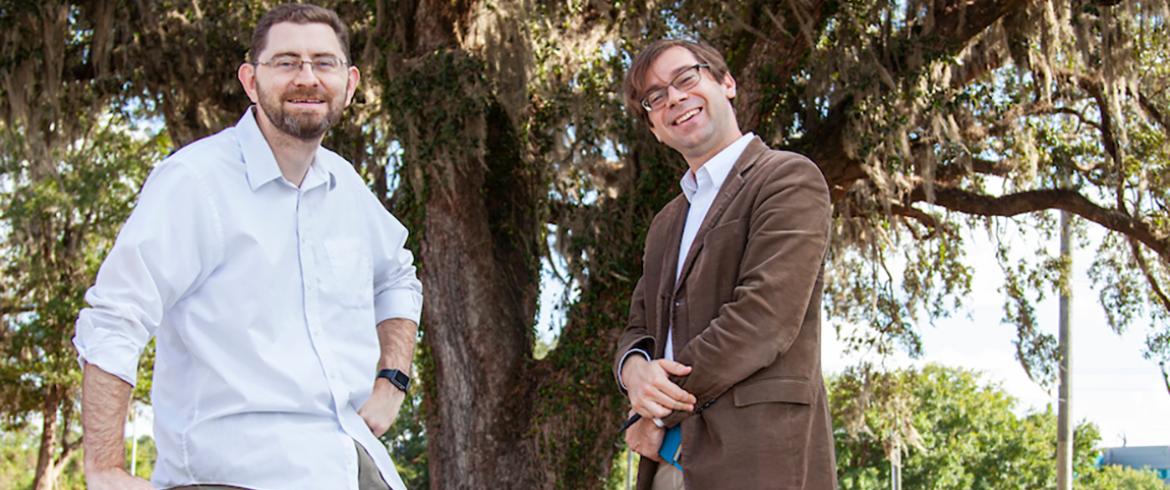 FAMU-FSU College of Engineering professors Jonathan Clark and Christian Hubicki recently received the 2022 University Innovation Award from L3Harris Technologies. The researchers study robotic locomotion at the Center for Intelligent Systems, Control and Robotics (CISCOR) at the college.
"It is wonderful that two of our professors have gotten this recognition from L3Harris," Chiang Shih, professor and director of the Aero-Propulsion, Mechatronics and Energy Center said. "This is a prestigious honor, and we are extremely proud of the work they do at CISCOR."
"I was flattered and pleasantly surprised by the award and gratified that L3Harris sees exciting possibilities for our robotic solution," Hubicki said. 
The concept they are working on is still under development, but the researcher hopes his collaboration with Clark and L3Harris will make a real difference in field robotics. Over the past three years, the mechanical engineering professors collaborated with the technology company on a cutting-edge robotics concept with one purpose: to defuse bombs.
"L3Harris engineers have a phenomenal track-record of making state-of-the-art bomb-defusing robots used all over the world," Hubicki said. "However, the robots would drive up to the bomb on tank treads, so they would have trouble climbing over rubble or going up stairs if the bomb wasn't out in the open."
In 2019, the company reached out to professors to see if they could make their robots more mobile. Hubicki and Clark are experts in giving robots legs that can traverse over different types of terrain. 
"We quickly worked up a concept of putting wheels on legged robot, which seemed simple, but quickly became horrendously complicated," Hubicki said. "There are so many permutations to how you design the thing. How many legs do you need? Where do the wheels go? How many joints? How big do the motors need to be. Thankfully, Jonathan and his talented students are robot design experts and tackled those design problems."
Hubicki explains that in robotics, design is only half the problem. The other half is controlling it.
"There's an annoying paradox in robotics that to design a robot, you need to know whether it can be controlled. But to control the robot, you must know what the design is. So, the design and control engineers do an intricate dance of give and take to get a robot concept that works," Hubicki said.
He explained that controlling this machine is an invention of its own.
"The algorithm for driving a robot with wheels and legs was surprisingly complicated," Hubicki said. "We won an Outstanding Paper Award at an international robotics conference back in May for its development. And we're still not done."
The concept is still under development and Hubicki hopes his collaboration with Clark and L3Harris will make a difference in field robotics. 
"It's outrageous to me that when faced with an explosive device, there are still times we need to send a real person to risk their life to defuse it. I hope that our contributions can take us a step closer to never having to do that again," Hubicki said.
L3Harris is based out of Melbourne, Florida, and is one of America's leading technology companies. With over 47,000 employees, L3Harris develops technologies ranging from telecommunications to space and airborne systems to robotics.
RELATED ARTICLES
State-of-the-art robotics lab announces two advancements in biologically-inspired movement research
Engineering professors honored at NAE "Frontiers of Engineering" Symposium
FAMU-FSU College of Engineering Professor will teach robots concept of risk with Toyota Grant