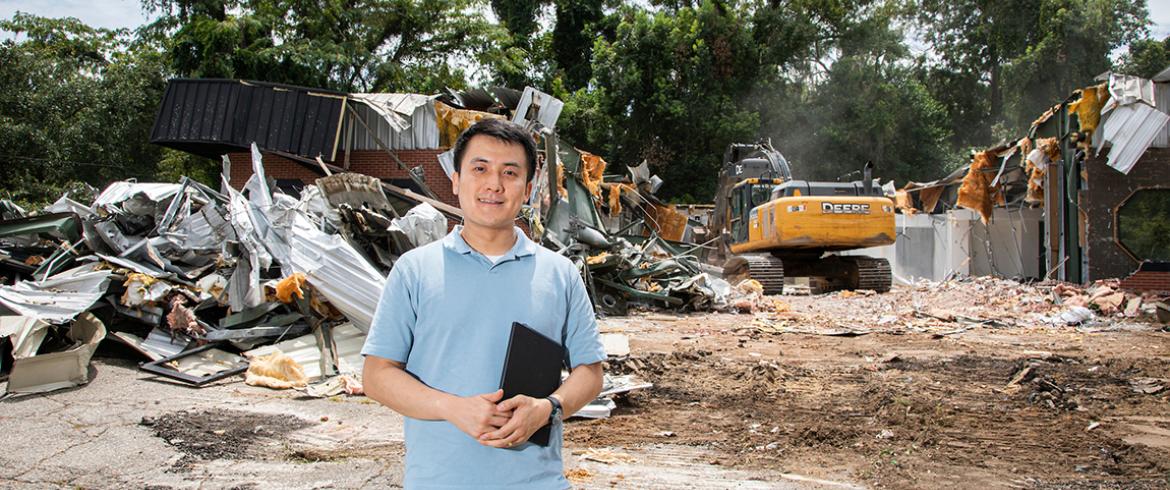 FAMU-FSU Engineering civil and environmental researchers help communities manage debris after the storm 
When a disaster like Hurricane Michael hit the Florida panhandle, debris was scattered everywhere, from downed trees to common household garbage. Massive wildfires in recent years may have been fueled in part by the abundance of forest debris left from that event. 
The sheer volume of this disaster debris can overwhelm communities. However, researchers at the FAMU-FSU College of Engineering may have a solution. A new study demonstrates that recycling and reuse is not just good for the environment. It also can be a successful storm waste management strategy. However, time is of the essence.
Assistant Professor Juyeong Choi is the principal investigator for a National Science Foundation (NSF)  grant to help create a baseline for sustainable debris management. He is part of the joint college's civil and environmental engineering faculty.
"We are working with the time-sensitive nature of different disaster debris data," Choi says. "In order to understand the feasibility of sustainable debris management practices (e.g., recycling and reuse), we need to collect a variety of data, which often exist within certain post-disaster timeframes. We have developed a framework to ensure that such critical data are collected in a timely and consistent manner before their potential loss."
Choi leads a team of engineering researchers in a collaborative study with the University of Illinois and the Cal Poly College of Engineering. The group is developing a quantitative assessment of sustainable debris management through data collection.
The team found that sustainable disaster debris management requires the collection of a wide range of multifaceted data. This includes information relating to the amount and composition of the debris, the availability of debris management sites, hazards and environmental concerns, economics, social considerations and funding policies. Collecting this type of detailed information remains a significant challenge amid limited resources, especially during post-disaster phases.
"One of the tools we are using to help prioritize the data needs for collection is Social Network Analysis (SNA)," Choi said. "Through SNA, we can analyze the use of different data categories in the existing literature on sustainable disaster debris management. This facilitates prioritization and guides our data collection efforts."
Hiba Jalloul, a doctoral candidate in civil and environmental engineering, is the lead student researcher within Dr. Choi's research group. 
"Our research indicates that pre- and post-disaster data collection initiatives are vital to capturing all the data needs for sustainable disaster debris management," Jalloul said. "We should start by establishing comprehensive debris management inventories that encompass the data relevant to pre-disaster preparedness and planning. Once a disaster hits, onsite reconnaissance inventories can capture time-sensitive post-disaster data using state-of-the-art devices and applications."
Through a more informed, data-based and systematic research on disaster debris management, the team hopes to facilitate the use of disaster debris in sustainable reuse pathways and facilitate future recycling and reuse efforts.
Their research was funded by a $300,000 grant from the NSF and was recently published in the journal of Resources, Conservation and Recycling.
RELATED ARTICLES
Civil engineer awarded NSF EAGER grant to build disaster debris repurposing framework
Civil engineering professors part of team at FSU planning lab awarded state grant for disaster mitigation
After the storm…FAMU-FSU Engineering researchers study long-term shelter needs of hurricane victims