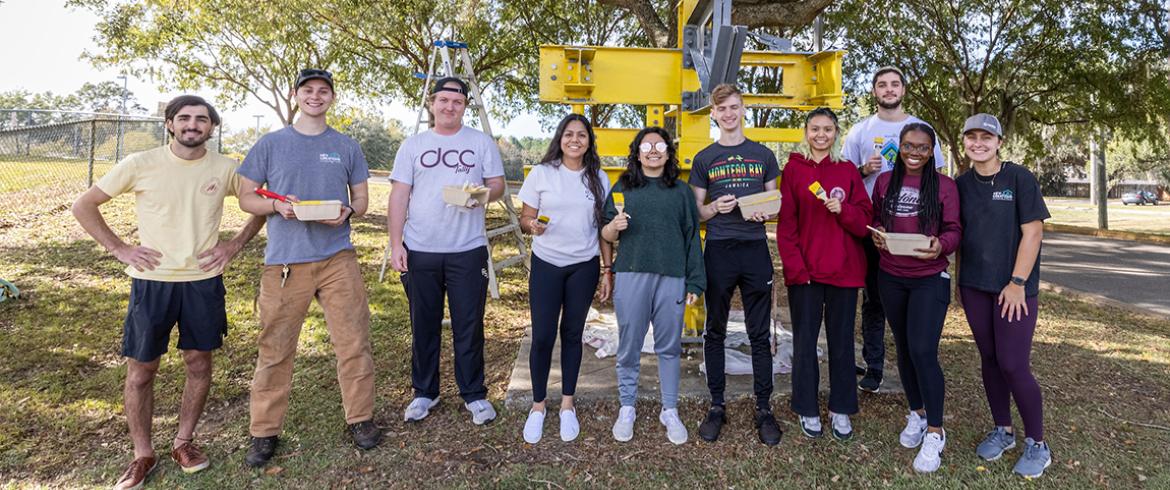 Theta Tau gives the FAMU-FSU College of Engineering "Steel Beam Sculpture" a much-needed facelift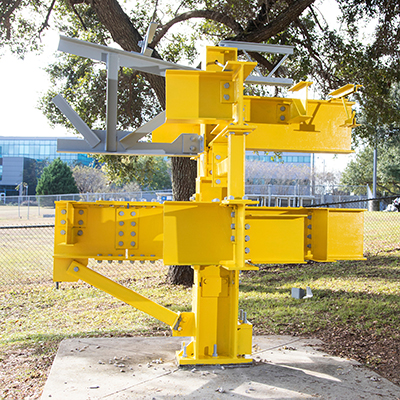 You've probably seen the rusty, gray metal steel beam sculpture near the north side of the FAMU-FSU College of Engineering. However, you might not know its significance and why Theta Tau, an engineering fraternity on campus, is refurbishing the structure to its former glory.
 
The abstract steel beam sculpture was installed on the campus more than twenty-five years ago by the American Institute of Steel Construction. Its purpose was to give engineering students an up-close look at the underlying skeleton and connections used in steel structures. 
"The sculpture is used as a teaching tool to show various kinds of steel members and connections and is an example of a full-scale steel sculpture," Lauren Bishop, the project chair for Theta Tau, said.
Bishop, an undergraduate student studying chemical and biomedical engineering at the college, and her fellow Theta Tau members worked with Lisa Spainhour, the chair of the department of civil and environmental engineering, and Steven Squillacote, a senior lab engineer, to revitalize the structure. 
"At almost every engineering program in the country, you see structures like this," Spainhour said. "We were excited to see the sculpture put on our campus years ago and are thrilled to have the newest Theta Tau group take up where their predecessors left off to restore the sculpture to its former glory."
Each semester Theta Tau has a new pledge class that goes through a process to show their values of brotherhood, service and professionalism. Twice, their project has focused on the steel structure, which sits on the corner of the engineering campus. In 2015, they repainted the steel structure, changing it from gray to a bright yellow color that drew attention to its value as both art and an instructional object.  Now, according to Bishop, in 2022, the organization thought restoring the aging sculpture would be a great way to give back to the College of Engineering community. 
"Theta Tau has grown in the last seven years, and after talking specifically to the civil engineering department, we came up with a game plan to revamp the existing structure as a service project," Bishop said.
According to the AISC, the original steel structure was erected on the University of Florida's campus in Gainesville in 1986. It was designed by Duane Ellifritt, Ph.D., P.E., Professor Emeritus of Civil Engineering at the University of Florida. The structure was envisioned to be a full-size 3D model that would provide engineering students with up-close, hands-on exposure to structural steel members and connections. Modified versions of the original steel sculpture now exist on more than 170 campuses worldwide.
Spainhour explained, "Typically, in a building, it's hard to see all those different connections, so AISC sponsors these structures on engineering campuses so students can visualize those connections. Each year we teach a steel design class and utilize the structure for practical experience."  
Theta Tau is a professional engineering fraternity that encourages its members to excel professionally and give back to the surrounding community.
Theta Tau members who volunteered for the project represent current and past classes:
Kartika Ahern, Maria Atuncar, Lauren Bishop, Tyler Chapman, Sebastian Clark, Alison Cornelius, Casey Felder, Alexis Granville, Anna Huszar, Brady Henderson, Jeffrey Hill, Milyema Krivit, Angelina Lanh, Aiden Livingston, Jeanine Martinez-Rojo, Jeremy Newman, Jacob Origa, Abby Scott, Diana Shaughnessy, Eric Strawn, Taylor Vanderlinden, Ethan Wood.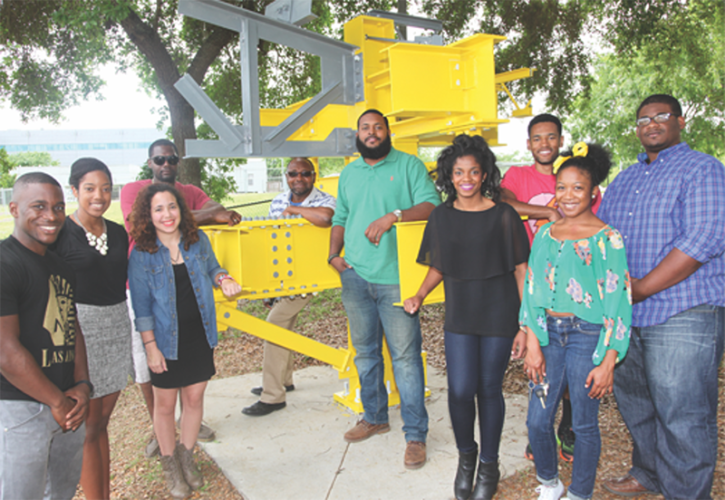 Previous Refurbishments
The photo above is Clarence Williams III (center) who led Theta Tau's efforts to refurbish the sculpture in 2015, shown here with Primus Mtenga, a professor in civil and environmental engineering at the college, along with other members of the fraternity (Courtesy FAMU-FSU College of Engineering Theta Tau). Williams landed a job with Turner Construction after graduation and recently returned to the college in fall 2022 as part of a delegation of Turner employees. The company established a fund that will present over $72,000 in scholarships to FAMU as part of a partnership between the company and the university's architecture and engineering programs.
RELATED ARTICLES
FAMU Signs Agreement with Turner Construction Company for Scholarships, Internships, Collaborations