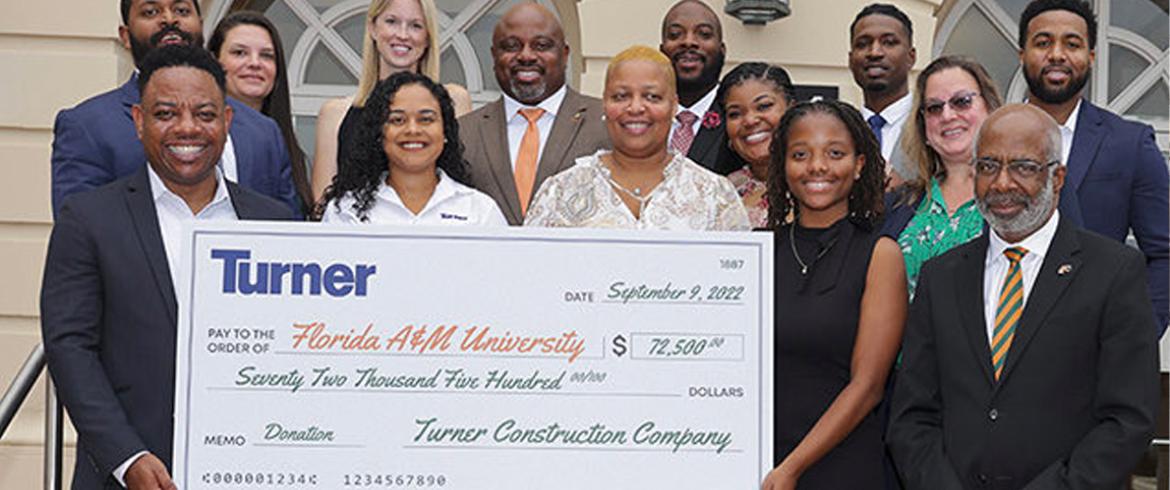 Florida A&M University announced a partnership with the Turner Construction Company that will result in student scholarships and internships and collaboration between the New York-based giant and the University's architecture and engineering programs.
This school year, Turner Construction will contribute $72,500 for four scholarships to students in the FAMU School of Architecture and Engineering Technology (SAET) and the FAMU-FSU College of Engineering (COE). As part of the initiative, Turner will fund Tuition Assistance Program grants to qualified students in Construction Engineering Technology, Electronic Engineering Technology, Architecture in the SAET and for Civil Engineering, Electrical Engineering, and Mechanical Engineering in the FAMU-FSU COE, with a proven record of academic success. 
There will be four individual Tuition Assistance Programs of $15,000 each during the 2022-2023 academic year. These funds will be payable to the selected students over two semesters, beginning with the fall semester 2022. 
Scholarships are just part of the initiative. Turner has also pledged financial support for the Construction Engineering Technology, Electronic Engineering Technology, and Architecture programs in the SAET and for the Civil Engineering, Electrical Engineering, and Mechanical Engineering programs in the FAMU-FSU College of Engineering. That support includes assistance with travel, competitions, software and/or equipment to benefit learning objectives; joint teaching, research, or cultural activity; faculty professional development; and sharing or creation of educational materials and resources.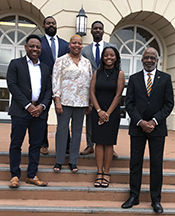 As part of the agreement, a delegation of Turner engineers, architects, and executives, including five FAMU alumni, met with FAMU President Larry Robinson, Ph.D., and Shawnta Friday-Stroud, vice president for University Advancement and executive director of the FAMU Foundation, SAET interim Dean Andrew Chin and FAMU-FSU COE Dean Suvranu De, Ph.D. 
Robinson expressed confidence that the relationship with Turner Construction will be very productive. 
"The best collaborations are the ones that involve more than just a few people showing up for recruitment fairs, but those where we get to work on things that are mutually beneficial. Seeing such a large group of you here, it bodes well for good things in the future," Robinson said to the gathering in the Lee Hall 4th floor conference. "We appreciate your generosity and support of   research and development opportunities." 
With a staff of 10,000 employees worldwide, Turner completes $12 billion of construction on 1,500 projects each year. Turner offers clients the accessibility and support of a local firm with the stability and resources of a multi-national organization, according to the company's website. 
Charles Stewart, vice president for recruiting and outreach for Turner Construction, said the campus visit was the result of a year and a half of behind-the-scenes work as Turner sought to focus on eight Historically Black Colleges and Universities (HBCUs) and eight Predominantly White Institutions (PWIs), which have strong, diversity built within their programs. 
"It's basically about the development of the student, helping the universities enhance their pipeline and develop their students to be prepared to step out in the communities where we work every day, and be able to work with companies like ours," Stewart said.
Five FAMU alumni – Ava Baptiste, Alison Lewis, Dwayne Reid, Nicholas Thompson, and Clarence Williams III – were among the Turner team to visit the campus. 
"That was intentional. We put an intentional focus with the universities that we're working with to make sure that we bring home alumni to their university to help build their programs," Stewart said. "We have a program that we found 69 alumni from HBCUs within our company, and they really put a key focus on the schools that we are working with today."