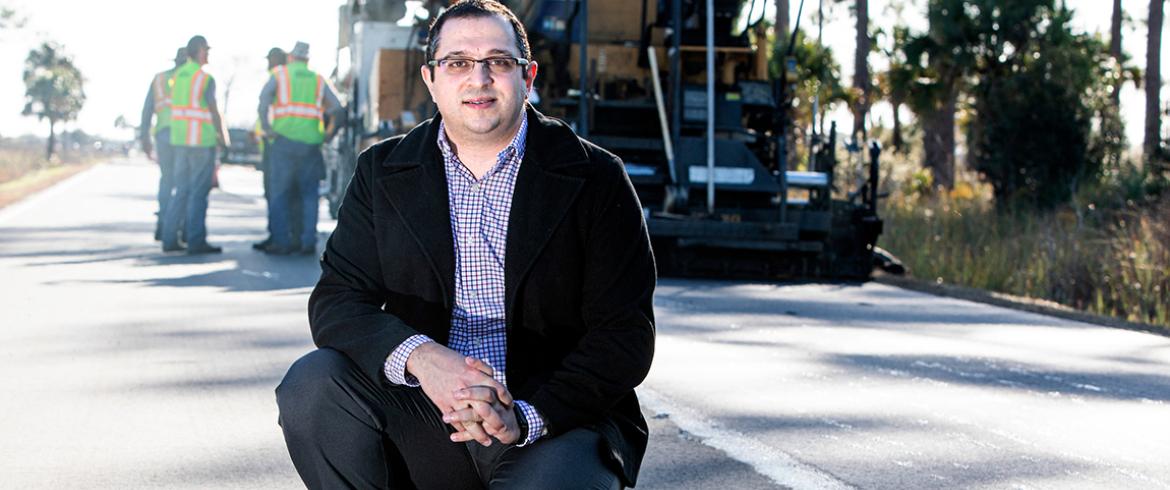 New high polymer-modified asphalt binder technology by Kraton Polymers and tested by FAMU-FSU College of Engineering researchers may be the answer to more sustainable, durable, and resilient roadways in Florida and beyond. 
Michael Elwardany, an assistant professor in civil and environmental engineering at the FAMU-FSU College of Engineering and an expert in asphalt materials and pavement structures, is testing Styrene-Butadiene-Styrene (SBS) polymers for their unique properties specific to pavement and the new technology of highly modified mixtures, also known as HiMA. This new technology may contribute to pavement durability and resistance to surface distresses under harsh climatic conditions. 
Elwardany is part of a group of FAMU-FSU engineering faculty in the RIDER Center dedicated to promoting next-generation engineering solutions improving infrastructure and disaster resilience in communities.
"Pavements are multilayer structures and thus, pavement resilience is the resultant of how these various layers respond to extreme weather events and climate change," Elwardany said. "For the durability of the surface layers, strain-tolerant asphalt materials, such as high-polymer modified asphalt technology (HiMA), can help resist surface distresses under harsh climatic conditions. However, the whole pavement structure should be designed to withstand and recover rapidly from disruptions and changing conditions." 
SBS block copolymers are composed of styrene and butadiene. They allow for the design and construction of durable porous asphalt layers that can drain water quickly, reduce noise, reduce the risk of hydroplaning and splashing, and improve overall roadway safety in wet climates. Researchers are also evaluating crumb rubber, a recycled material produced from scrap automotive tires, and recycled plastic from drinking water bottles among other mixed plastic streams as sustainable options to improve road sustainability.
"The published literature on these materials was limited to conventional test methods that didn't represent actual field conditions under high loads," Elwardany said. "What we are trying to do is to understand materials long-term performance and resistance to failure by subjecting them to higher strain magnitudes after laboratory conditioning to simulate critical conditions in the field."
Their work was recently published in the journal Construction and Building Materials.
"The work is one of the first attempts of validating another work developed under a project funded by the National Academy of Sciences through the Transportation Research Board (TRB) and the National Cooperative Highway Research Program (NCHRP)," Elwardany said. "This was the first attempt to independently verify the work recently conducted by NCHRP. The goal is to revise the asphalt material specifications in the U.S. and to implement more sustainable materials in highways across the nation."
The work was internally funded, in collaborative partnership with the Turner-Fairbank Highway Research Center of the Federal Highway Administration, the Virginia Transportation Research Council of the Virginia Department of Transportation, and the University of Nevada, Reno.
RELATED ARTICLES
Engineering Faculty Expands by a More Than a Dozen for Fall 2022
Civil Engineering professor developing new testing apparatus for improved road repair materials
Civil engineering faculty Wei-Chou (Virgil) Ping receives professor emeritus status