Hunter Fitch, an alumnus from the FAMU-FSU College of Engineering, is one of 22 Notable Noles under 35, honored with the Young Alumni Award from the FSU Alumni Association. The recipients received recognition at the September 2022 ceremony celebrating graduates who are impactful in their career, community, society or the university. 
Fitch received a bachelor's in electrical engineering in 2017 from Florida State University and a master's from the Johns Hopkins Whiting School of Engineering in 2022. He currently works as a specialist in systems integration and test engineering at L3Harris Technologies. 
"I am grateful to be selected by the FSU Alumni Association," Fitch said. "Since graduating, much of my success goes back to the FAMU-FSU College of Engineering, my professors and mentors who guided and inspired me through school." 
In college, Fitch was involved in the Institute of Electrical and Electronics Engineers (IEEE), Relay for Life of FSU and his fraternity, Zeta Beta Tau. After graduation, he continued to stay involved as he grew as an engineering professional and community member. Fitch shared memories and advice about volunteering, community engagement, and the transition from college to career.
What's your role at L3Harris Technologies?
As a specialist in systems integration and test engineering, I lead the efforts of a multi-disciplinary team of engineers to combine system elements while verifying and validating functionality and requirements. I've worked in a few programs over the years, primarily in the world of Satellite Communication (SATCOM) Systems, including tactical ground stations, air traffic networks, naval terminals and the like.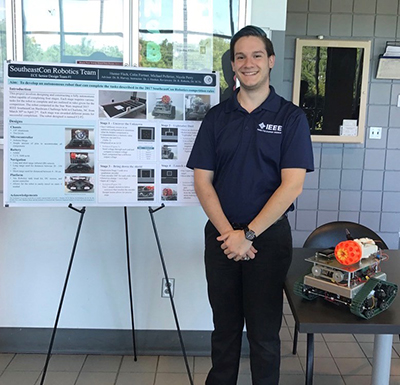 What was your journey like as a student?
As a student, I initially struggled to find my place and changed majors a few times after realizing that my original plan to become a science teacher was not the right path for me. Under the guidance of some incredible professors, I eventually chose electrical engineering (EE) and studied alongside some brilliant engineering students. 
Early in the EE curriculum, I took an interest in electromagnetics and radio frequency in Physics II before diving deeper into courses with Dr. Arora and Dr. Weatherspoon. Dr. Harvey's Radar course sparked an interest that has led me through the world of RF Systems at the U.S. Department of Defense (DoD) and is a big part of why I love my job! After graduation, I went to work full time for L3Harris Technologies, formerly Harris Corporation.
How do you give back to the community?
In college, I got involved in campus activities. My goal was to learn all I could and help the student community and those alumni before me. After settling into my role as an engineer, I decided to take the same approach at work as I did in school: to work hard and help the others.
At L3Harris, I joined our Employee Resource Groups division and was elected to a leadership team to impact the company's Diversity, Equity and Inclusion program. As a volunteer leader with the Community Affairs Network, I helped plan and execute volunteer projects in the community, like beach cleanups, supply drives for those in need, and STEM education events with our local schools.
My efforts in leading projects were rewarded with new responsibilities to support our customer's critical missions. One opportunity even took me into a disaster zone to restore systems so our customer's mission could continue and relief efforts could begin. After five years in the industry, I'm still working toward continuous improvement and innovative approaches to new problems. 
Outside the office, I volunteered for a space-themed 5k and 10k race that raised money for cancer research. I also worked as a production technician at our local theater. 
What is your fondest memory at the FAMU-FSU College of Engineering?
I want to say my parking lot Goose attack—I still have the scar! But I'll have to choose the 3 am study sessions in the atrium with my friends. We were over-caffeinated and overwhelmed, but we worked together well. We would quiz each other on topics related to upcoming exams and continue until we all felt confident and prepared. There was a real sense of pride and support in helping each other achieve success (or collective failure). Engineering is hard and the concepts are complex, but together we got through each course and made it to graduation. 
What is your best advice for students? 
Homework may be an individual undertaking, but engineering is a team sport! Learning to work together is crucial to engineering. No problem has just one solution, and each person brings a new way of thinking. My friends helped me get through school and my colleagues at work help me solve complex problems every day. Teamwork finds the best solutions. Join a club or form a study group and remember, geese travel in flocks!