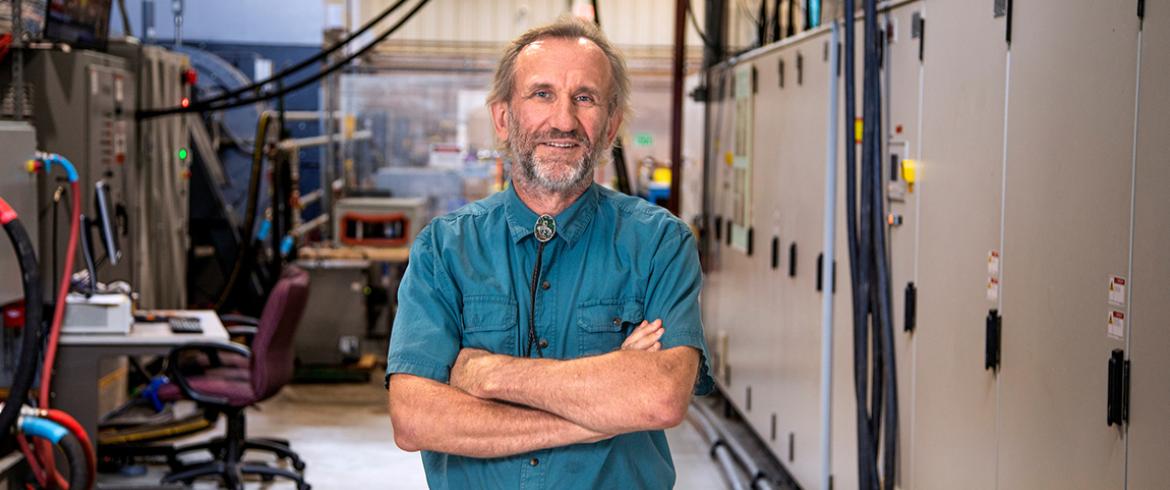 This article was published earlier this month. Mischa Steurer passed away unexpectedly over the weekend. He will be greatly missed by his colleagues at the Center for Advanced Power Systems and Florida State University.
An injured horse and a serendipitous encounter with a tour guide started Michael "Mischa" Steurer's career as a researcher at Florida State University's Center for Advanced Power Systems.
During his doctoral studies at the Swiss Federal Institute of Technology, Steurer visited Florida to present a paper at a magnet technology conference organized by the FSU-headquartered National High Magnetic Field Laboratory, or MagLab. He and his wife, Maria, had planned to spend some free time at the beach, but one of their horses was injured, so his wife stayed home. With time on his hands, Steurer decided to visit the MagLab.
His guide on that tour was Cesar Luongo, one of the founders of the Center for Advanced Power Systems, or CAPS. They started chatting, and Luongo mentioned that he would be looking for more researchers to join the center's team. More recruitment efforts followed. In 2001, Steurer left Vienna, Austria, for Tallahassee, eager to continue his research and to stop shoveling snow.
It proved to be a great move. Today, he leads the center's power systems group, focusing on modeling power and energy systems for all-electric ships and the power systems of the future.
"I never imagined that our love for horses would lead me to this amazingly satisfying career at FSU and our exciting life in a new home far away from Austria," he said.
When Steurer began, CAPS was more of an idea than a place. Researchers worked out of the MagLab. But the goal was to become a center of excellence for everything to do with electric power systems.
He set to work on a major project: Developing power hardware-in-the-loop simulation, a way to test real electric power hardware in a simulated circuit at realistic high voltages and currents. Adding new components to an electrical system can be an expensive process. Testing in a simulation before actual adoption allows engineers to see how new equipment fares and how it impacts the system it is part of.
"To do that, either you build that system and test the machine in the context of that actual built system, or you do this with power hardware-in-the-loop simulation," Steurer said. "That takes a lot of risk out, because you can do this much, much earlier in the design cycle and in the build cycle. You don't need to have the full system in place."
CAPS researchers took existing simulations for electrical systems and pushed the technology to the next level, not only modeling electronic controls but also adding power equipment up to the megawatt scale. The CAPS lab currently supports power hardware-in-the-loop simulation up to 5 megawatts, equivalent to the amount of power needed to provide electricity to about 4,500 typical American homes.
At the same time, Steurer was leading that initiative, the U.S. Navy was focused on developing a new power supply for a radar system onboard ships. CAPS joined the project and in 2016 received accreditation from the Navy to test the power supply with the center's new technology. Since then, the technology pioneered by CAPS has continuously helped military decision-makers to evaluate different pieces of equipment during the research and development phase.
"That was a major milestone," said CAPS director Roger McGinnis. "We became the first university accredited by the U.S. Navy to test power equipment with this simulation. That was a big accomplishment for CAPS, and Mischa led our effort for that work."
Since its first work with the Navy, the center has been a leader in developing technology to help electrify more ship components. In 2016, CAPS received a $35 million grant from the Office of Naval Research, or ONR, for electric ship research. In 2021, the center earned a $31 million contract from Naval Sea Systems Command to help develop onboard electrical power and energy systems as well as a $30 million, five-year grant to continue leading the Electric Ship Research and Development Consortium, a collaboration with Massachusetts Institute of Technology, Purdue University, Virginia Tech, Mississippi State University, Naval Post Graduate School, United States Naval Academy, University of South Carolina and the University of Texas at Austin.
"I have known Mischa Steurer since 2003, when he was the CAPS project leader for the Office of Naval Research 5-megawatt high temperature superconducting motor program said LJ Petersen, a program officer at the Office of Naval Research. "He currently is the ONR power electronics power distribution system architect leading a diverse team of engineers and scientists both within the Electric Ship Research and Development Consortium from outside. Mischa is a high performing research engineer with both a broad and deep Navy power and energy understanding and he has been instrumental in the success of many Navy funded research projects."
For his work developing the power hardware-in-the-loop simulation technology for ships, Steurer earned the 2018 Solberg Award from the American Society of Naval Engineers, the first and only FSU faculty member to win this award.
"That was a gratifying recognition for research that my team completed over the course of years," he said. "It was an honor to receive that award, although the larger work isn't finished, and we continue to pursue better solutions."
Other organizations have come to Steurer for help. Companies such as Mitsubishi Heavy Industries, TECO Westinghouse, Leonardo DRS, Hepburn & Sons and more use the research center's hardware-in-the-loop system to test their own technology. With the support of the FSU Office of Commercialization, he has applied for and received 26 U.S. patents.
"Mischa is such an asset to both the industrial and academic communities," said Fletcher Fleming, an engineer with Leonardo DRS who has worked with Steurer on several projects. "He has a breadth of engineering knowledge, is easy to work with and his team pushes the state-of-the-art. They regularly find new ways to expose next-generation power conversion equipment to realistic system conditions prior to their endpoint installation."
Along with his own research, Steurer and his team mentor many students earning master's degrees and doctoral degrees.
"Seeing them grow and learn this technology and then apply it in their own research is fantastic to observe," he said.
Helping to build better power systems can be taxing work. When he isn't at CAPS, Steurer plays mandolin with his wife playing bass in their bluegrass band, Coon Bottom Creek, or trains with the Tallahassee Tarpon underwater rugby club he founded in 2019.
"Especially as a young researcher in Austria and Switzerland, I never expected my career to take me to Tallahassee, but I've been here for more than two decades, and I love the place, the people and the opportunities for research," he said. "I've grown as a researcher here, and when I look at what the team at CAPS has accomplished, it makes me excited to keep going."
---
RELATED ARTICLES
Researchers at CAPS and Georgia Tech collaborate to detect faults in superconducting cables using machine learning
CAPS researcher honored with ASNE Solberg Award
Center for Advanced Power Systems Receives $31M Contract from U.S. Navy