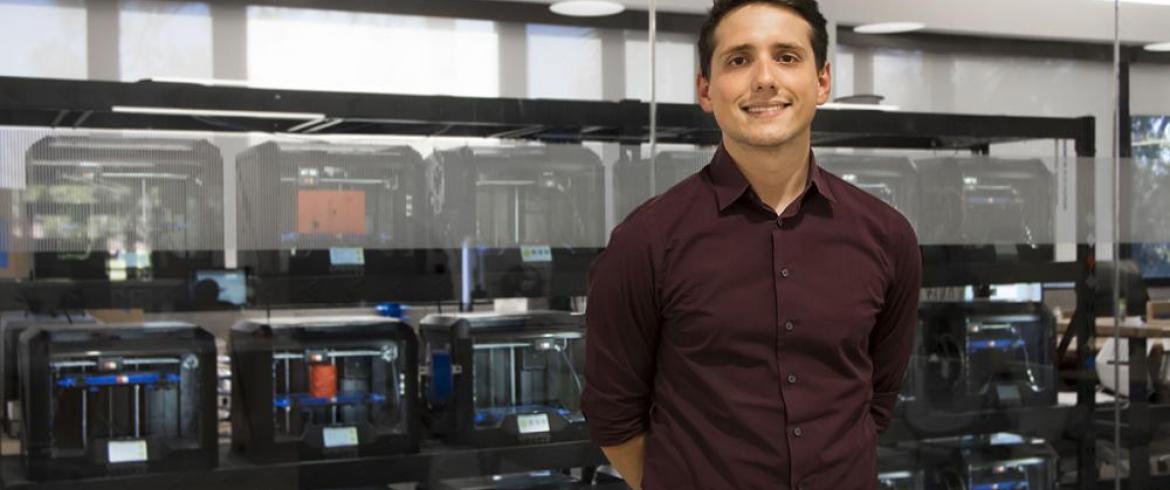 New business Diatech Diabetes gets prestigious NIH funding for their first product
Luis E. Blanco, John Wilcox, Nick Cooper and JC Gray, the co-founders of Diatech Diabetes, were recently featured in Memphis INNO business journal's list of picks for rising tech innovators and leaders under 25. The Florida State University graduates launched Diatech Diabetes in 2018 after winning the "Most Innovative" project at the FSU InNOLEvation Challenge while attending the FAMU-FSU College of Engineering. 
Diatech Diabetes is a startup medical device company specializing in infusion pump algorithm development. SmartFusion™, their first product, is an infusion monitoring system designed to detect infusion set failures. It's intended to be deployed on an ambulatory infusion pump or in conjunction with a connected smart device. 
"John, one of our co-founders, has been facing infusion failures as an insulin user," Blanco said. "When we were in college, he gave a presentation on a new idea to make pumps more reliable. The idea eventually led to conversations with our professor and we came up with an inline infusion monitoring system while still in college."
A critical need for critical care
According to a 2020 Diatech national survey, more than 76% of insulin pump users relied on symptoms of high blood sugar or other adverse events to decide if a site has failed. Current automated insulin delivery systems (AIDs) rely on blood sugar as their primary metric to determine the success of the therapy. This is problematic because blood sugar isn't only affected by insulin. More than 42 factors can cause a person's blood sugar to fluctuate, so detecting the underlying cause of a change is extremely difficult using this reading alone. 
SmartFusion™ fills a need because current insulin pumps can take between four and 24 hours or more to detect a failed infusion site. In some cases, they may never discover a failure if the infusion rate is low enough. 
The technology utilizes a mix of machine learning and process control theory to classify varying stage infusion failure, while current pumps can only detect full occlusions. It works by examining real-time data and analyzing changes in backpressure during an infusion, and then classifying the infusion performance. The device can estimate how much of the target volume the user has received. While the product was developed for diabetes treatment, it can work with any medication. 
"Our goal is to address infusion set failures and give patients a tool to ensure peace of mind and improve their quality of life," Blanco said. They plan to deploy SmartFusion™ across multiple subcutaneous infusion pump platforms, such as those for cancer treatment, Parkinson's, immunotherapy and pain management.
The group recently received a $300,000 grant from the National Institute of Diabetes and Digestive and Kidney Diseases, an institute within the NIH. The research effort will be led by JC Gray and Luis Blanco, co-principal investigators, and will involve the pre-clinical development of SmartFusionTM.
From campus to industry
Although Diatech's ties to FSU came from the group's involvement with the FSU InNOLEvation Challenge, the team forged a bond through various circumstances before that event. Blanco and the company's officers, Nick Cooper and JC Gray, graduated from the FAMU-FSU College of Engineering in biomedical and chemical engineering. Wilcox graduated with a degree in biological sciences from FSU.
"JC, John, Nick and I met in what felt like a series of random coincidences," Blanco said. "John gave a moving presentation at school about diabetes that resonated with me. My grandmother had diabetes and I grew up seeing my stepfather inject himself multiple times a day as a type 1 diabetic himself."
During Wilcox's presentation, he proposed adding a color-change chemical to the infusion pump to alert the user when it came in contact with insulin. The idea only worked if you had a leak and could not find the problem.
"It turned out the color-change chemical wasn't the best method of detecting failure," Blanco said. "I started thinking like an engineer and talked with my professor about working with John. I knew I needed help and reached out to fellow engineering students, JC and Nick. After collaborating in the lab, the four of us met up for pizza and our first meeting."
"After winning that college challenge, we literally had to start a company before we could collect our award—it was one of the requirements," Blanco said with a smile. "I don't think any of us originally thought about being entrepreneurs but we haven't looked back since."
RELATED ARTICLES
Engineering team shines at DIGITECH 2018, a showcase of cutting-edge technology
A conversation with Luis Blanco, engineering alumnus and student entrepreneur