First-generation college graduate Luis E. Blanco is from Placetas, Villa Clara, Cuba. Blanco graduated from the FAMU-FSU College of Engineering in 2018 with a bachelor's degree in chemical and biomedical engineering. He now heads his own engineering-based startup, Diatech Diabetes, Inc. 
Q: Can you tell us about your company and your first product?
Diatech Diabetes is an early-stage medical device company specializing in infusion pump algorithm development. Our first product, SmartFusion™, is an infusion monitoring algorithm system designed to detect infusion set failures. It's intended to be deployed on an ambulatory infusion pump or in conjunction with a connected smart device. 
We created SmartFusion™ because current insulin pumps can take between four and 24 hours or more to detect a failed infusion site. In some cases, they may never discover a failure if the infusion rate is low enough.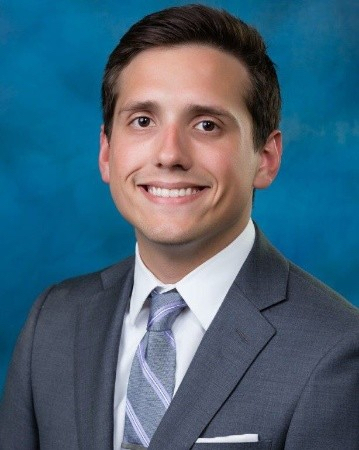 We found that more than 76% of insulin pump users relied on symptoms of high blood sugar or other adverse events to decide if a site has failed. Current automated insulin delivery systems (AIDs) rely on blood sugar as their primary metric to determine the success of the therapy. This is problematic because blood sugar isn't only affected by insulin. More than 42 factors can cause a person's blood sugar to fluctuate, so detecting the underlying cause of a change is extremely difficult using this reading alone. 
SmartFusionTM utilizes a mix of machine learning and process control theory to classify varying stage infusion failure, while current pumps can only detect full occlusions. 
The technology works by examining infusion data and analyzing changes in backpressure during an infusion, and then classifying the infusion performance. The device can estimate how much of the target volume the user has received. 
While SmartFusionTM was developed for diabetes treatment, it can work with any medication. Our goal is to address infusion set failures and give patients a tool to ensure peace of mind and improve their quality of life. From there, we hope to deploy SmartFusionTM across multiple subcutaneous infusion pump platforms, such as those for cancer treatment, Parkinson's, immunotherapy and pain management.
This September, Diatech was awarded a National Health Institute (NIH) grant to develop and validate an infusion monitoring algorithm capable of bridging the gap between the pump and the infusion site. Co-Founder John Gray and I are leading the project in collaboration with Marzia Cescon, a distinguished professor from the University of Houston. 
Q: How did your company Diatech Diabetes, Inc., get started?
I never knew I wanted to be an entrepreneur, and I am not sure if the rest of the guys on our team had thought about that either. At first, all we wanted to do was publish a paper. Then we entered Florida State University's 2018 InNOLEvation™ Challenge. We won the "Most Innovative" prize and became an official company. 
JC Gray, John Wilcox, Nick Cooper, and I met by what felt like a random set of coincidences and classes at the college. 
In my sophomore year, I was a research assistant with Dr. Hui Wang, a professor in the industrial engineering department and researcher at the High-Performance Materials Institute.  Dr. Wang was working with Dr. Cesar Rodriguez, a professor from the FSU College of Medicine, who is an ex-Autodesk employee from the Bay area in California and a medical doctor with a degree in computer science. Dr. Rodriguez believes the future is synthetic biology. He became my undergraduate thesis professor and the was actually the catalyst for Diatech. 
Dr. Rodriguez invited John Wilcox to his research lab because of John's work in diabetes. John gave a presentation during one of our routine lab meetings, and it resonated with me. As an insulin pump user, he had been facing infusion failures since he got on the pump. His idea was to use a color-change chemical to the adhesive pad that would turn blue when it came in contact with insulin. 
Unfortunately, if you're wearing your pump under a garment, you can't see it. If you suffer from anything other than a leak, the method John proposed couldn't detect failure. 
After the presentation, Dr. Wang and I discussed an inline infusion monitoring system as a possible solution. After talking to Dr. Wang, I told Dr. Rodriguez about my desire to help John accomplish his dream. I reached out to John and boldly said, "I think I can help you with your project."
We soon realized that two people can't solve a problem that affects over 90% of insulin pump users in the U.S., so I quickly learned that we needed help. 
Luckily, I ran into fellow engineering student JC Gray on the 2nd floor College of Engineering breezeway during a late night of studying and said, "Hey I have a project I'm working on that you might be interested in." 
He seemed skeptical at first. I was a stranger talking about failing pumps. Fortunately for me, JC was crazy enough to think I knew what I was doing and said he'd help. We reached out to Nick, an engineer in the Rodriguez lab, and the four of us met for pizza. That was our first meeting—the rest is history.
Q: What is it like to be a first-generation college graduate in your family?
As a Cuban immigrant, you don't know what going to college means in America. My aunt is a certified family doctor in Cuba, but her college education looks different from mine.
Growing up in Hialeah, a majority Hispanic city west of Miami, college was just a thing people said you had to do after high school. 
They don't tell you how you apply, what it takes to get it, or how to pay for it. People say, "tienes que ir a la Universidad," which means you go to a university. My family had no idea what it took to get into university, let alone graduate from one. 
Being the first in my family to graduate from a university in the U.S. feels surreal. The accomplishment allows me to tell my niece and nephew that they can do what I did and do it better. Thinking about being a role model for the younger generation is what being a first-generation graduate means to me. It means being able to guide them on this path and that they don't have to do it alone.
Q: How did your involvement with the Society of Hispanic Professional Engineers help you?
SHPE honestly changed my life. Everyone tells you to go to college, get a job, be successful—and that's great—but no one tells you how to do those things. Classes teach you theories and applications relevant to your career but they can't tell you how to use them to land a job. SHPE taught me all those skills.
I joined SHPE because Luis Lopez, an old friend from high school, said it was the best thing I could do. I joined and ended up getting paid to go to the 2014 SHPE national conference in Detroit. I was 18 at the time and had no idea what I was doing. 
The club helped me with my resume, told me how to look sharp in my only suit, and gave me the basics: everything from how to apply online, how to network, to always have a resume on hand, and how to push through the "no's." 
I was able to land two interviews and attended an invite-only session with Johnson & Johnson.  Four years later, I accepted an offer from them. SHPE taught me all the skills I needed to know to get a job.
 
Throughout my time at SHPE, I met my best friends and learned so much, I even convinced a few of my classmates to join. Later they thanked me after locking in full-time jobs while at the SHPE National Conference. 
I tried to pass the skills I learned to others and mentor people. One of my favorite memories is the time my faithful lab partner, Connor Thomas, told me I was the reason he had landed his full-time job and that I had played a role in his success in getting his undergraduate degree. Words cannot describe the pleasure of knowing you have helped a friend. 
The second was getting my friend and current Diatech webmaster Tomas Musgrove to join SHPE. I encouraged him to become chapter president his last year. Tomas has a major in IT and is not an engineer. He found a job shortly after college because of the professional experience he gained from SHPE.
Without the support of SHPE, I wouldn't be where I am today. It helped me get my first board position as the Vice-Regional Student Representative for North Florida. I learned a lot from the national conference and landed seven interviews, walking away with an offer from a great company.
I went to college and got a job, like the mantra that everyone had drilled into me. After college, I applied what I had learned from SHPE at my investor meetings and pitches for Diatech. In 2020 I left a stable job for my dream job as a full-time CTO.
Q: What is your fondest memory of the college?
My favorite part is knowing I had friends to lean on. Engineering was brutal. However, I knew if I texted anyone at 3 am they would respond. They were either working on the same homework or studying for the next test.
I remember asking our quantitative anatomy and systems physiology professor, Dr. Sam Grant, to let us take the final on a Saturday because we were so swamped with exams that week. For biomedical engineers, that meant studying the last Friday of the semester for a Saturday morning final. These experiences create a bond with your class. 
My favorite memory was when my long-time lab partner Connor and I got together to do something about the annoying sound of the trash cans rolling on the tiles in building A at the college. After graduating, we sponsored a senior design team to fix that and got our respective employers to match our donations. 
Q: Who or what got you interested in engineering?
Engineering was never the goal; I didn't even know it was an option until my last few months in high school. My grandfather was an engineer at a sugar cane processing plant in Cuba, and he says that he remembers when I was small, I liked to watch him build these big machines in the backyard. I would always ask to help. 
My dad worked hard to get me nice toys, and all I was interested in was trying to take them apart. He's since retired, but they say he could walk into any plant and tell you exactly what your issue was, sort of like a master engineer. 
Originally, I wanted to be a doctor. It is the Hispanic parent's number one job occupation. In my senior year, I participated in a four-year community project for stroke awareness and was president of the Health Occupation Students of America. 
I googled how much medical school costs and decided we wouldn't be able to afford it. I learned about biomedical engineering in my AP biology class back during my senior year of high school. I decided it might be interesting because it was a mix of medicine and engineering. 
Q: What are your best tips for engineering student success?
There is no secret recipe to success besides hard work. Everything my team has achieved was through sheer commitment, perseverance and hard work. There is a characteristic in the startup community called "grit"—that a founder can continuously push towards their goal without giving up. Students need to work as hard as possible towards their goals. It might be something short-term like getting through a tough class or landing an interview. My goal was to land a job I was happy with, doing research, and achieving what no one in my family had done before. Everything our team has accomplished was because we created opportunities. We sought out the grant we just received and all of our partnerships. Nothing came easy and we are not unique. We just worked hard and know how to go after what we want. So, for anyone sitting in class wondering how to "be successful," I would say take the first step towards what you want to achieve. 
Visualize success and plan out what steps you have to take to achieve, then execute. If you get a "no," then re-assess and try and again, and again, and again. While you're advancing, remember to pull up those around as you climb.
Take the first step. My first step was to get started in research early as an assistant in computational protein engineering. That gave me the experience and confidence to meet Dr. Wang at an HPMI Open House and pitch him smart orthotics. As I got more engineering experience and confidence, I convinced three random students to team up with me to work in diabetes. All of these experiences started by taking that first step. I didn't study computer science. Now, I work in machine learning for a living. I am not a doctor, but I spent two years as an electrophysiology specialist helping physicians cure arrhythmias.
Encourage others in your circle and lean on each other so everyone can succeed. I tried my best to influence those around me to join SHPE. 
Put yourself out there to be successful. Ask for an interview when you talk to recruiters. You have to put yourself in uncomfortable situations to grow. At 25 years old, I have to sell my company and product to people twice my age. Get used to being uncomfortable.
Don't wait until senior year to look for a job. You need the experience to get a job, so you better be doing research or working as an assistant or intern or something.
You will not get an interview if you do not ask your recruiter directly for one. Ask for an interview and ask if there are any openings.
Have a great resume. Get people to look at it who know more than you and have more experience. "Show, don't tell." Saying you are a hard worker is not the same as saying you delivered five projects for six months with a limited budget.
Get better at public speaking. Society runs on communication; you cannot thrive as an engineer if you cannot communicate.
Do what you love. If being an electrical engineer is not your thing, it's not worth it to stay. Switch to something that fires up your passion. Too many people go back to school because they finally realize they hate their job.
The job market is very competitive; you need to stand out and put yourself out there. My favorite quote is "if opportunity doesn't knock, build a door." You should actively chase what you want and create your own opportunities. 
 
RELATED ARTICLES
Grit and determination were key for Diatech Diabetes engineering alumni entrepreneurs