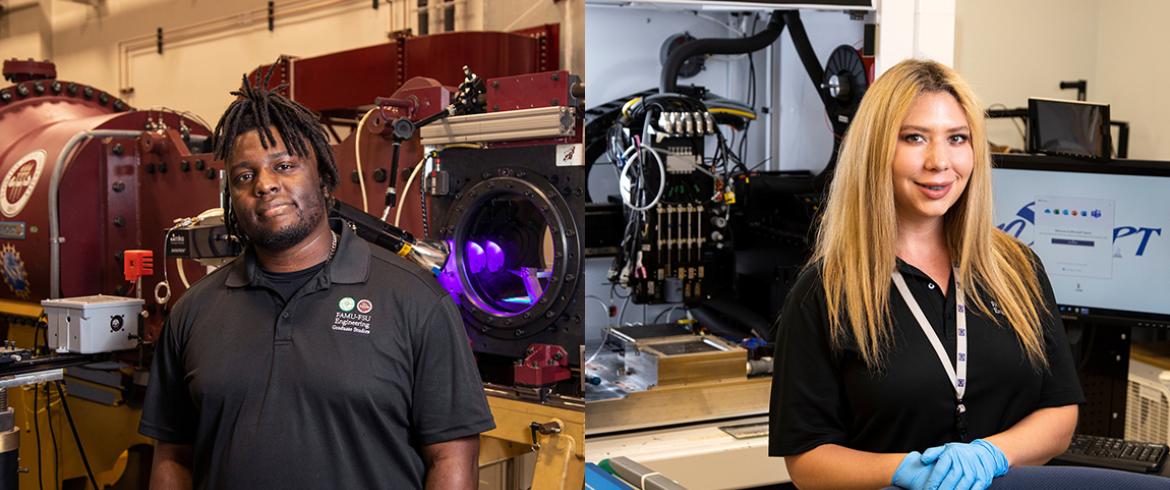 What's it like to be an engineering graduate student at Florida A&M University and the FAMU-FSU College of Engineering? Two students share their stories about the experience.
Milan Rede is a second-year doctoral student in chemical engineering through Florida A&M University and wants to clear up some misconceptions about college life as an engineering student. She thinks there is sometimes a little confusion about how the joint FAMU-FSU College of Engineering works. Sometimes people don't understand the relationship between the two schools.
"In the College of Engineering, FAMU and FSU students take the same classes, with the same group of people. FSU is its own thing. FAMU is its own thing, and the College of Engineering is (sort of) its own thing. FAMU and FSU engineering students share the same professors, campus  and everything," Rede explains. "You just enroll through FAMU or FSU. There's no difference as far as coursework or research experience."
"The classes are small, and you get a lot of personal attention and one-on-one time with your professor," Rede said. "My adviser Dr. Ramakrishnan—we like to call him Dr. Rama—is great. He has some cool equipment in his lab. I have access to a 3D printer that is the same version NASA launched into space and we do our research at the National High Magnetic Field Laboratory and collaborate with the High-Performance Research Center."
Register for the Virtual HBCH Grad Recruitment Fair
Rede researches additive manufacturing materials. She is working with epoxy graphene composites and in her latest research project, where she disperses graphene nanoparticles into epoxy resin to add as a polymer filler. This process creates an ink that can be 3D printed. Then, Rede can analyze how the print speed and the filler concentration affects the thermal conductivity, mechanical properties and macroscopic properties of the material.
"Additive manufacturing has become a big industry in the last 10 years," Rede said. "It allows us to print materials, layer by layer, one line at a time, that have enhanced properties, like being able to conduct heat. These materials can be used to make computer and aerospace parts and vehicles. You can 3D print most anything—even a building. But you want the materials to be tough and not break under stress. We are trying to enhance these properties with graphene materials."
Rede aims to work for NASA or elsewhere in industry and has advice for girls who want to go into STEM.
"If you are a woman interested in pursuing a PhD in engineering, just do it! I think the fact that you are a woman in STEM makes you stand out and be even more special," Rede said. "Because you are a minority, you show that you are overcoming by pursuing such a challenging degree."
Bryce Outten is a doctoral mechanical engineering student through FAMU and is a researcher at the Florida Center for Advanced Aero-Propulsion (FCAAP) at the FAMU-FSU College of Engineering. When Outten arrived at the college it was 2020, during the height of the pandemic. Like many students, he found the experience challenging. 
"I'm an extrovert and thrive when I am physically around people, so my first experience as a grad student in engineering was difficult for me," Outten said. "Not being able to study with other students, interact or go out to social events set me back at first. Now that things are getting back to normal, having both the HBCU culture and the culture of a larger institution has been the best of both worlds, as far as resources and cultural atmosphere."
Outten earned his bachelor's in aerospace engineering at Tuskegee University and transferred to FAMU to pursue his doctorate after meeting Carl Moore, a mechanical engineering professor at the college, at a conference in Washington, D.C.. Outten was intrigued when discovered the research opportunities the university and joint college offered.
"I met Dr. Moore at a conference and he invited me to see the facilities out here. He was very encouraging, the facilities were impressive and fortunately I got accepted into the doctoral program," Outten said. "Being at Tuskegee, now here at FAMU, with the support of the college, I've been able to develop as an engineer. The connection to HBCUs has been instrumental in helping me push myself higher than I could have imagined."
He also touted the facilities at the college. 
"The polysonic wind tunnel is one of the top wind tunnels in the U.S. and companies like NASA, Boeing, Lockheed Martin and Northrup Grumman use the facility," Outten said. "When I was visiting other schools and saw their facilities, I can truly say I have not seen anything out there like we have."
Outten's research is backed by the Air Force Research Lab and involves the study of cavity dynamics at supersonic speeds of Mach 1.6 and Mach 2. The polysonic wind tunnel facility is capable of testing objects at sub-sonic, transonic, supersonic and hypersonic speeds. 
"Think of an aircraft that has a landing gear bay or a weapons bay and the doors that open on those bays," Outten said. "We are testing the door motion on the cavity at supersonic speeds. We take different measurements, and analyze how the doors affect the flow physics of the cavity at supersonic speeds."
Outten hopes his Ph.D. will open doors and provide opportunities to work in industry, the lab or as a faculty member. 
"I definitely look forward to working in industry and making an impact there. Something I can see myself doing, after my career, is going back to teach," Outten said. "I am thankful I had the opportunity to get a quality education here and want to pay it forward to have an impact on younger Black students and Black engineers." 
"I didn't have a lot of Black engineering professors when I got my undergraduate degree," Outten said. "I think it's important for a student who looks like me to see a professor who looks like him. Providing an education and life skills as well." 
Find Your Fit at the College
Interested in learning more about earning an HBCU advanced engineering degree at FAMU and the FAMU-FSU College of Engineering? Take part in our Virtual HBCU Grad Recruitment Fair on Oct. 14.
There are also numerous video resources with professor-curated advice on how to prepare and succeed in graduate school as a minority student.
RELATED ARTICLES
Engineering researchers awarded $4 million to empower more minority students to pursue STEM
New $1.2M NASA Grant to Recruit Minority Students To Aerospace Engineering
FAMU-FSU Engineering partners with ASTERIX to build pipeline of diversity in STEM workforce