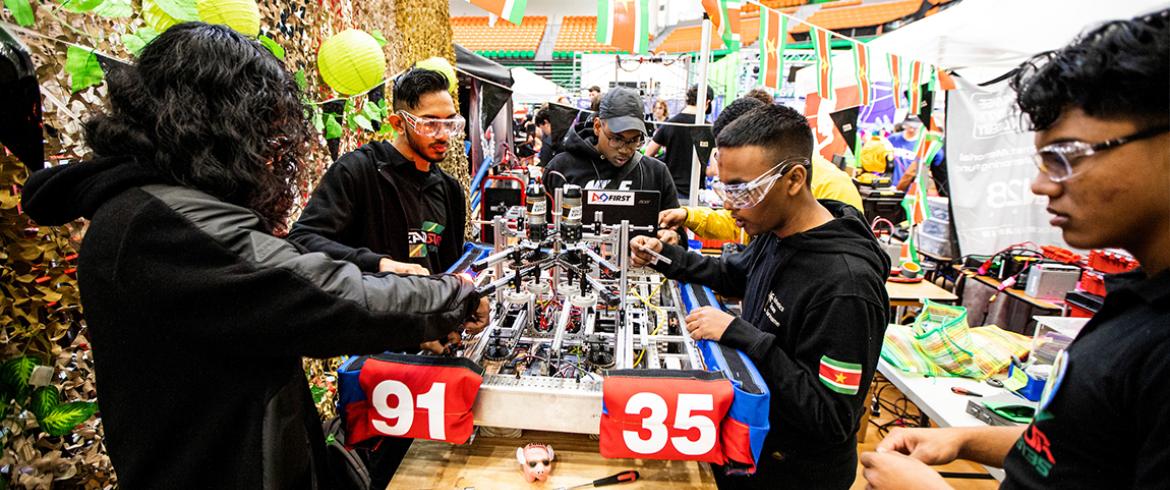 There was a dancing pig, a wizard, and a cadre of colorful characters cheering their team robots on in a competition like no other—with pit crews, alliances, and $80 million in scholarships on the line. The excitement was contagious as groups of high schoolers converged on the Al Lawson center at Florida A&M University to compete in the FIRST® Tallahassee Regional this past weekend.
Aspiring young engineers from the Southeast and around the world converged in Florida's capital city to participate in the international event. Part of the world-renowned robotics program, For Inspiration and Recognition of Science and Technology, known as FIRST®, the weekend serves as a step to the FIRST® World Championship in Houston next month. Teams from as far away as Australia and Pakistan competed alongside teens from Alabama, Florida and other U.S. locations.
This is the second year the competition was jointly hosted by FAMU and the FAMU-FSU College of Engineering to help develop the next generation of innovators, tech leaders and engineers. The event made history last year as it was the first time the FIRST® Tallahassee Regional was at a historically Black college/university. 
 "We are very excited to be back here. One of our initiatives at FIRST® is equity, diversity and inclusion and we wanted our students of color, our women and community groups to have the opportunity to go to a regional at a place where they could feel at home," Wendy Austin, FIRST® Regional Director said. "The City of Tallahassee has welcomed us with open arms."
Austin has been part of FIRST® for 17 years and said she saw firsthand how the organization impacts students' lives and their growth as people, innovators and citizens. 
Teams battled it out with industrial-size robots playing a game dubbed CHARGED UP presented by Haas. The competition focuses on the future of sustainability, consisting of timed rounds where robots retrieved rubber cones and inflatable cubes that represent power stations and other tasks related to the global challenge of access to affordable, reliable, sustainable and modern energy for all. However, the competition is only part of the story.
Madison Burke has been involved with FIRST® since elementary school and is a chemical and biomedical student at the FAMU-FSU College of Engineering. Burke is mentoring the Capital City Chaotic Coders at the event and has maintained a relationship with FIRST® over the years.  
"I love FIRST® and gained a lot of technical knowledge at these competitions when I was young," Burke said. "I think the experience gave me confidence as a woman in STEM and better prepared me when I decided to go into engineering at school. The most important thing is for the students to have fun while they are learning about science and technology." 
Eve, a student on the team, said, "Something people might not know about the competition is our design is entirely student-led. We came up with the design and built it. I've met lots of good friends in robotics and people come from all over to compete."
The FAMU-FSU College of Engineering and Tally Robotics sponsored the Capital City Chaotic Coders and gave them lab space to build their robot on the engineering campus. The team shared their practice space with Pymble Pride, an all-girls group from Sydney, Australia. Pymble Pride won the Excellence in Engineering Award in the competition.
Ang-Ya, a student from the Australian team, said, "We built our robot to be put together and taken apart in a hotel room. We are thankful that the Tallahassee team shared their practice space with us. Everyone has been so friendly and welcoming here."
Swste Ghisaidoobe, from Young Help Suriname, is a mentor with STEAMSUR, a team from Suriname, who shared a story about the joy of introducing robotics to young children in the classrooms. Her team won the Rookie All-Star Award in the competition. 
"When we go into some areas of Suriname and ask the school children what they want to do, sometimes they only talk about what they know and say, 'I want to be a fisherman or a housewife,'" Ghisaidoobe said. "Then I show them a robot and let them play with it. It is very stimulating for them and encourages them to dream bigger and maybe study robotics or engineering one day."
Tisha Keller, the director of marketing and communications for the FAMU-FSU College of Engineering and the liaison for FIRST®, said, "For the College of Engineering this is an amazing opportunity to connect with students who are our future engineers and future tech leaders. Many of our professors are FIRST® alums, so we know that nurturing young talent relates directly to our mission as a college."
Indeed alumnus Christian Hubicki, a robotics professor and lab director at the FAMU-FSU College of Engineering, is one of the faculty Keller was talking about. Hubicki was on hand for the event and was involved with FIRST® in the early years of competitions in 2001 when he was a sophomore in high school.   
"These regional competition events are the culmination of hundreds of hours of work," Hubicki said. "When I was a student, it was gratifying to come to an event and see your robot in action. It's all the excitement of a sporting event and a NASCAR pit crew."
Several professors from the college, like Shonda Bernadin and Stephen Arce, worked with the students at the event and held workshops for the participants. 
"What I love about this competition is these students are not just getting the technical skills they need to move on to college of tech jobs, they are gaining the soft skills that employers are looking for," Tallahassee Regional Planning Committee Chair Laura Leonard said. "In the end they have the ability to communicate, to collaborate, and the ability to lift one another up as they are improving themselves."
Gra-V Robotics, BB-R8ERS, LED Robotics, S.P.A.M, M3 Mighty Mechanical Mustangs, and STEAMSUR qualified to go to the championship in Houston. Many other awards were given for everything from team spirit to excellence in engineering.  
See the full results of the competition
FIRST® was founded by Dean Kamen, an inventor, to inspire young people to be science and technology leaders. The organization has three programs, the FIRST® Lego League, FIRST® Tech Challenge, and the FIRST® Robotics Competition for different age groups.
Get more information about FIRST®
Tally Robotics is a local nonprofit promoting STEAM education through FIRST® Robotics programs.
RELATED ARTICLES
College Sponsors Historic Regional FIRST Robotics Competition
Aspiring Engineers Bring Robotic Competition to FAMU-FSU Engineering
Local, rookie FIRST LEGO® Robotics team coached by engineering professor advances to Regionals