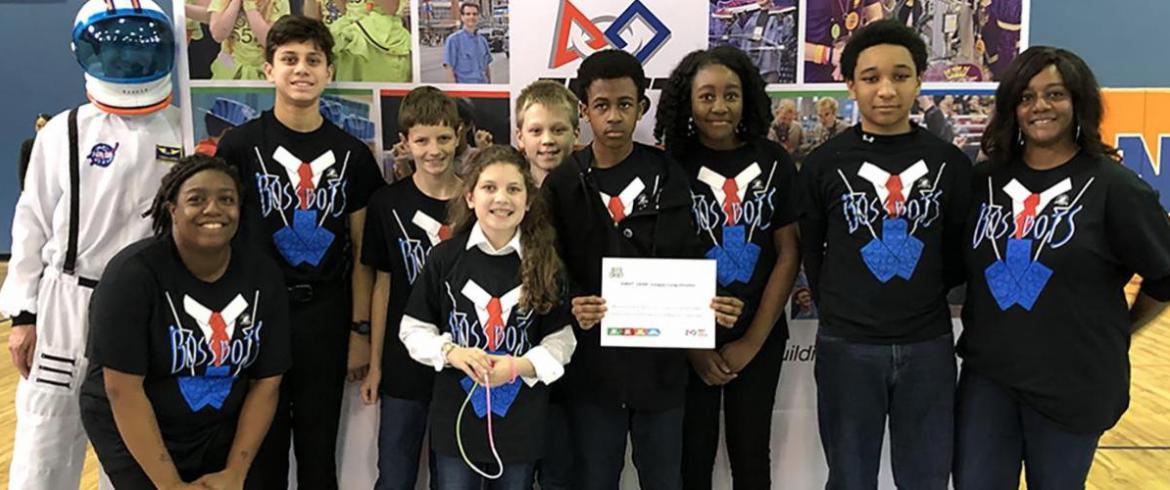 Shonda Bernadin, associate professor of electrical and computer engineering at the FAMU-FSU College of Engineering is pretty proud of her Bossbots team. She coached her FIRST LEGO® League robotics team of fifth through seventh-graders to a winning a spot in the regionals after a challenging scrimmage in January. 
"They placed in the top six of 14 local teams and will be competing in early March for a chance to bid for the World Festival in Texas," Bernadin said. "I am so proud of this team!  They worked hard and got through the tough times to get to this point. What a great accomplishment for these kids!" 
Bernadin's Bossbots designed, built and programmed a LEGO® MINDSTORMS® robot, then competed on a themed table-top playing field for the competition. The students aged nine through 14 attend Christ Classical Academy in Tallahassee, Florida. 
The department of electrical and computer engineering at FAMU-FSU Engineering offers several engineering enrichment programs for K-12 students. The camps are designed to help increase awareness and exposure leading to careers in science, technology, engineering and math (STEM) fields. Partnering with FIRST LEGO® League earlier in the spring, the college hosted various robot-themed activities that introduced young students to teamwork skills and technical competencies. 
The "For Inspiration and Recognition of Science and Technology" (FIRST) LEGO® League was founded in the late '90s by Dean Kamen, an inventor, best known for inventing the Segway. The robots and the competition are really just a vehicle to get children passionate about studying math and science, according to the inventor. FIRST LEGO® league teams design, build and test robots in a team building sports competition. The program has many different levels of competition and gives children a chance to use their imagination to innovate and work as a team. There are different leagues to accommodate various age groups and offer more than 3000 events in 90+ countries in the world. 
This is the first robotics league team Bernadin has coached and the success of this program is something she hopes to build on at the college. 
"We wanted to lay the ground work for future interactions with schools," Bernadin said. "We are thinking about training undergraduate students to be coaches for some of these teams. I think we can build a FIRST LEGO® league presence here and give young students the opportunity to get even more exposure to STEM in our area."
Bernadin gained her passion for math and science from her parents. Her father is a math professor and her mother is a computer scientist. Science and math came naturally for her and she wants students to have that same exposure to STEM as she did. 
"Robots are especially engaging to students. I saw this team really grow from this experience," Bernadin said." The team had several failures but they just picked up and rebuilt. We weren't allowed to help the kids during the competition. But, they didn't give up. They were pretty proud when they saw what they were able to do it all by themselves." 
For more information about FIRST visit their website