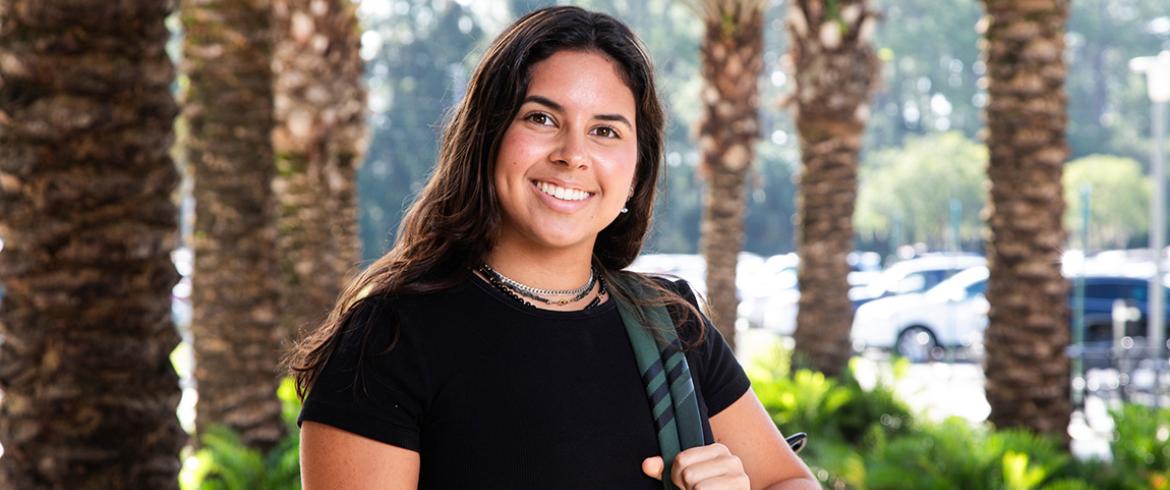 Undergraduate Student Spotlight
When Valentina Fajardo heard she earned the Florida State University Benjamin Gilman Scholarship Award, she realized she had become part of the Gilman community. She and 15 other FSU recipients would be able to study and intern abroad.
She is one of two FAMU-FSU College of Engineering students who got the award. Lucas Deininger also received the award.
"I am extremely grateful to be a recipient of this scholarship," Fajardo said. "It is an honor to have someone believe in my potential and invest in my education."
Each scholarship winner picked a different international destination to explore over the summer. Fajardo is working toward her bachelor's in industrial and manufacturing engineering at the college and chose the French Immersion program. 
"My days started with a three-hour class in the morning," Fajardo said. "The professors at the university only spoke French. After class, I would get together with other FSU students to have lunch and see the sights before returning to our Cité dorms. One of my favorite parts of the trip was getting to experience the fireworks, music and light show at the Eiffel Tower for Bastille Day."
The U.S. Department of State awards the Benjamin A. Gilman Scholarship to allow students to study or intern in foreign countries with the aim of building proficiency in diverse languages and cultures to prepare individuals for a globalized world. 
So, what's next for Fajardo? She shared her thoughts:
Plans after graduation?
I plan to move to Greece to immerse myself in a job where I can grow while exploring diverse cultures worldwide. 
Five years from now?
I envision securing a position in a prominent supply chain company where I can create a significant impact by implementing sustainable and cost-effective solutions in product development and overall success on a global scale. I aim to become a leader in sustainable practices within the organization, advocating for innovative approaches to minimize waste, enhance efficiency and foster eco-friendly initiatives.
Advice for others?
For future students, my advice would be to embrace every opportunity to network with fellow students and alums. Building connections within the college community can open doors to valuable friendships, mentorships and potential job opportunities in the future. Joining clubs and organizations related to your interests is also crucial. So, make the most of your time at the COE by participating in events, volunteering and seeking internships or research opportunities. Strive to balance academics and extracurricular activities because both significantly shape your college experience and future career path. 
---
RELATED ARTICLES
Engineering students find inspiration and adventure during summer research opportunities in Germany
FAMU-FSU's Engineers Without Borders Builds Relations with Rural Community in Guatemala
Engineering student awarded highly selective Hollings Scholarship