A FAMU-FSU Engineering student was chosen from a competitive pool of national applicants to receive the Ernest F. Hollings Undergraduate Scholarship from the National Ocean and Atmospheric Administration (NOAA).
As a Hollings Scholar, FSU rising junior Jennifer Magi will receive an award that includes up to $19,000 of academic assistance over two years and a 10-week, full-time paid summer internship at a NOAA research facility of her choosing.
Magi, was one of two FSU scholars to receive the award, along with Anna Wuest.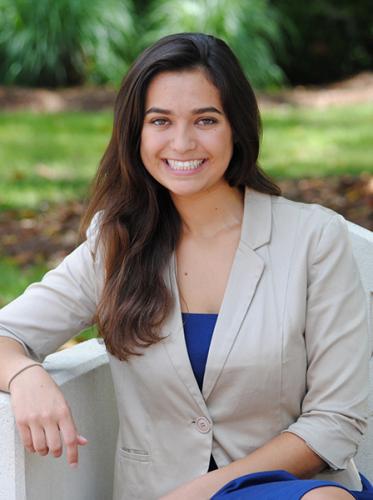 "To have Anna and Jennifer recognized by NOAA with Hollings Scholarships in their second year on campus reflects their phenomenal scholarship and exceptional potential to create a positive impact through research and service," said Craig Filar, director of National Fellowships at FSU.
Magi, an environmental engineering major from Delray Beach, studies and works to develop creative solutions to some of the world's most urgent environmental issues. In the past, she's conducted research aimed at revealing how green technologies like kelp biofuel can be best optimized to make our cities more sustainable.
She said her time as a Hollings Scholar could be an inflection point in her burgeoning career as an environmental engineer.
"I love engineering, problem solving and creating technologies, and I'd like to apply that to solving environmental problems," Magi said. "I expect that this opportunity with NOAA will help me determine which path I want to take."
As a new undergraduate with limited experience but boundless ambition, Magi joined the lab of FSU Assistant Professor Angela Knapp in the Department of Earth, Ocean and Atmospheric Science. In Knapp, Magi found a committed mentor eager to foster the interests of her pupils.
"She always told me to do what's best for me, even if it wasn't in her lab," Magi said. "It's incredible that FSU has so many amazing faculty members who care about you and want you to succeed."
Knapp said the Hollings program will provide Magi yet another opportunity to explore her interests and refine her already prodigious engineering skillset.
"Jennifer is motivated by the problem-solving approach of engineering to help improve the environment," Knapp said. "She's interested in exploring a range of methods to understand the environment, and the Hollings Scholarship will provide her an opportunity to learn about the environment from a perspective that is different from her course and lab work."
Both Magi and Wuest said Florida State's Undergraduate Research Opportunity Program (UROP) was instrumental in priming them for an opportunity like the Hollings Scholarship. Early exposure to rigorous research environments, they said, proved fundamental to their academic and professional development.
"The fact that FSU allows undergraduates to engage in research immediately through the UROP program was really pivotal in my interest in doing research," Wuest said. "Learning those skills so early on in my undergraduate career was important in helping me decide what I wanted to do and why."
Added Magi: "The UROP program here is so incredible. They allow you to jump right in on your first day of college — you're in a lab meeting professors and mentors right away. At other universities, you may not be able to get in a lab until your junior year. I never expected to find myself in a lab, but I became super passionate about research through UROP."
The Hollings Scholarship was established in 2005 in honor of Senator Ernest F. Hollings — a strong supporter of ocean policy and conservation. Applications for the 2019 scholarship class will open in September. To learn more about the program, click here.
Read the original FSU News story