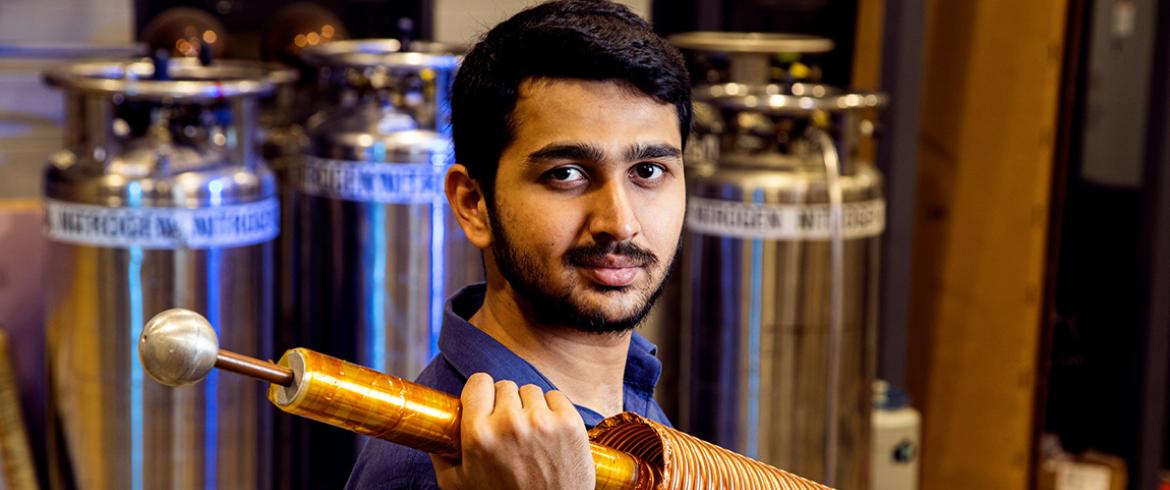 They say lightning never strikes in the same place twice. For Srikar Telikapalli, a graduate student in electrical engineering, that theory doesn't hold—at least when it comes to awards. 
"I'm very fortunate to receive these awards, I can whole heartedly say that this was a group effort," Telikapalli said. "The support provided to me by my adviser Dr. Pamidi and my mentors Dr. Cheetham and Dr. Kim, my colleagues at the HTS lab in CAPS and the college this would not be possible." 
In 2021, Telikapalli received the ICMC Best Paper Award from the Cryogenic Engineering Conference-International Cryogenic Materials Conference for his work on electrical technologies for electric aircraft. Then in 2022, at the Applied Superconductivity Conference, he received the ASC Best Student Paper Award for research on developing gaseous helium superconducting cables for electric ships and aircraft. 
Telikapalli also received an award from the local chapter of the IEEE Power & Energy Society and the college's department of electrical and computer engineering in 2022 for his presentation of his work in superconductivity. 
Telikapalli is a doctoral candidate at the FAMU-FSU College of Engineering and a graduate assistant at the Center for Advanced Power Systems. He is graduating in the spring of 2023. 
"I'm currently applying for full time positions in the United States and plan on utilizing the knowledge I've received from the college to work in the research and development department of a company and build a good alumni credit," Telikapalli said.
RELATED ARTICLES
Electrical Engineering Professor Elected to Cryogenic Society Board of Directors
Electrical Engineering Alumnus Awarded DOD SMART Scholar SEED Grant
Engineering doctoral student Abiola Oloye is on the hunt for better superconducting materials