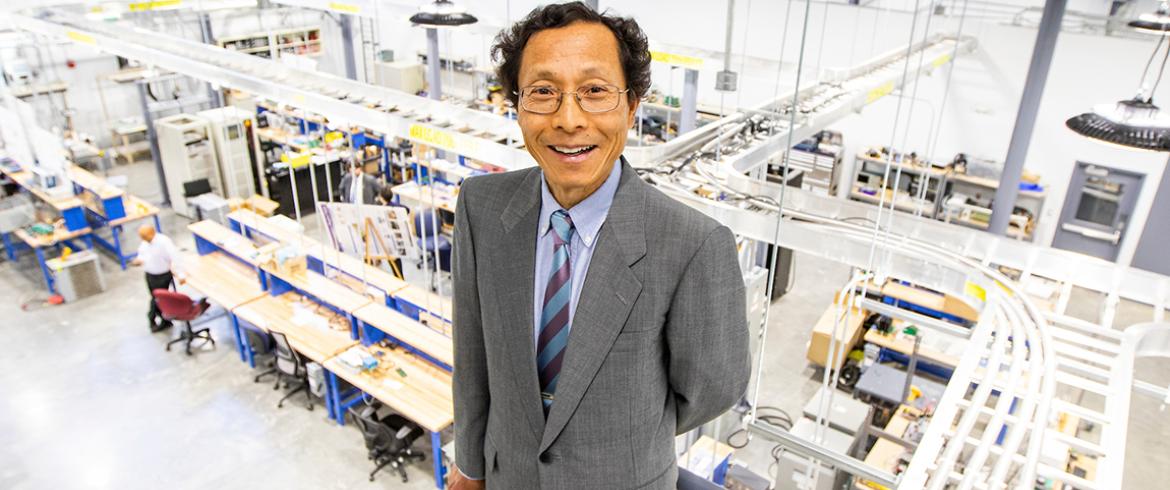 A FAMU-FSU College of Engineering and Florida State University researcher who pioneered power conversion technology has been named to the National Academy of Inventors.
Fang Zheng Peng, a distinguished professor in engineering, is one of 169 distinguished academic inventors who are part of this year's NAI class.
"I'm honored that the NAI would recognize my work, and I'm humbled to be included in such a distinguished group of scientists and engineers," Peng said. "I've had the fortune throughout my career to work with really talented people, both in industry and academia, and that is certainly true at FSU. There is still a lot of work to be done in high-power converter technology and how it can be applied to our power grids. I'm excited to see what my group can do next."
The NAI Fellows Program highlights academic inventors who have demonstrated a spirit of innovation in creating or facilitating outstanding inventions that have made a tangible impact on quality of life, economic development and the welfare of society. Election as a Fellow is the highest professional distinction awarded to academic inventors.
NAI Fellows hold more than 58,000 U.S. patents, which have generated over 13,000 licensed technologies and companies and created more than one million jobs. Their discoveries have generated over $3 trillion in revenue.
Peng, an expert in power electronics, received his undergraduate degree in electrical engineering from Wuhan University in China and his graduate degrees from Nagaoka University in Japan. He started his career in industry before moving to positions at the Tokyo Institute of Technology, Oak Ridge National Laboratory and Michigan State University. He moved to Florida State in 2018 to join the Center for Advanced Power Systems (CAPS) and the FAMU-FSU College of Engineering as the inaugural Distinguished Professor of Engineering.
Peng has pioneered in the research and development of high-voltage, high-power converter technology and its applications to power and energy grids.
"We are proud of the accomplishments and contributions of Fang in the area of large power electronic systems," said Sastry Pamidi, chair of the Department of Electrical and Computer Engineering and associate director of CAPS. "The NAI fellowship is a national recognition of the value of his inventions. We hope to see him receiving more accolades and recognition of him, the FAMU-FSU College of Engineering, the Center for Advanced Power Systems and Florida State University."
The 2022 Fellow class hails from 110 research universities and governmental and non-profit research institutes worldwide. They collectively hold over 4,800 issued U.S. patents. 
"This year's class of NAI Fellows represents a truly outstanding caliber of innovators. Each of these individuals has made a significant impact through their work and is highly regarded in their respective fields," said Paul R. Sanberg, President of the NAI. "The breadth and scope of their inventions are truly staggering. I am excited to see their creativity continue to define a new era of science and technology in the global innovation ecosystem."
RELATED ARTICLES
FAMU-FSU College of Engineering Dean Named National Academy of Inventors Fellow
Engineering materials researcher named to National Academy of Inventors
Superconductivity expert elected Fellow of Royal Academy of Engineering