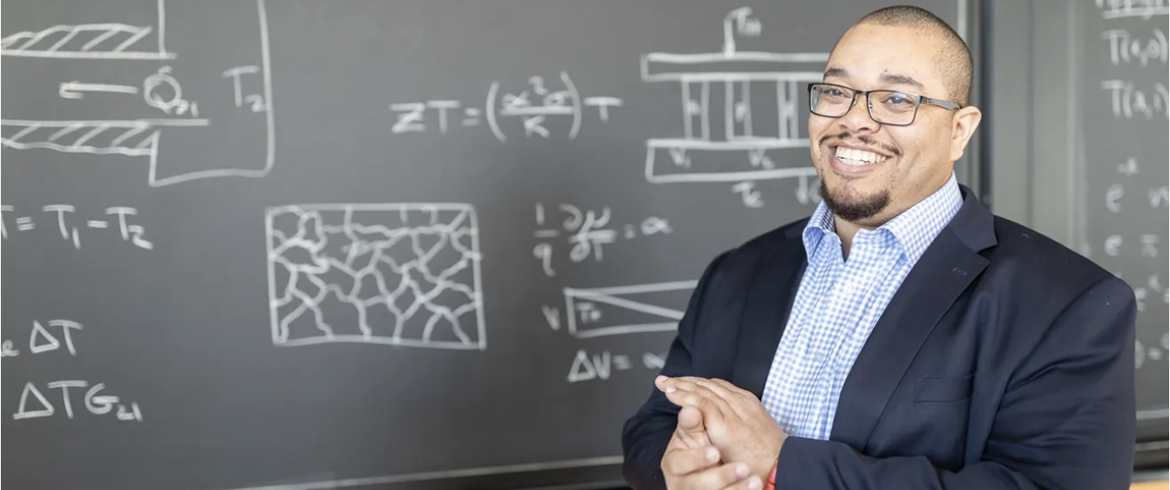 Florida A&M University and FAMU-FSU College of Engineering alumnus Asegun Henry—a contributor to two world records—recently received the Alan T. Waterman Award, which is the highest honor that the National Science Foundation can bestow on early-career engineers and scientists.
"It feels vindicating," 41-year-old Henry, a Tallahassee native and Massachusetts Institute Technology professor, told the Democrat. "When it comes to the celebration of accomplishments, science is often celebrated a lot more than engineering is. To be able to work on topics that directly address climate change is very much on script, so it's great to have actual engineering advances celebrated in this way."
On top of having his name in the Guinness World Records book along with his colleagues in 2017 for developing the highest-temperature pump and holding a record in the 2022 Physics World Top 10 Breakthroughs for "super-efficient electricity generation," the prestigious NSF award that was presented to Henry May 9 in Washington, D.C. is something else he can add to his list of accomplishments.
Henry attended Florida State University School, which is a laboratory school that serves grades K-12.
He went on to graduate from FAMU in 2004 through the FAMU-FSU College of Engineering with his bachelor's degree in mechanical engineering before going to MIT to earn both his master's and doctoral degrees in mechanical engineering in 2006 and 2009.
Both of his parents were FAMU professors before retiring, where his father Anthony Henry taught history and political science as an adjunct professor while his mother Oare' Dozier-Henry taught in the university's College of Education.
"I never even considered going anywhere else," said Henry, who earned a full-ride scholarship to the university. "It never even dawned on me that there were other schools that I could go to."
Before Henry reached the point of being a mechanical engineering professor at MIT since 2018, he taught at Georgia Institute of Technology as an assistant professor. His main research focus is heat transfer with an emphasis on developing technologies to mitigate climate change.
Last year, he became the founder and CEO of the Thermal Battery Corporation, a company that develops rechargeable batteries and works on scaling up the technology of its products.
He says his interest in engineering started at the age of 15 when he realized that he wanted to do something about global warming and climate change and later attended a few engineering summer camps, which grew his desire for the field even more.
But Henry also has a love for music.
As a high school student, he was involved as a musician in a dance troupe that was at FAMU called Orchesis, which performed African cultural dance selections accompanied by jazz music. Henry played a variety of African drums, and his main instrument was the djembe.
"Growing up in Tallahassee, a lot of my friends were actually older than me," Henry said. "They were college students when I was a young teenager, so I hung out at FAMU a lot. It was home for me."
Some of Henry's past achievements include receiving the 2018 FAMU-FSU Mechanical Engineering Rising Star Alumni Award and the 2018 World Technology Award for Energy.
In addition to the high NSF honor, Henry will be granted $1 million over five years for research along with two other awardees who will each receive the same amount — Science Professor Natalie King from Georgia State University and Biology Professor William Anderegg from the University of Utah.
Henry plans on using the money for a variety of projects, which include new battery technology as well as new approaches to refrigeration and air conditioning.
"Their pioneering accomplishments are precisely what the Waterman Award was created to recognize," NSF Director Sethuraman Panchanathan said in an MIT release. "I look forward to their tremendous contributions in the future."
This article originally appeared in the Tallahassee Democrat. Contact Tarah Jean at tjean@tallahassee.com or follow her on Twitter @tarahjean_.
RELATED ARTICLES
Mechanical engineering alumni recognized as a Rising Star for record-setting work in high-temperature energy concepts
Department of Mechanical Engineering celebrates alumni accomplishments with annual awards banquet