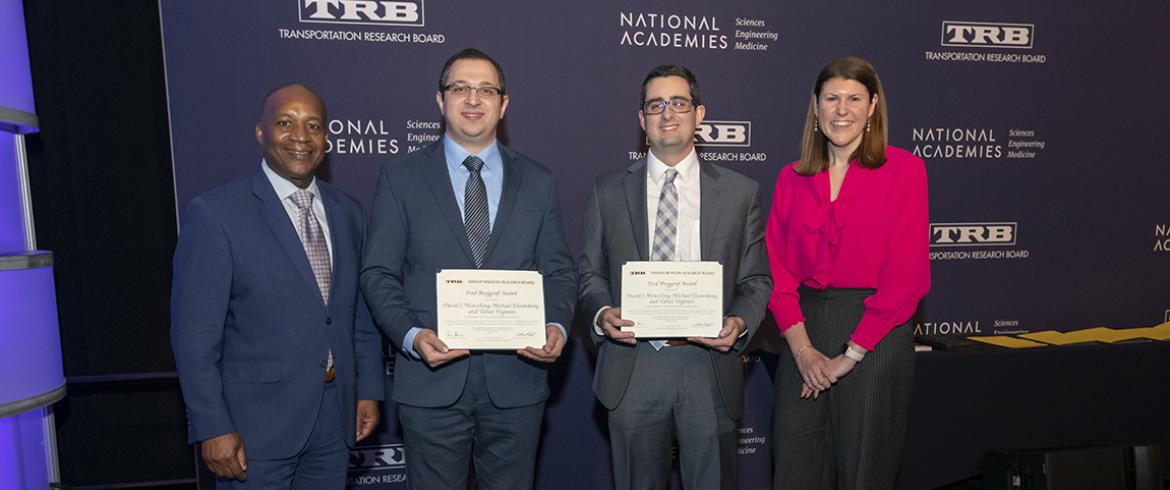 An assistant professor in civil engineering at the FAMU-FSU College of Engineering received the Fred Burggraf Award for excellence in transportation research from the Transportation Research Board (TRB). 
Michael Elwardany received the award with his co-authors David Mensching and Varun Veginati for their paper, "Evaluating the Sensitivity of Intermediate Temperature Performance Tests to Multiple Loose Mixture Aging Temperatures Using the FHWA Accelerated Loading Facility's RAP/RAS Experiment," published in the SAGE Transportation Research Record: Journal of the Transportation Research Board, in 2022. 
The research evaluated several proposed laboratory cracking performance tests for asphalt materials and their relation to pavement performance in the field. The study highlights the need for integrating long-term oxidative aging conditioning of the Balanced Mix Design (BMD) framework.
The paper explored the long-term performance of mixtures containing high amounts of reclaimed asphalt pavements and reclaimed asphalt shingles as sustainable paving materials. Laboratory test results were compared against the field performance at the Federal Highway Administration Accelerated Loading Facility at the FHWA Turner-Fairbank Highway Research Center.
The award is given to researchers 35 years or younger and is meant to encourage young researchers for their contribution to the advancement of knowledge in the field of transportation. It was presented at the Thomas B. Deen Distinguished Lecture in Convention Center, Washington, D.C., during the 102nd Annual TRB meeting, on January 9, 2023.
The TRB is one of the six divisions within the National Research Council, a primary operating agency of the National Academies of Sciences, Engineering, and Medicine (NAS).
RELATED ARTICLES
Researchers Test New High Polymer-Modified Asphalt Materials for More Sustainable and Resilient Pavements
Engineering Faculty Expands by a More Than a Dozen for Fall 2022