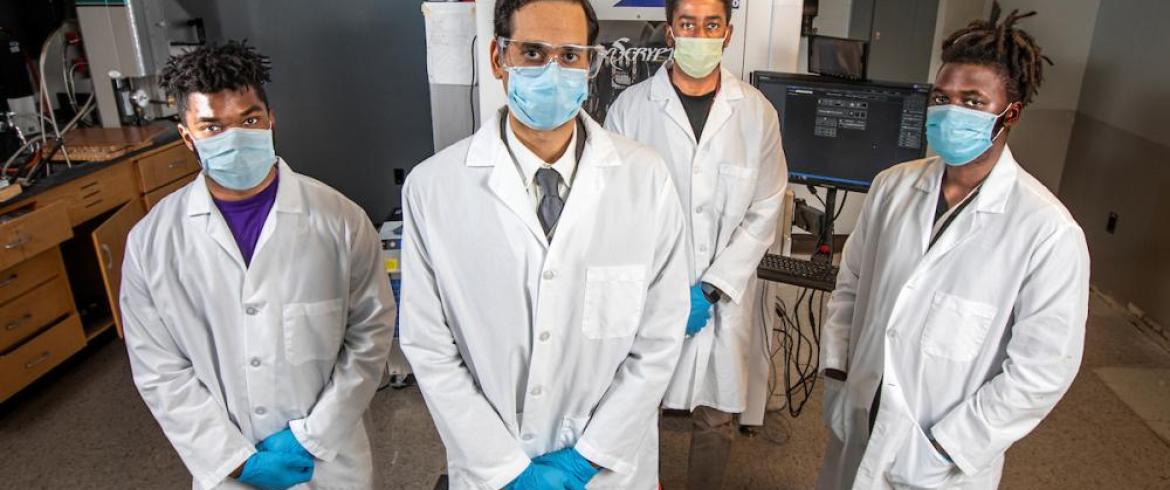 Jamel Ali, assistant professor of chemical and biomedical engineering at the FAMU-FSU College of Engineering and Florida A&M University (FAMU), has received two prestigious early career awards: a 2022 Young Investigator Research Program (YIP) award from the Air Force Office of Scientific Research (AFOSR) and the 2022 American Chemical Society Petroleum Research Fund (ACS PRF) Doctoral New Investigator Award.
Ali is one of 36 scientists and engineers to receive a YIP award and the first from a Historically Black College and University (HBCU) to have this honor.
"As an HBCU alum from Howard University and former National Defense Science and Engineering Graduate (NDSEG) Fellow, this award has a very special meaning for me," Ali said. "This award will support our groups efforts to develop wireless biohybrid devices for future chemical and biological defense applications."
Ali leads the Nanobio Materials and Robotics group, located in the National High Magnetic Field Lab closely associated with the college. The group designs small-scale biologically-inspired machines, or nanorobots, that can be wirelessly controlled and harness the actuation capabilities of microorganisms. 
"The AFOSR Young Investigator Award is very prestigious and on par with the NSF CAREER award," Bruce Locke, a distinguished professor and chair of the chemical and biomedical engineering department at the college, said. "We are extremely proud of Dr. Ali's accomplishments and these awards will provide the support for him to continue groundbreaking research in biologically-inspired materials and complex fluids."
The AFOSR YIP program, which began in 2007, aims to foster creative basic research in science and engineering, enhance the early career development of outstanding young investigators, and increase opportunities for young investigators to recognize the Air Force and Space Force missions and related challenges in science and engineering.
Through FAMU, the college will receive a three-year grant totaling $450,000 for the proposal, "Self-assembled Swimmers for Nanoscale Actuation and Sensing," which is at the intersection of microbiology, fluid mechanics, biophysics, nanotechnology, and robotics. 
Ali has also received the ACS PRF Doctoral New Investigator (DNI) Award for his proposed topic of "Multiscale Rheology, Structure, and Dynamics of Anisotropic Colloidal Suspensions." The two-year award totaling $110,000 will enable research exploring the microstructure and mechanics of complex particle mixtures while also offering female and minority engineering students opportunities to conduct hands-on research.
The Petroleum Research Fund is an endowed fund managed by the American Chemical Society that supports fundamental research directly related to petroleum or fossil fuels at nonprofit institutions in the United States. The DNI program is specifically for tenure track faculty within three years of their first appointment.
RELATED ARTICLES
Chemical engineers receive over $1 million in NSF grants for multi-institutional bacteria research
The FAMU-FSU College of Engineering pioneers for change through investments in success of under-represented minorities